Chinese brand Xiaomi is all set to launch the Redmi 6 Pro next week on June 25. However, alongside the Redmi 6 Pro, Xiaomi will also be launching a tablet called Mi Pad 4. Xiaomi has already teased the Mi Pad 4 to come with an 8-inch display having aspect ratio of 18:9. And now, just a couple of days ahead of the launch, Xiaomi has confirmed some more details of this 8-inch tablet.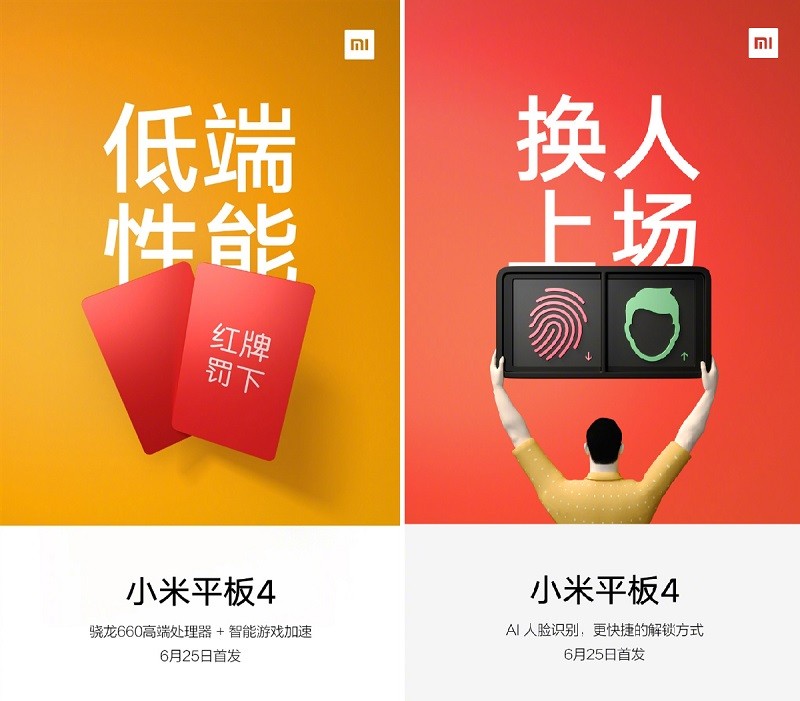 Xiaomi has shared teaser posters on Chinese social network Weibo. These posters confirm that the Mi Pad 4 will be powered by Qualcomm's Snapdragon 660 SoC and come with AI Face Unlock technology. The poster which confirms Snapdragon 660 under the hood on the Mi Pad 4 also has text that reads "smart game acceleration" which means we can expect the tablet to come with some optimizations for a better gaming experience.
Speaking of the AI Face Unlock technology, it uses face recognition to unlock the smartphone. While Face Unlock is a good alternative to fingerprint scanner for those who want the convenience of unlocking their device just by looking at it, it's worth noting that this tech isn't as secure as the fingerprint scanner or Apple's Face ID that uses special sensors.
Having said that, the Mi Pad 4 is also said to come with a 13 MP rear camera and a 5 MP front camera. And, fueling the entire package would be a massive 6000 mAh battery under the hood. Moreover, the Mi Pad 4 is also said to come in LTE and Wi-Fi-only variants. The LTE variant will have 4 GB RAM and 64 GB internal storage, whereas, the Wi-Fi-only variant will come in 3 GB RAM + 32 GB storage and 4 GB RAM + 64 GB storage options. All of these models will be available in two colors – Black and Gold.
We are just three days away from the launch of Mi Pad 4 as well as Redmi 6 Pro, but, you can expect Xiaomi to out more teasers to further reveal some more details.