Chinese manufacturer Xiaomi has been growing strong in the Indian smartphone market when it comes to budget smartphones. The company has launched some great smartphones in the budget segment in the past couple of years in the country. Xiaomi's smartphones in the budget segment are not only affordable, but, they also offer great performance and value for money as compared to the smartphones from other manufacturers in the market. Last month, Xiaomi launched the Redmi 4A in India which is yet another budget smartphone from the company, and, the company managed to sell 250,000 units of the Redmi 4A within 4 minutes during its first flash sale. Well, that's impressive, however, does the Redmi 4A carry on the legacy of other budget smartphones that Xiaomi has launched in the past? Well, let's find that out with this Xiaomi Redmi 4A review.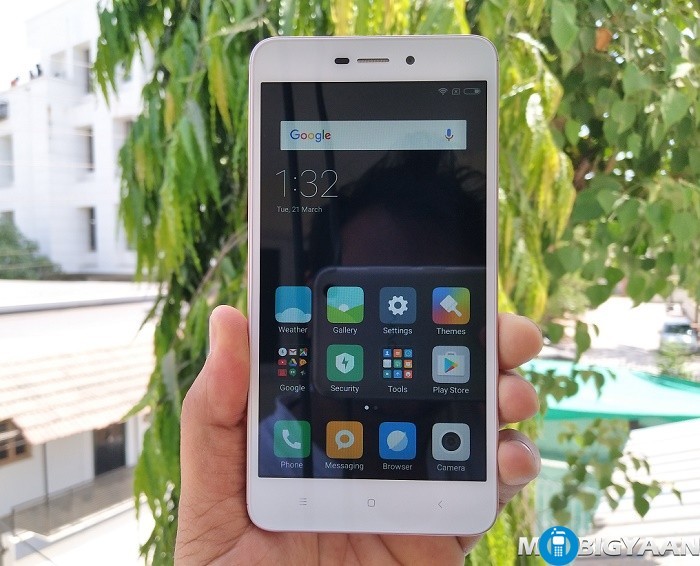 In box contents
Xiaomi Redmi 4A
Charger
USB 2.0 Cable
SIM Tray Ejector
User Guide
Xiaomi Redmi 4A specifications:
Display: 5.0-inch HD IPS Display (1280 x 720 pixels resolution | 296 ppi)
Software: MIUI 8.1 based on Android 6.0.1 Marshmallow
CPU: 1.4 GHz Snapdragon 425 quad-core processor
GPU: Adreno 308
Memory: 2 GB LPDDR3
Internal Storage: 16 GB
External Storage: Expandable up to 128 GB via microSD card
Main Camera: 13 MP f/2.2, single LED flash, 1080p video @30fps
Front Camera: 5 MP, 720p video @30fps
Connectivity: 4G VoLTE, Micro USB, 3.5 mm stereo jack, Wi-Fi 802.11 b/g/n, Bluetooth 4.1, GPS
Sensors: Accelerometer, Gyroscope, Proximity, Compass
SIM: Hybrid SIM slot (Micro SIM + Nano SIM or Micro SIM + microSD card)
Battery: 3,120 mAh (non-removable)
Dimensions: 139.9 mm x 70.4 mm x 8.5 mm
Weight: 131.5 grams
Colors: Dark Grey, Gold, Rose Gold
Design
Starting with the design, the Xiaomi Redmi 4A boasts a uni-body construction. The device has a polycarbonate plastic back, however, at first look, some might mistaken it to be metal. The Redmi 4A is also pretty light, rather, at 131.5 grams, the Redmi 4A is the lightest Redmi device ever.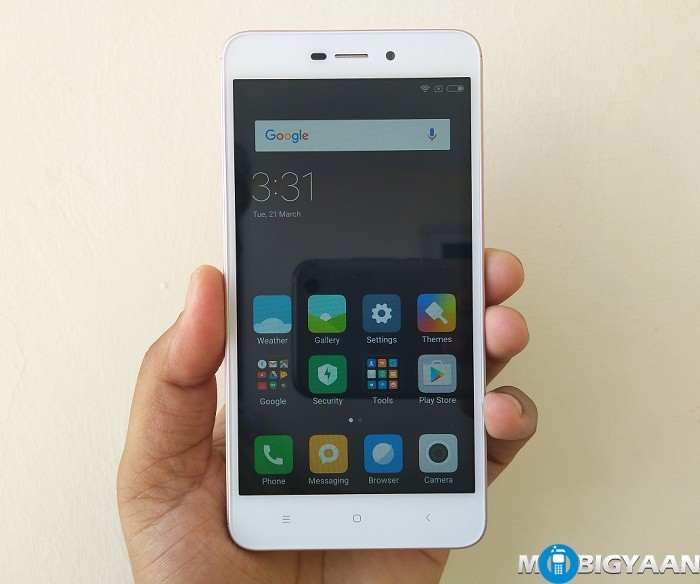 The Xiaomi Redmi 4A boasts a 5-inch HD IPS display which has a pixel density of 296 ppi and 72% NTSC color gamut. While this doesn't come with Gorilla Glass, Xiaomi has used a scratch resistant glass to provide some level of protection against scratches. Also, having a small display means the device would be easier to hold with one hand. Above the display is  the earpiece which is flanked by secondary camera and the usual array of sensors like ambient sensor and proximity sensor.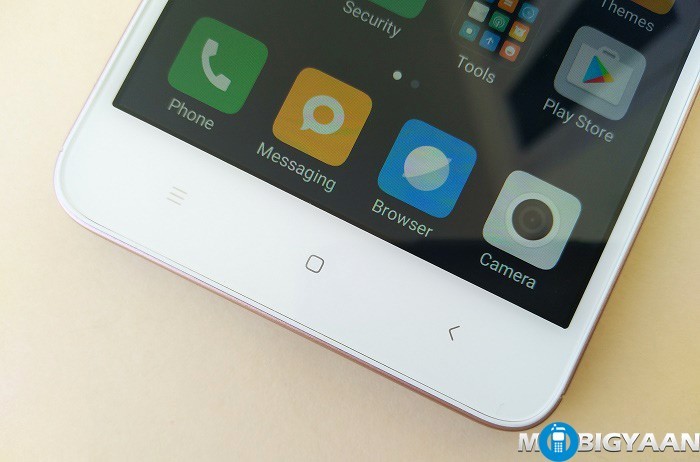 Below the 5-inch display are three capacitive buttons for recents, home and back. Also, while these buttons are capacitive, they aren't backlit which means it might be difficult for some to find them at night.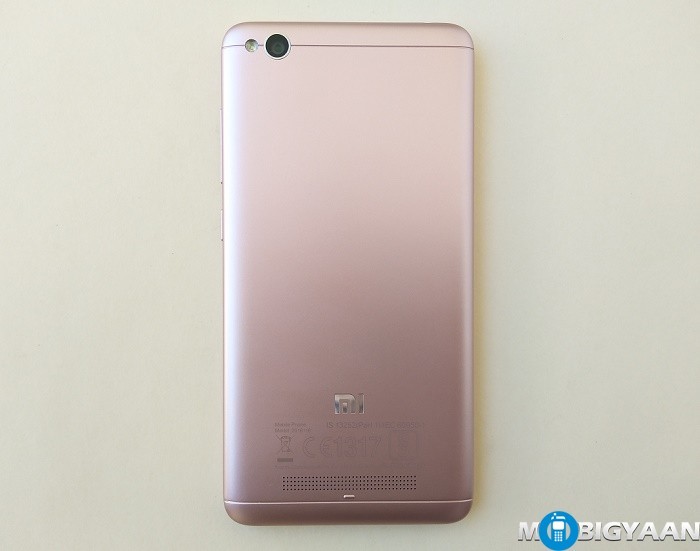 Moving on to the back of the Redmi 4A, the device comes with a polycarbonate plastic back which has a matte finish. Well, this makes it look premium and feels good to hold. However, while the back does have matte finish, it tends to slip from your hand. Well, it slipped from my hands many times. Besides, though very minor, the back of the Redmi 4A also picked up some abrasions. Looking at the build of the device, you don't need to invest in a protective case, however, if the device starts slipping from your hands and picks up scratches, we suggest you buy one to get some grip and add a layer of protection to the device.
Apart from all these, the Redmi 4A has a speaker at its back below the Mi logo and at the top-left is the primary camera which is accompanied by LED flash. You can also see lines at the top and bottom of the back of the device and might think of them as antenna lines. Well, those are not antenna lines actually.


At the left side of the Xiaomi Redmi 4A is the Hybrid SIM slot which means you can either use two SIM cards at once, or, use one SIM card and insert a microSD card in the other to expand the storage. Also, at its right is the volume rocker below which is the power button. For what we are paying, all three buttons provide good feedback when pressed.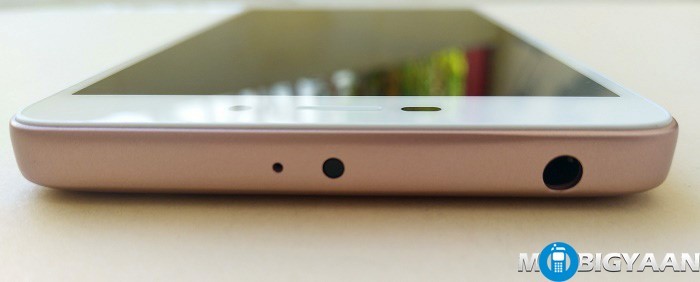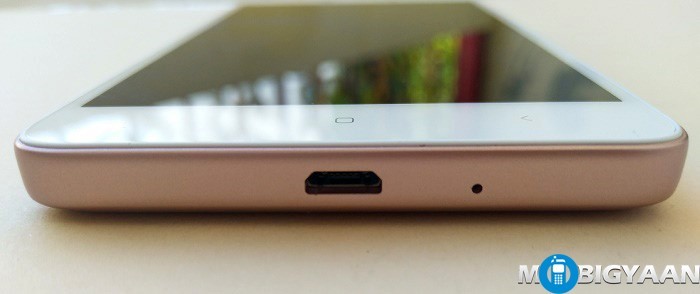 The Xiaomi Redmi 4A comes with an IR Blaster at its top so that it can be used as a remote control if needed. Apart from the IR Blaster, it has a 3.5 mm audio jack and secondary microphone at the top. At the bottom, the Redmi 4A has the primary microphone along with the microUSB port which can be used for charging the device and transferring files.
Display
The Xiaomi Redmi 4A sports a 5-inch display which has a resolution of 1280 x 720 pixels. This display has a pixel density of 296 ppi and has 72% NTSC color gamut. While the front of the device is covered with glass, it certainly isn't Gorilla Glass, however, it does offer some level of scratch resistance.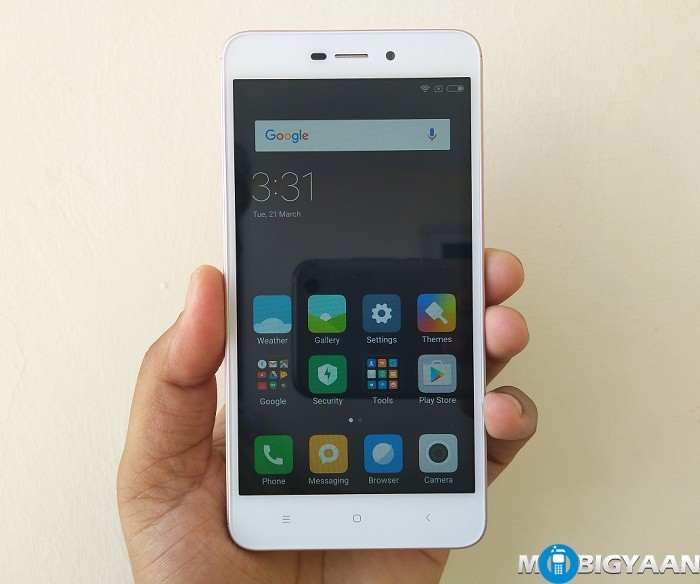 The viewing angles on this phone's display were good and the display has a good sunlight visibility for the price we are paying. Playing games, watching videos and reading text was all good. However, the colors on this display looked pale and washed out sometimes, especially green and blue. Moreover, the ambient light sensor was also slow sometimes to adjust the brightness of the display according to the surrounding light conditions because of which we ended up increasing the brightness of the display manually.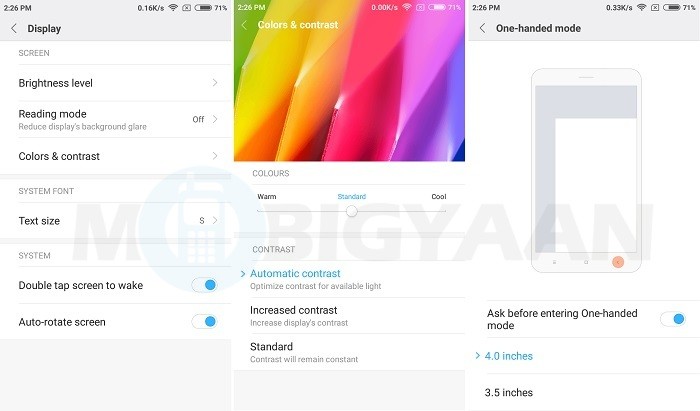 The Xiaomi Redmi 4A comes with reading mode which makes it easier for you to use the smartphone at night. Well, what reading mode does is it reduces the background glare of the display by overlaying the screen with a filter having a warm tone to it. Besides, you can also adjust the colors and contrast of the display from the Settings menu.
Also, while the Xiaomi Redmi 4A is comfortable to hand with one hand due to its 5-inch screen, some people with smaller hands might find it difficult to operate with one hand. Well, if you are one who has smaller hands, you can make use of the one-handed mode on the device. The one-handed mode can be enabled by going to the Settings > Additional settings > One-handed mode menu. Once enabled, the size of the contents on the screen can be reduced to fit the display size of either 3.5-inch or 4-inch.
Performance
The Xiaomi Redmi 4A is powered by Snapdragon 425 SoC which is laced with 2 GB RAM and Adreno 308 GPU. The Snapdragon 425 SoC is based on four ARM Cortex A53 processors which are clocked at 1.4 GHz.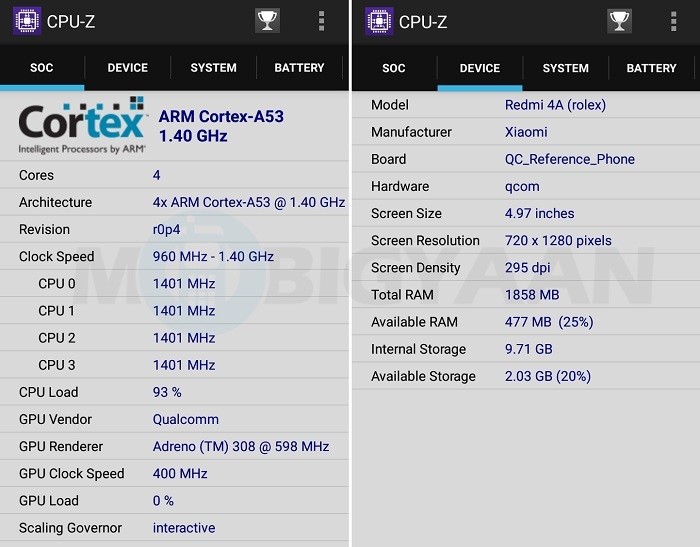 The Redmi 4A comes with 2 GB RAM which nowadays is too low for any smartphone. However, in our usage, we were able to multi-task easily without any stutters. Navigating around the UI was smooth and switching between apps was fast as well.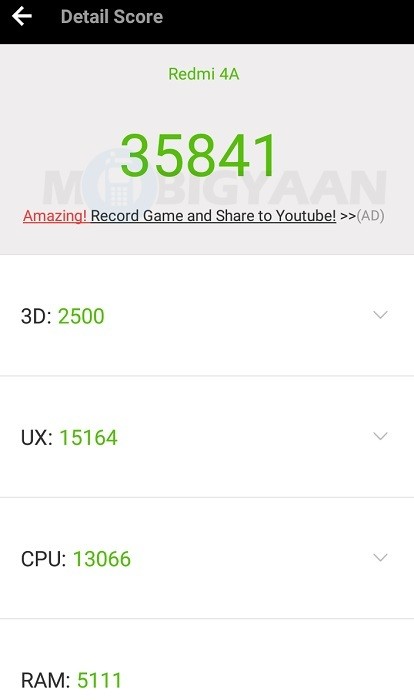 The Xiaomi Redmi 4A scored 35,841 in our AnTuTu test.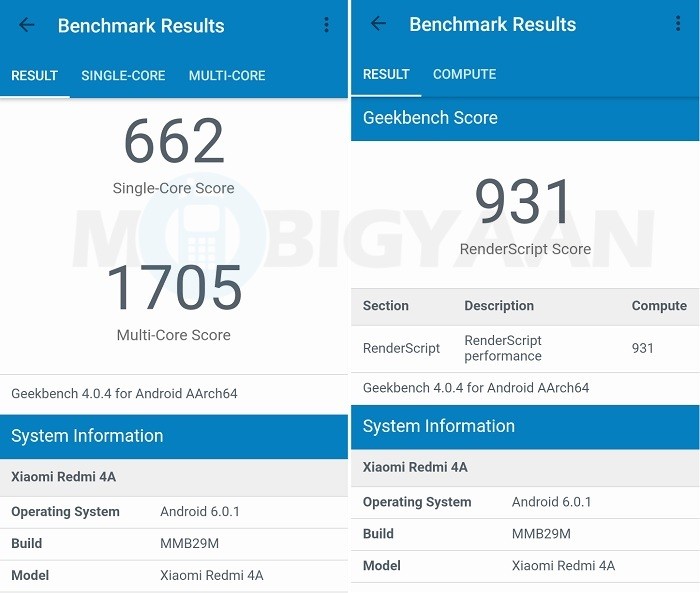 Speaking of the Geekbench 4 test, the Xiaomi Redmi 4A scored 662 and 1705 points in single and multi core tests respectively, whereas, in the GPU compute test, the device scored 931 points. Here are the full stats of Geekbench 4 CPU and GPU test of the Redmi 4A.
Games we tested on Xiaomi Redmi 4A
N.O.V.A. 3: Freedom Edition
Traffic Rider
NFS No Limits
Gaming on Xiaomi Redmi 4A
Prev
1 of 5
Next
As can be seen from the images above, the graphics in the games rendered are quite good for what's on offer. All the games we played ran pretty smoothly without slowing down. We played all the three games mentioned above back to back for a total duration of one hour, and, the Redmi 4A handled them pretty well without slowing down. While playing these games, we had around 10 apps and games running in the background which included resource hogging apps like Facebook. Well, its good to see that the Xiaomi Redmi 4A performed this good even with 2 GB of RAM at its disposal.
While our gaming experience on this device was good, there were times when the colors in NFS No Limits looked washed out. Well, the display is certainly to be blamed for this. But again, that doesn't mean the display is bad.
Software
The Xiaomi Redmi 4A runs on MIUI 8.1 out of the box based on Android 6.0.1 Marshmallow. The device also carries December 1, 2016 Android security patch, however, a recent update brought along February 1, 2017 security patch to the device. Well, this is not the latest security patch, but it certainly makes the device more secure than it was with the December patch.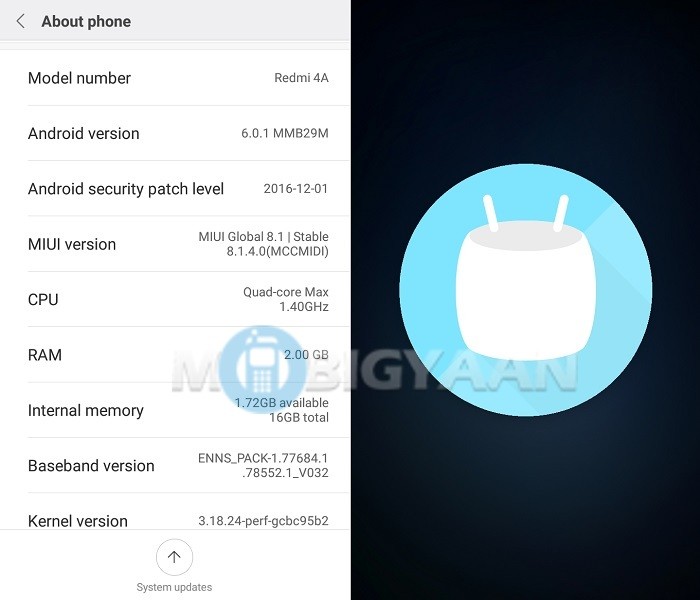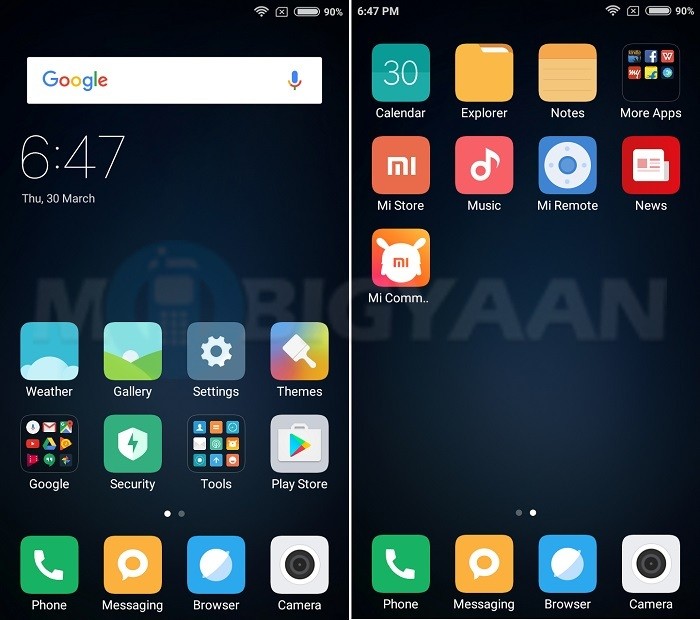 The UI is similar to what you would find on Xiaomi phones running MIUI. All the apps are found on the homescreen as there's no app drawer. However, if you don't like this, you can change it anytime by downloading any launcher like the Google Now Launcher or Nova Launcher. The Xiaomi Redmi 4A also comes with bloatware like Facebook, Amazon Kindle, Flipkart, MakeMyTrip and WPS Office.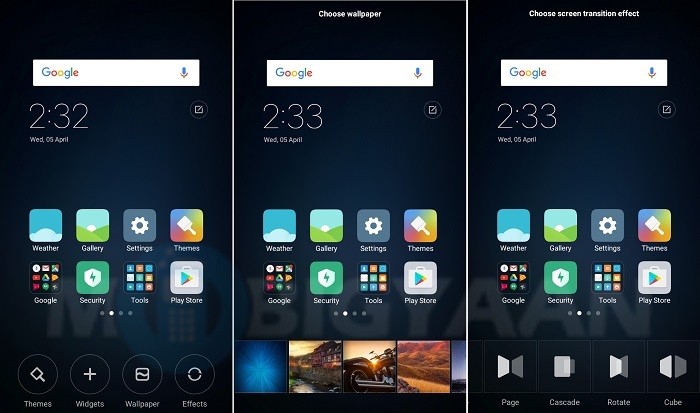 The Xiaomi Redmi 4A comes with some wallpapers to choose from. Well, these are the wallpapers which you would find on other Xiaomi phones as well which are running MIUI. Besides, you can also change the screen transition effect if you want. To do so, just long press on the home screen and you will be presented with the options.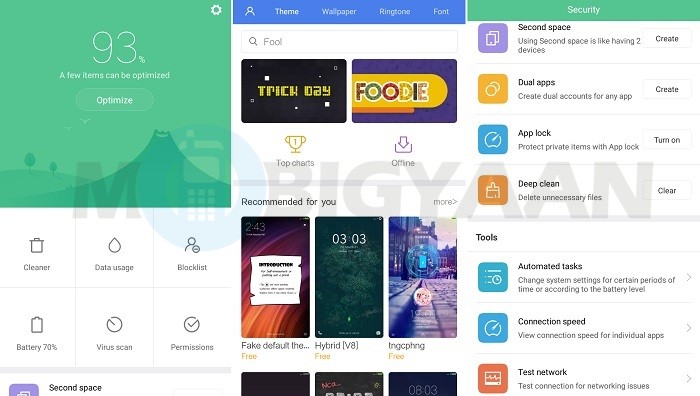 Like other Xiaomi phones, the Redmi 4A also comes with an app called Security which lets you clean the app cache, restrict data usage, block SMS and calls, customize app permissions and more. Besides, there's also an app called Themes which not only lets you download different themes, but also offers wallpapers, ringtones and fonts.
The Xiaomi Redmi 4A also comes with features called Second Space, Dual Apps and Child Mode. Using Second Space is like having two different devices on the same device. To be more precise, with Second Space, users can create a separate space on their phone. The data in one space will be inaccessible in other space. This is certainly useful if you are sharing your device with another person.
Moving on to the Dual Apps, this feature lets you run two instances of the same app. For example, if you have two WhatsApp numbers, you can use both of them on the same device with Dual Apps. Speaking of Child Mode, when it's enabled, your children will only be able to open the apps that you have added into the Child Mode list.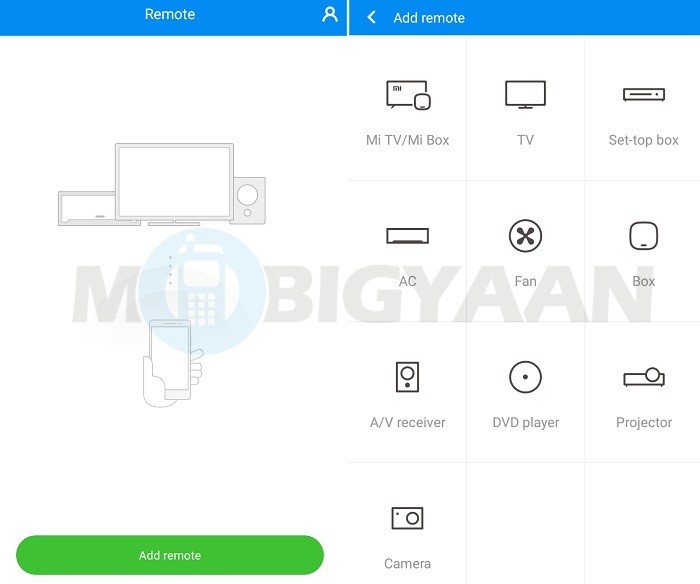 We already mentioned that the Xiaomi Redmi 4A comes with an IR Blaster up top because of which we can use this device as a remote control. Well, Xiaomi has included an app called Mi Remote with which you can use the Redmi 4A as a remote control for TV, AC, Projector, etc.
Camera
Talking about photography, the Xiaomi Redmi 4A comes with a 13 MP camera at the back and a 5 MP camera on the front.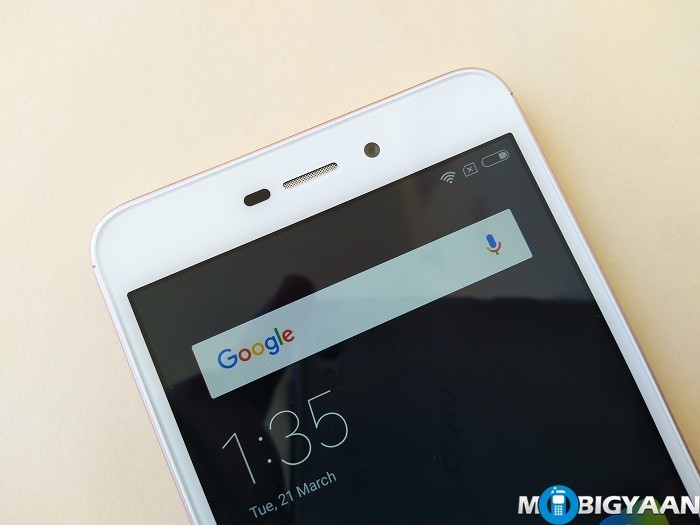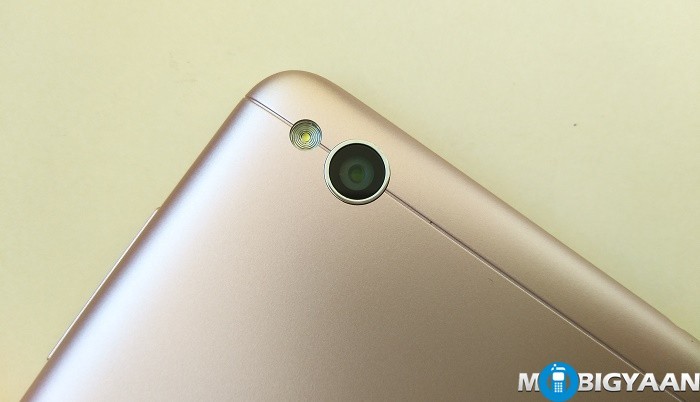 The 13 MP rear camera can take photos at a resolution of 4160 x 3120 pixels and can record videos in Full-HD resolution of 1920 x 1080 pixels. Speaking of the 5 MP front camera, it is capable of capturing photos at a resolution of 2592 x 1944 pixels.
Camera App UI
Prev
1 of 4
Next
Well, that was the UI of the camera app of Redmi 4A. Now let's take a look at the daylight shots taken from this device.
Daylight Shots
Prev
1 of 16
Next
Now let's take a look at the night shots taken from the Redmi 4A.
Night Shots
Prev
1 of 8
Next
The 13 MP rear camera on the Xiaomi Redmi 4A did take some good shots in daylight, however, there were times when shadows turned out to be a little too dark and lacked sharpness and detail. Having said that, photos taken with HHT mode enabled did turn out to be relatively brighter but seemed a bit over-exposed. Speaking of close-up shots they were acceptable, and, even the Panorama shots were quite good.
Talking about the night shots, the noise was clearly visible and the images lacked sharpness. You can try taking images with HHT or Night Mode enabled, however, you will need a steady hand while the image is being captured. Also, it took around 2-3 seconds on an average while taking photos with HHT Mode enabled.
To sum it up, the camera isn't that great, but, that doesn't mean it takes pictures which are unusable. For what you are paying, expecting flagship level images would be totally wrong.
Call Quality and Audio
The call quality on the Xiaomi Redmi 4A was good and the device latched on to the network pretty well. However, there were times when the voice was not audible on our end but that was because the signal reception wasn't good.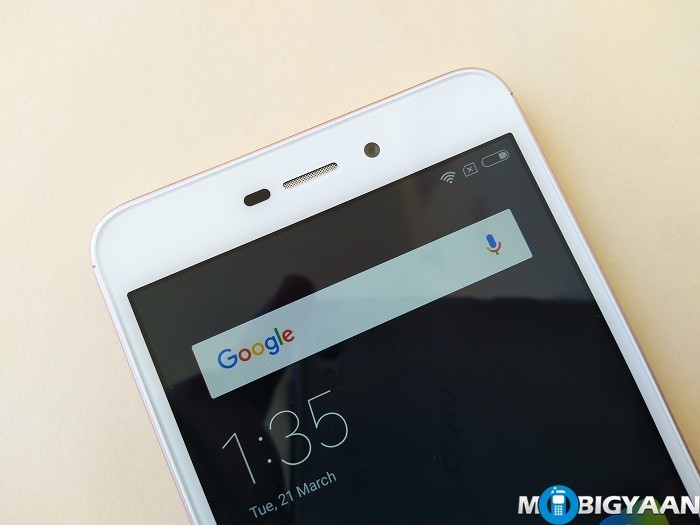 Speaking of the audio coming from the speaker at the back, there's nothing special to talk about here. The audio isn't much loud but it should get the job done once in a while. Also, after we bumped up the volume to around 80-90%, the audio wasn't clear and felt distorted. Besides, the placement of speaker at the back increases the chances of the audio being muffled at most of the times unless you place the device with the display facing downwards.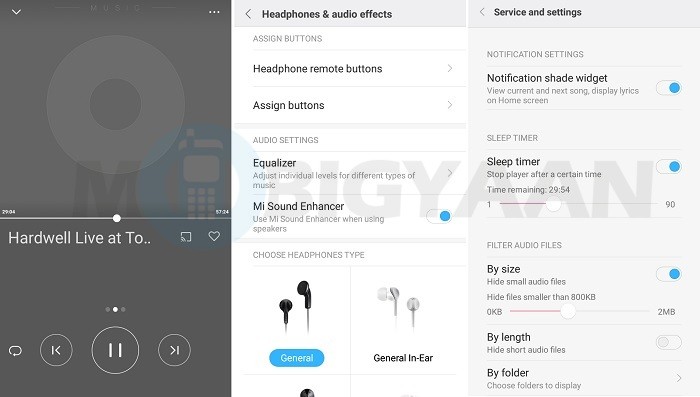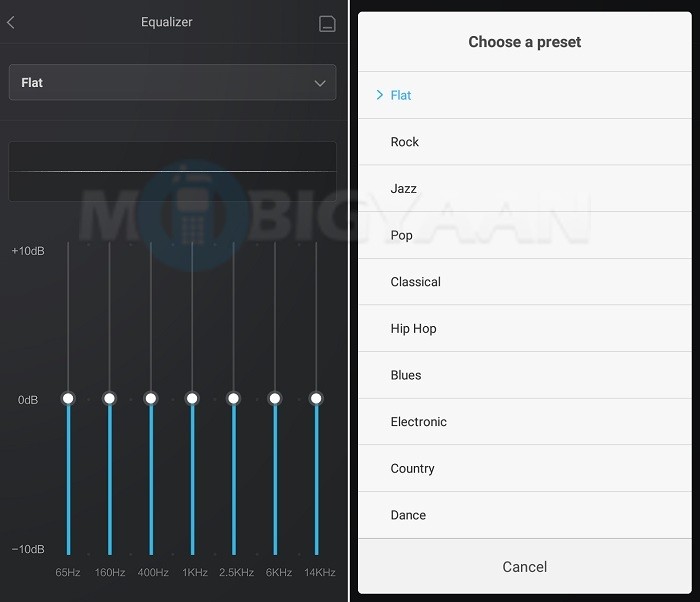 The Music app on the Redmi 4A does have some settings to play around with. You can choose your headphone type for a better audio quality. Besides, you can also tune the audio output using the Equalizer.
Storage
The Xiaomi Redmi 4A comes with 16 GB of internal storage. Out of the those 16 GB, only around 10 GB is available to the users. Well, that's kind of too low, and, we quickly ran out of space once we installed two big games on the device. We would have loved Xiaomi to offer a 32 GB variant as well for those want to store more on their device, however, you can always expand the storage up to 128 GB by using a microSD card.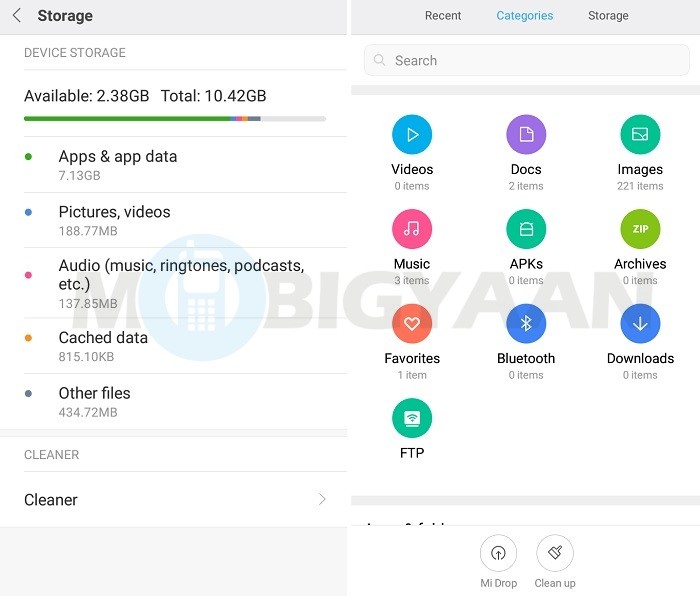 The Redmi 4A also comes pre-loaded with Xiaomi's file manager app called Explorer which is found on other Xiaomi phones as well. The file manager has a clean UI and categorizes the files according to their file type.
Battery
The Redmi 4A ships with a 3120 mAh non-removable battery.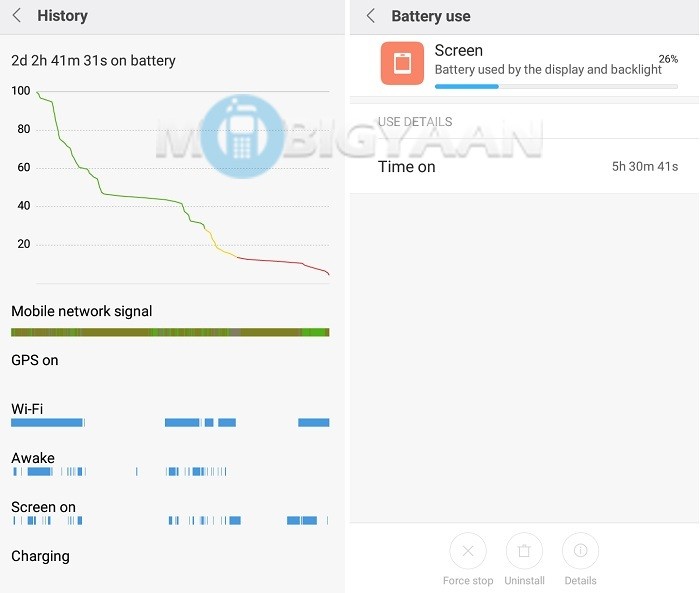 The battery life of the Redmi 4A is decent. On normal to moderate usage, it lasted us more than two days and we got a screen on time of 5 hours 30 minutes with 5% battery left. However, on heavy usage, we had to plug in the charger at the end of the day to juice up the battery. You can take a look at the table below to get an idea of Redmi 4A's battery performance.
| Apps/Games | Runtime | Battery Consumed | Brightness | Wi-Fi | Screen |
| --- | --- | --- | --- | --- | --- |
| 720p YouTube Video | 20 minutes | 2% | Auto | On | On |
| Offline 1080p Video | 20 minutes | 2% | Auto | Off | On |
| Online Music via SoundCloud | 30 minutes | 1% | Auto | On | Off |
| Offline Music | 1 hour | 3% | Auto | Off | Off |
| Facebook | 20 minutes | 3% | Auto | On | On |
| Instagram | 20 minutes | 3% | Auto | On | On |
| N.O.V.A 3: Freedom Edition | 20 minutes | 5% | Auto | On | On |
| Traffic Rider | 20 minutes | 6% | Auto | On | On |
With the power adapter that came along, the Redmi 4A took 2 hours and 30 minutes on an average to charge from 0 to 100%.
Pricing
The Xiaomi Redmi 4A is available in three colors:
The review unit we received is Rose Gold in color, however, the Dark Grey color is my personal favorite. All three variants of the Redmi 4A are priced at ₹5999 and can be purchased from Mi.com as well as Amazon India. The device goes on flash sale every week.
Verdict
So, it's time to wrap up our Xiaomi Redmi 4A review with a verdict. The Xiaomi Redmi 4A is a really good phone for the price we are paying. It performed well in our day to day usage and handled pretty much everything we threw at it without breaking much sweat. Navigating around the UI, switching between apps and playing heavy games was all good. Of course, there were some occasional stuttering, but that's it.
The display was also good and has decent sunlight visibility, however, as we said, the ambient light sensor was slow at times and we had to adjust the brightness manually. Having said that, it's good to see Xiaomi including such basic sensors when smartphones from certain tech giant in the same price bucket have it missing.
The Redmi 4A has a good build quality, and, while its back is made up of polycarbonate plastic, it certainly makes it look like metal. Speaking of the camera, the photos taken from this device may not be the best, but, they aren't totally bad either. Moving on to the storage, 16 GB just doesn't cut it in 2017, and, the usable storage on the device is also less which means if you have lots of apps, music and photos on your device, you will see the low storage warning pretty quick. That said, it would be wise to invest in a microSD card as well for storage expansion.
So, the real question is, should you buy this phone? Well, if you are on a real tight budget and couldn't spend more, then this is the phone you should go for. You really won't go wrong with the purchase decision. However, if you can manage to spend ₹1000 more, you can buy Xiaomi's Redmi 3S which comes with a little better SoC, a metal body and 4100 mAh battery.
Pros
Performance
Battery Life
Build Quality
Lightweight and Compact
Cons