YouTube has been testing some features on its Android app lately. We have already seen users reporting about video playback speed controls and live viewer count on YouTube for Android app. Well, today we are talking about the breaking news section.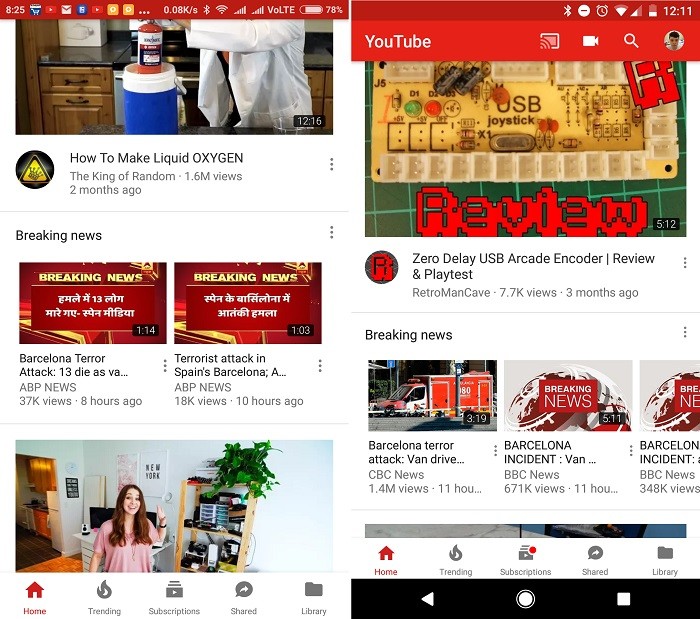 YouTube has added a new breaking news section in its feed that showed up to many users, irrespective of whether they were using the stable version or the beta version. As the name suggests, this section shows videos related to the breaking news in horizontally scrollable format.
While this section shows breaking news, the actual news being shown to you might depend on your region. However, as the recent major news that everyone was talking about was the attack in Barcelona, majority of the users were seeing this news in their breaking news section. Of course, the videos came in from different channels depending on the region they live in.
Also, the breaking news section not only showed up on Android and iOS mobile apps, rather, YouTube has added it on its desktop website as well. That said, for some reason, if you don't want to see the breaking news, you can click on "x" on desktop website or "Not interested" from the three-dot menu in Android app.
At this moment, we are unsure whether the breaking news section will only show up during major international incidents like the Barcelona attack, or, it will stay that way showing breaking news on a daily basis at a local level. What's also unclear is whether the news shown in this section will be picked up automatically by some algorithms or will it be curated by humans.
Of course, needless to say, as this was a server-side roll-out, there would have been some users who wouldn't have got this section on their YouTube app.
By the way, did you get the breaking news section on your  mobile app? Do you think its useful?