Last month, at its I/O 2018 annual developer conference, Google announced its 'Digital Wellbeing' initiative for Android P, as a part of which, it also announced a feature called 'take a break' for YouTube. The feature started rolling out to YouTube's Android app a couple of days after its announcement, and now, it has got some improvements.
For those unaware, YouTube's 'take a break' feature lets users set YouTube to remind them to take a break from watching videos after a certain amount of time. Until now, you could only set the reminder frequency for every 15, 30, 60, 90 or 180 minutes. But now, you have more control over selecting the reminder frequency.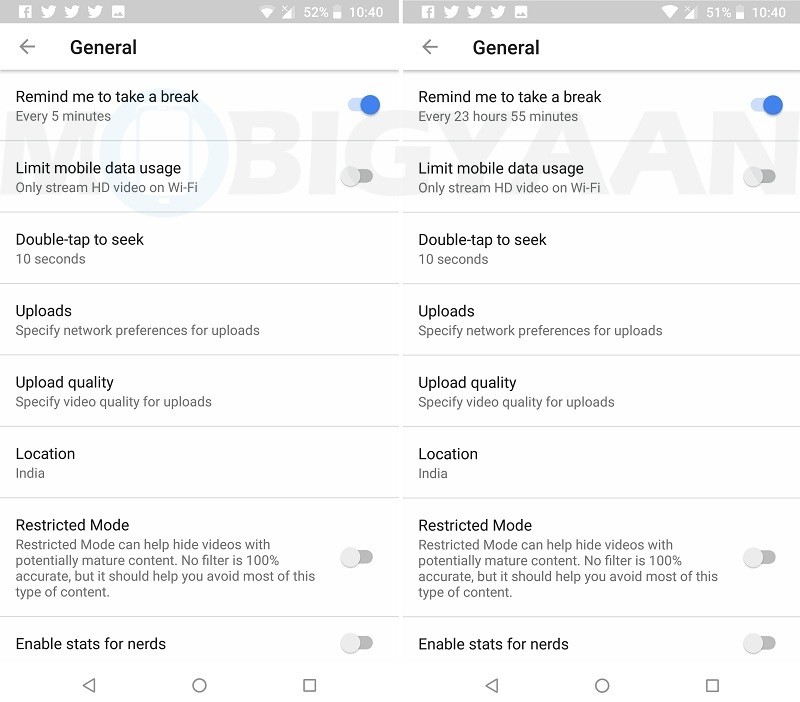 The reminder frequency can now be set for as low as 5 minutes and as high as 23 hours 55 minutes. However, do remember that the reminder frequency has an interval of 5 minutes, meaning you can set the reminder for as low as 5 or 10 minutes but not for anything in between.
How to set up YouTube to remind you to take a break?
Open YouTube
Go to 'Settings'
Go to 'General'
Tap on 'Remind me to take a break'
Select the reminder frequency
Right now, it's not clear whether this new frequency picker is rolled out to everyone or only to select users as a part of server-side roll-out. But, everyone here at MobiGyaan has got this feature on YouTube's Android app having version 13.20.54. What about you?