Facing fierce competition in the market, telecom operators in India are coming up with new offers to ensure that they stand out from the crowd. After revamping its prepaid plans and introducing a couple of new plans, Airtel is now focusing on corporate users.
Airtel has today announced that it has partnered with Google Cloud through with the company will be offering G Suite App access to SMBs. Those businesses which are using services of Airtel as telecommunications provider, basically users of Airtel Corporate Plans, will now be able to get benefits of G Suite.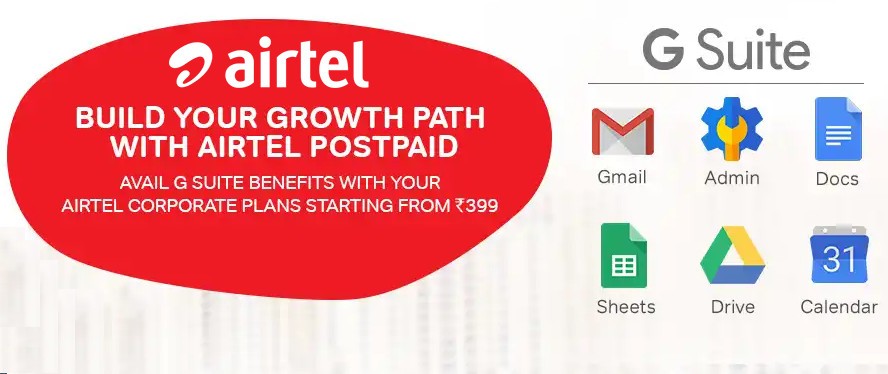 As a part of this offer, Airtel will be offering access to several cloud-based applications from Google, including its popular email service Gmail, online word processor Google Docs, online spreadsheets tool Google Sheets, online cloud storage Google Drive, Calendar, among others.
Commenting on this development, Thomas Kurian, CEO of Google Cloud, said: "the combination of G Suite's collaboration and productivity tools with Airtel's digital business offerings will help accelerate digital innovations for thousands of Indian businesses."
Do note that access to G Suite is available only to the Airtel Corporate Plans users. The company is currently offering four corporate plans, costing ₹299, ₹399, ₹499, and ₹1,599 per month. G Suite Apps access is available on all plans except for the base plan that costs ₹299.
Along with access to G Suite, Airtel Corporate Plans also offers features like Tracemate to locate and monitor field force, Wynk Music, Airtel Xstream, Norton Antivirus Subscription, Amazon Prime for 1 year, ZEE5 Premium, Shaw Academy Courses, Airtel Books, among others.