Two days ago, we got confirmation that Samsung Galaxy S9 is going to be unveiled at MWC 2018 next month. Thanks to leaked renders from the past, we do have a pretty good idea of what the S9 as well as the S9+ will look like. There were also some rumors about its specifications that were doing rounds on the Internet, but there wasn't anything concrete to them. However, today, an alleged retail box of the Samsung Galaxy S9 has surfaced online which does reveal some interesting information about its specifications.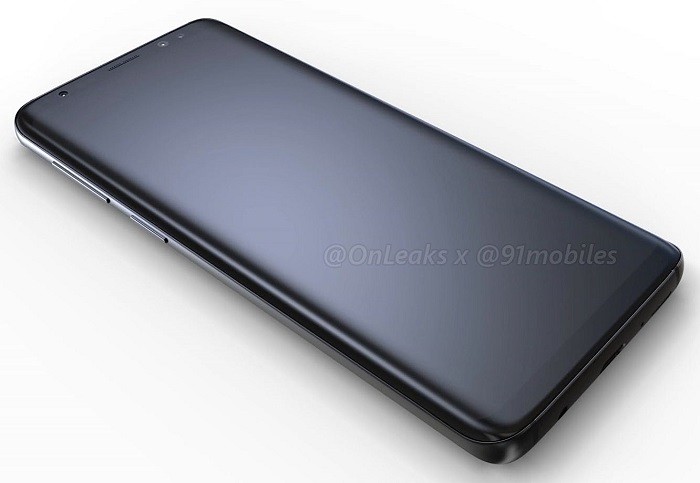 A user on Reddit has shared an image of retail box (pictured below) of the Samsung Galaxy S9 which reveals some specifications of this upcoming Samsung flagship. According to this retail box, the Samsung Galaxy S9 will feature a 5.6-inch Quad-HD+ Super AMOLED display that will have rounded corners we saw on last year's Galaxy S8 and S8+.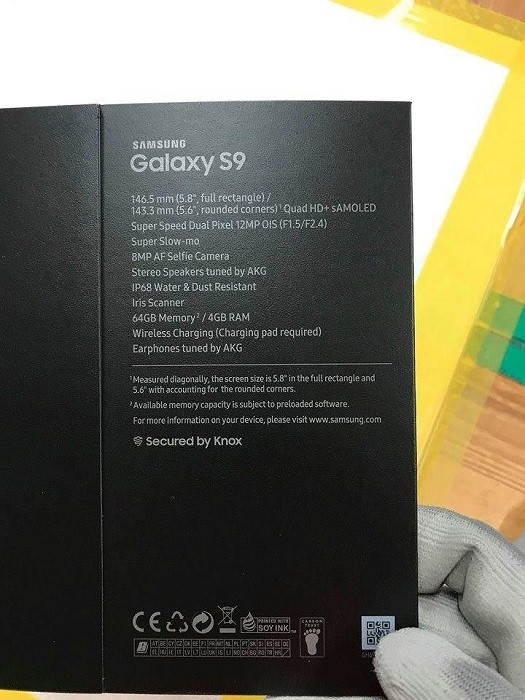 The S9 will also feature IP68 dust and water resistance, Iris Scanner, Wireless Charging, and, an 8 MP selfie camera on the front. That said, what's interesting here is the Super Speed Dual Pixel 12 MP rear camera with Optical Image Stabilization that has an aperture of f1.5/f/2.4. Well, as there are two apertures mentioned, it seems the camera will be able to switch between apertures depending on the lighting conditions, something similar to what we have seen on Samsung's W2018 flip-phone.
What's also worth noting is the "Super Slow-mo" feature which we reckon will compete with Sony's 960 FPS slow-mo. However, at this moment, there's no information on how much the frame rate will, but, last year, there was a report which stated that Samsung was working on a camera that could recording slow-motion videos at a whopping rate of 1000 frames/second.
Furthermore, the retail box also mentions AKG-tuned stereo speakers which means sound output will be much more better on the S9. However, we are unsure whether Samsung will go Google's way of offering two front-facing speakers, or, prefer Apple's style instead.
That said, the retail box also mentions 64 GB of internal storage on the S9 along with 4 GB RAM. Well, at a time when manufacturers are offering 8 GB of RAM, we would have like to see Samsung offering at least 6 GB of RAM on the S9. However, chances are Samsung could do that with the larger S9+ with more internal storage.
The Samsung Galaxy S9 is going to be unveiled next month at MWC 2018 which starts on February 26. Well, there's a lot of time for unveiling, hence, we will know more about the S9 and the S9+ in the coming days.