After seeing the BlackBerry L-Series (Z10)

smartphone

leak in full glory many a times, it is finally the BlackBerry N-Series (X10) to pose for the camera.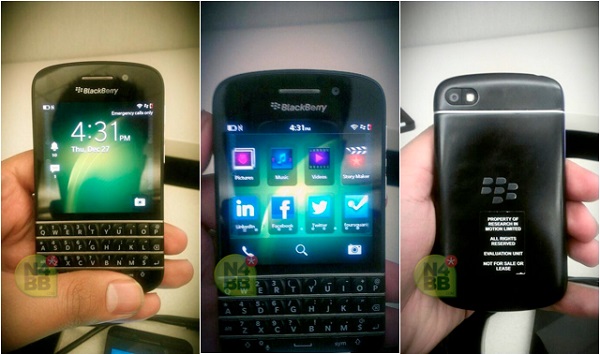 We have seen the BlackBerry 10 OS running BlackBerry N-Series leak a couple of times but the latest pictures which come in from N4BB are much clearer and give us the first look at the BlackBerry 10 OS running on the

smartphone

.

The BlackBerry N-Series will arrive with a physical full QWERTY keyboard and is to launch as the BlackBerry X10 alongside the BlackBerry L-Series (Z10) on January 30th, 2013 running on the BB10 OS, in which Research in Motion (RIM) is betting all its money.
 
We have heard less on the specifications that the BlackBerry X10 will launch with except that the screen resolution is 720 x 720 pixels but we have (almost) all the specifications of the BlackBerry Z10 which you can be found over here.
 
Both the BB Z10 and X10 are expected to launch in Black and White color options and have already posed for the camera and you can catch a glimpse of them, here.
 
So which one are you going with? Full-touch BlackBerry Z10 or the full-QWERTY X10? Shoot your choice in the comments sections below.