CyanogenMod 11S OS emerges in leaked OnePlus One screenshots
2014 is the year of smartphone innovation. It is also the year when Android, Windows and iOS will cease to be the only Operating Systems on the block. While we have already heard about Sailfish, Ubuntu and Firefox smartphone OS, how about one from the CyanogenMod team? The CyanogenMod 11S OS  is the successor to the CyanogenMod 11 OS, which was unveiled last year – it has been leaked in screenshots taken from the OnePlus One smartphone.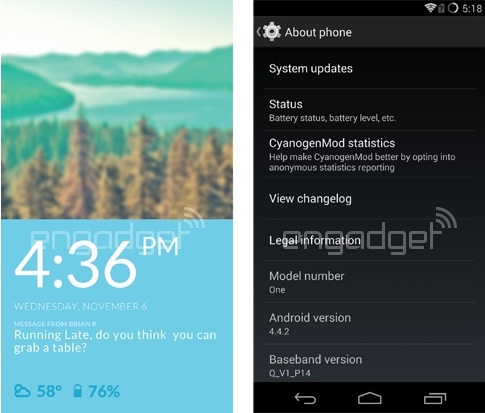 The OS is not a stand out OS but based on Android 4.4.2. It some nice tweaks in tow though such as a new UI, that displays a lot of information on the homescreen itself. Sadly, this is all the information that is available about the CyanogenMod 11S OS right now.
As for the OnePlus One, the company claims that it will be better than the other One Smartphone, the HTC One M8, not because it will offer extraordinary features, but because it will debut at a much better price – $400, while the HTC One M8 is expected to debut somewhere in the range of $600 and above.
The handset offers some very cool specs though, including a 5.5-inch 1080p display, a 13-megapixel rear camera, a quad-core Qualcomm Snapdragon 801 processor, and a 3,100 mAh battery. It will be officially unveiled on April 23.
OnePlus One specs
5.5-inch 1080p display
13-megapixel rear camera
 Qualcomm Snapdragon 801 quad-core processor
CyanogenMod 11S OS
3,100 mAh battery