Twitter had released a feature a few months ago that would allow readers who spend time on the Twitter app to apply Night mode or say a dark theme which won't harm the eyes. You can now activate Night mode on Twitter and it works for iPhones as well. We created this tutorial for iPhone users to help them get the Twitter's Night mode feature. For Android guys, this guide will walk you through the steps.
For those who use Twitter at night, the Night mode feature will give you a better sleep as it puts less strain on your eyes. Whenever you are in low-light situations or in darker areas, the Night mode will make your Twitter experience great. You don't need any external apps, it's within the Twitter app only. All you need is to push a button and you are in.
Before you start with the tutorial, make sure you have updated the Twitter app from the App Store. Updating the app will add the support for the Night mode feature.
Here's how you can enable Night mode on Twitter for iPhone and iPad
Step 1: Launch Twitter app.
On your iPhone, launch the Twitter app from the homescreen.
Step 2: Tap on your profile or swipe to right.
Tap on your profile picture or swipe from the left side to the right side to reveal the slide-out menu.
Step 3: Tap the Night icon at the bottom.
Check the bottom of the menu, a Night icon will be visible to you, tap it and the Night mode is enabled. Tapping again will disable it. This is a quick shortcut that can be accessed from the Twitter's Homescreen to enable Night mode.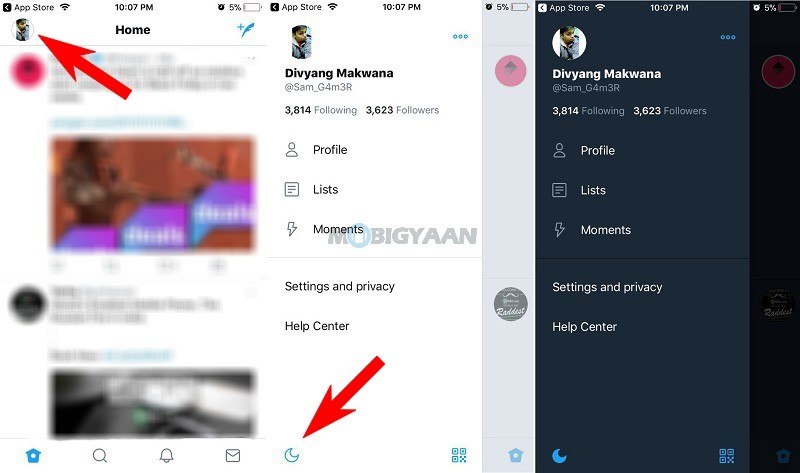 What happens when you turn on Night mode? The Twitter interface will change to a dark theme preventing any bright lights that might hurt your eyes. I sometimes even feel that the lowest brightness on the iPhone is just isn't enough, a darker theme might serve better. If you are like me who want to go beyond the minimum brightness on your iPhone, you might want to see how to reduce the intensity of bright colors on iPhone.
Alternately, go to Settings and privacy -> Display and sound -> Night mode. Yes, you can also toggle the Night mode from the inside. Go to 'Settings and privacy' option, under that enter 'Display and sound', find the 'Night mode' slider and tap on it to enable Night mode on Twitter.
On Android, the Night mode can also be used automatically, i.e. the Twitter app will automatically switch to Night mode during sunset as well as turn off automatically at the time of sunrise without you having to intervene. Unfortunately, iPhone users need to manually tap the icon. Future updates from Twitter might add that support too.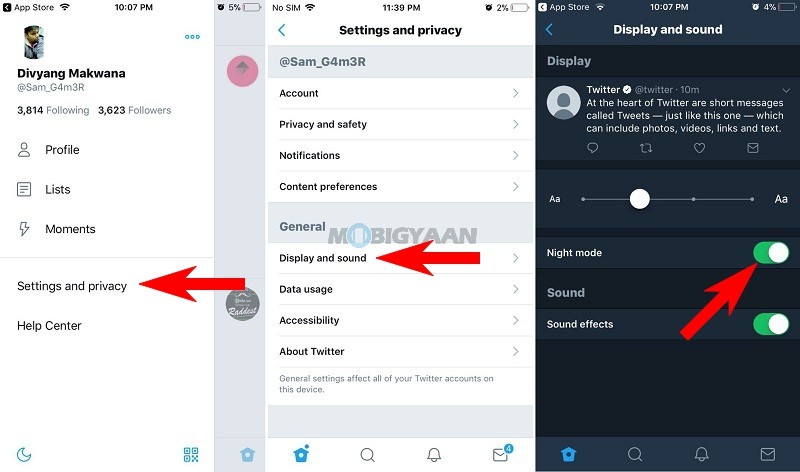 Share this guide with your friends if you care about their eyeballs. Do visit our How-To Guides to check more cool stuff.