Back in April this year, social media giant Facebook received a lot of flak after a report revealed that the company had retracted messages sent by Mark Zuckerberg and other executives from the recipient's inboxes. Following this, Facebook said that it would soon roll out a similar feature that would allow all Messenger users to unsend messages. After six months, Facebook was found to be testing this 'Unsend' feature in Messenger that would allow users to retract messages from the receiver's end. Last week, we learnt that Facebook would let Messenger users unsend messages that are up to 10 minutes old. And now, Facebook has finally announced that it has started rolling out this feature to Messenger users.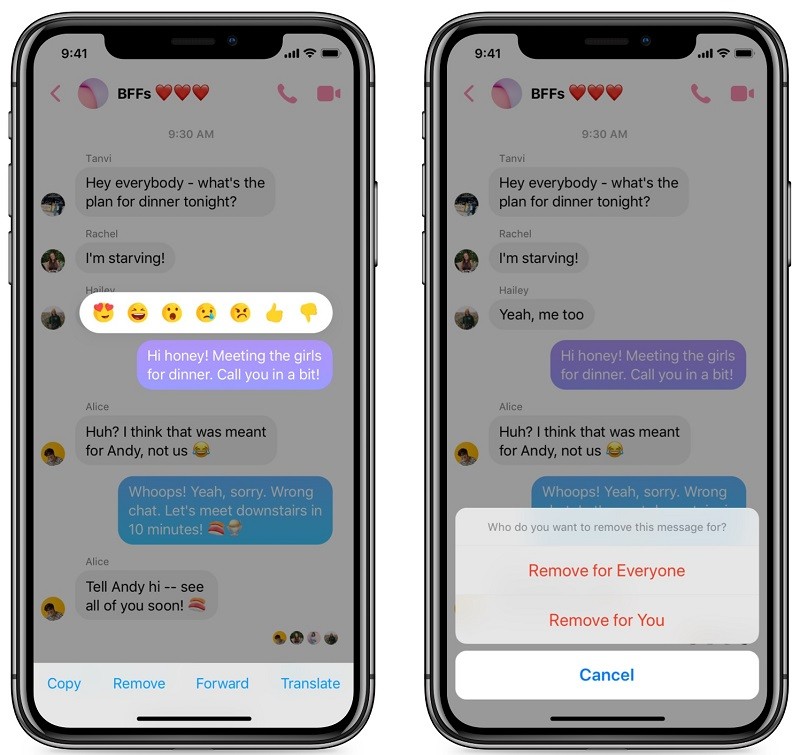 Facebook has confirmed that it has started rolling out this 'Unsend' feature to Messenger users that will let them unsend a message that's up to 10 minutes old. Well, this is useful if you end up sending a wrong message to a wrong person, or say something that you realize after a couple of minutes you shouldn't have said.
This unsend feature is actually called 'Remove for Everyone' inside Messenger, which sounds similar to WhatsApp's 'Delete for Everyone' that lets users unsend messages that are more than an hour old.
To unsend a message, all you have to do is select that particular message by long-pressing on it, tap on 'Remove', tap on 'Remove for Everyone', and then tap on 'Remove' again when asked for confirmation. This will delete the message from the recipient's inbox – and this works in both private as well as group chats. However, do note that once you unsend a message, Facebook will leave a tombstone in the chat to let user(s) in the chat know that you removed a message. Facebook says this is done to prevent misuse of the feature, while also allowing users to report inappropriate messages even after they have been deleted by the sender.
"The pros are that users want to be in control . . . and if you make a mistake you can correct it. There are a lot of legitimate use cases out there that we wanted to enable," said Stan Chudnovsky, Facebook's Head of Messenger. "We need to make sure we don't open up any new venues for bullying. We need to make sure people aren't sending you bad messages and then removing them because if you report them and the messages aren't there we can't do anything" Chudnovsky further added.
The social media giant has also said that it plans to further improve this feature by allowing users to set expiration dates to their sent messages on a "per thread level".
This 'Unsend' feature is currently rolling out in Poland, Bolivia, Colombia and Lithuania for both iOS and Android users, and Facebook plans to roll it out globally as soon as possible.