As the floodgates of the Galaxy Note8 rumors start to open, it's hard to separate the wheat from the chaff. But if its back covers or cases we are talking about, the case is different. Especially when it is from a reputed case maker. Today we have Olixar putting cases of the unreleased Galaxy Note8 on pre-order.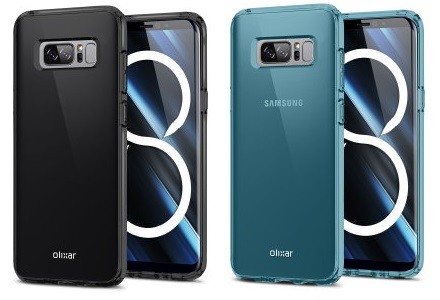 The case maker has a history of outing back covers of flagships like the iPhone 7, the Galaxy Note 7 and the Galaxy S8 accurately. So we have good reason to believe that these stand a good chance of being the real deal.
The UK-based case maker has revealed interesting designs of the upcoming phablet via its cases. Most interestingly, it seems the horizontally stacked camera at the back will be a reality. Samsung is expected to add on multiple 12 MP sensors for the setup. One piece of bad news is that there might not be an on-screen fingerprint sensor after all. To make matters worse, Samsung is sticking with the placement of the Galaxy S8 for the sensor. Right next to the dual cameras. And if you are wondering, yes that is the Bixby button on the left side of the phone. At the front, the bottom bezels might be even thinner as the product images depict a bigger Infinity Display. But then again we don't have dimensions, so it might be us.
Furthermore, the cases are available in Silver, Black, Blue, and Purple color. Well, we've seen a blue color before, but would definitely like to see how a purple color looks in our hands. The Galaxy Note 8 with 6 GB of RAM is expected to be the most expensive Samsung device yet with reports of a €1,000 price tag.