Mountain View based Internet search giant Google has made quite a few announcements recently. The company has confirmed that the first set of Android Go (Oreo Edition) smartphones are going to be unveiled next week alongside some new Android One devices. Besides, it also officially announced ARCore 1.0 along with some update to Google Lens. But that's not it. Google also shared some information pertaining to Google Assistant, which includes support for more languages by the end of 2018.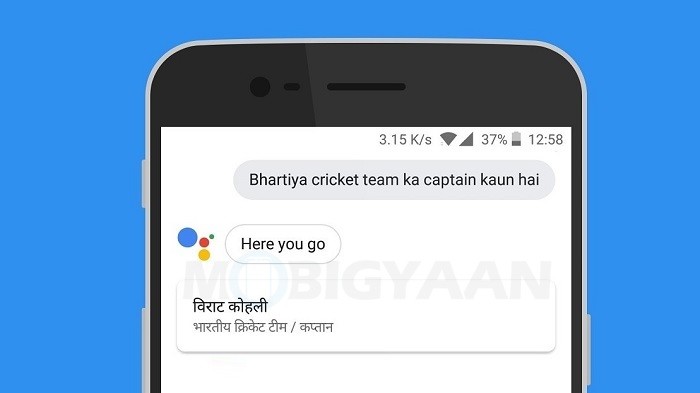 Google has announced that it will roll-out support for 30 more languages in Google Assistant by the end of this year. And, one of those languages include Hindi as well. Currently, Google Assistant is available only in eight languages – English, French, German, Italian, Japanese, Korean, Spanish, and Portuguese (Brazil) – but, in the coming months, Google will support Danish, Dutch, Hindi, Indonesian, Norwegian, Swedish and Thai languages as well.
These languages will not only be restricted to Android phones, but will be rolled out to iPhones as well. Having said that, Google Assistant currently has partial support for Hindi which means that Assistant can understand Hindi language, but, it cannot perform all the actions that Assistant in English can. Well, that should change once Google rolls out proper support for Hindi in the coming months.
Also, apart from rolling out support for 30 more languages, Google has announced that they are making Assistant multilingual. What that means is you can talk to Google Assistant in multiple languages without changing any settings and the Assistant will still understand you and perform different actions that you throw at it. However, this feature will initially only support English, French and German languages.
Besides, Google also talked about Assistant Mobile OEM program which will "enable OEMs to build deeper integrations between the Assistant and device features, using natural language understanding and the conversational interfaces of the Assistant".
Moreover, as a part of its Assistant Carrier program, Google has worked with carriers like Sprint, Koodo, Telus and Vodafone to make it possible for customers to use Assistant's capabilities to know more about a carrier's plans or activate new services.
Lastly, Google also announced Routines and Location-based Reminders on Assistant. The former lets you do multiple things at once, whereas the latter lets you set location-based reminders through Assistant-powered smart speakers like Google Home. Both these features will be rolled out in the coming weeks.