The Google Assistant, that debuted on smartphones with the first-gen Pixel smartphones back in 2016, is now coming to feature phones, and, the first feature phone that will be getting the Google Assistant is the JioPhone which was announced back in July this year.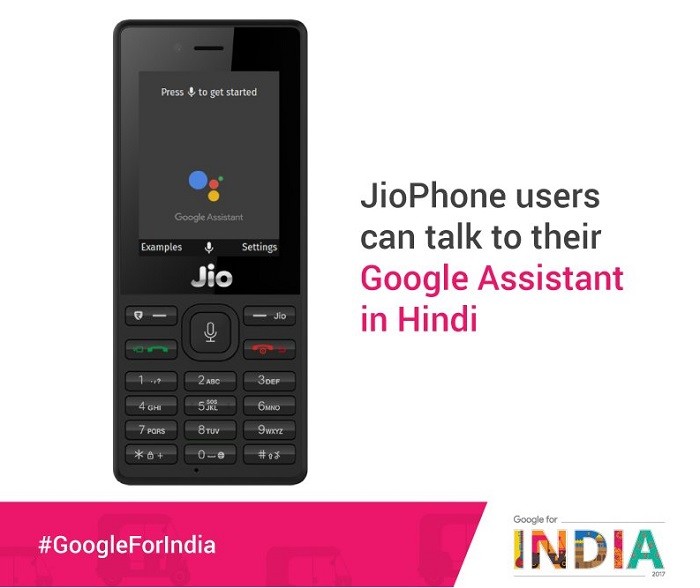 Google, at today's Google For India 2017 event in New Delhi, has made quite a lot of India-specific announcements. One of them is the arrival of Google Assistant on JioPhone. The JioPhone is a 4G VoLTE enabled feature phone which comes with support for some apps like JioMusic, JioCinema, JioTV and more.
The JioPhone is launched by Mukesh Ambani led Reliace Jio to get the 50 Crore feature phone users on the 4G bandwagon at a price they can afford to pay. The JioPhone being a feature phone doesn't run Android, it rather runs Kai OS which is a forked version of Firefox OS.
Well, with Google Assistant on JioPhone, users will be able to make phone calls, play music, search the Internet and do more through voice commands. The Google Assistant on JioPhone supports both English and Hindi languages, hence, those who have problem talking in English can give voice commands to the Assistant in Hindi.
Also, in case you are unaware, Google Assistant is only available on those Android smartphones that run Android 6.0 Marshmallow or above, have Google Play Services, an HD screen, and, at least 1.5 GB RAM. Moreover, Google Assistant is also not supported on Android tablets. Hence, we are actually surprised to see Google rolling out Assistant to a feature phone like JioPhone. Well, we hope that it works well on the JioPhone like it does on Android and iOS devices.
The Google Assistant will automatically become available on JioPhone starting today. No update is required.
What are your thoughts on Google Assistant coming to JioPhone?