Google Now is getting more and more interesting day by day. While it started out just as a fancy voice app for routine updates such as weather, this piece of software is becoming more and more intuitive by the minute. After adding stuff such as cricket functionality and flight details, Google is mulling over adding a nice Google Now feature – one that will remind you to pay your bills on time.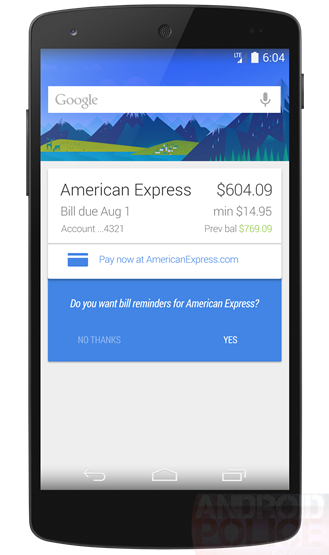 This feature surfaced in a bit of a leaked code, which shows that you will have reminders of your credit card bills and utilities in Google Now itself. Currently, it seems that Google Now will pick up this data from your Gmail account. However, bill payment reminders are not the only thing Google Now will do – it might also store your last bill payment details and let you pay bills by connecting you to the website of your service provider.
Google Now has a lot of potential and all these new features might also be an indication that Google is expanding the functionality to create better support its wearable OS – the Android Wear. Furthermore, there is also a rumored Google Now smartwatch in the works, which we might see by the end of the year.