Mountain View-based Internet giant Google has scheduled an event next month on October 9 where it is going to announce third-gen Pixel smartphones – the Pixel 3 and the Pixel 3 XL. Now we already know what these Pixels are going to look like as both of them have leaked to infinity – especially the Pixel 3 XL. There have been some conspiracy theories too making rounds on the Internet that these leaks are a part of Google's own PR campaign, and that the Pixel 3 XL will look different at the time of unveiling. However, the press renders of both the Pixel 3 and Pixel 3 XL that have now leaked online suggest that may not be the case after all.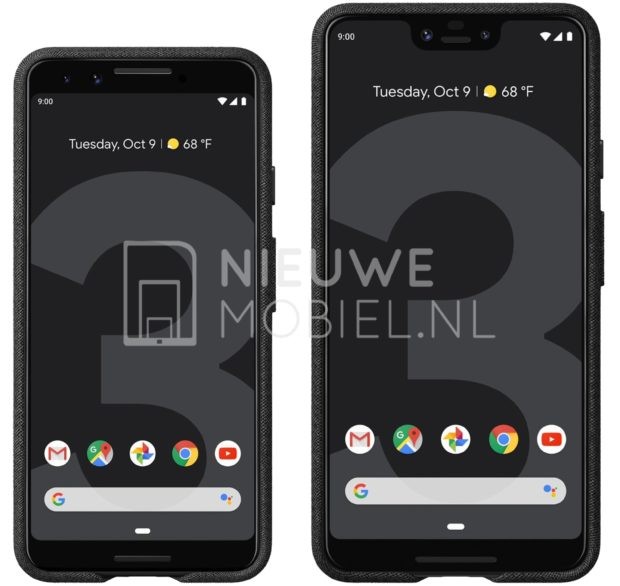 The press renders of Pixel 3 and Pixel 3 XL (attached above and below) have been leaked by Dutch website NieuweMobiel which claims to have received them from a reliable source. These renders don't reveal anything new in terms of design of the Pixel 3 and 3 XL. But, they do hint at the fabric case making a return as both of them are shown covered with this fabric case in the renders.
As you can see from the renders, the Pixel 3 has a notch-less display whereas the Pixel 3 XL has a big, ugly notch up top. Both the smartphones also sport dual cameras on the front, with Google still sticking to a single camera at the back. Furthermore, both these Pixels also have dual front-facing speakers – a feature that's our personal favorite.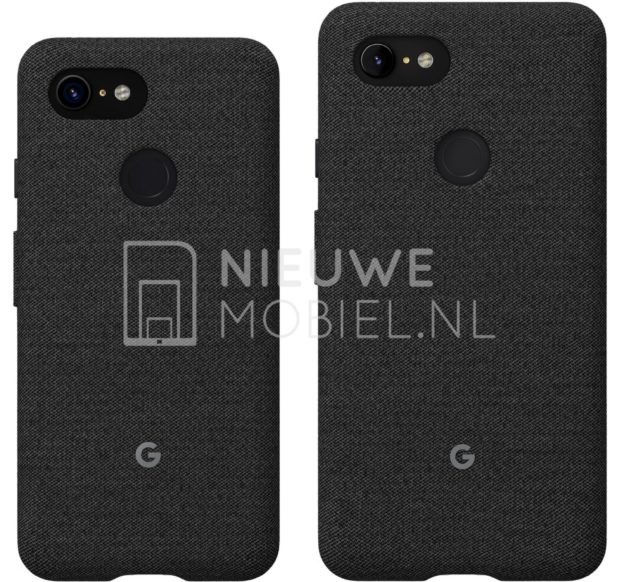 That being said, both the Pixel 3 and 3 XL are having the same wallpaper, and, it reveals that these third-gen Pixels will come with a Google search bar that will have a Google Assistant button instead of a microphone button. The renders also reveal that both these smartphones will be running Android Pie out-of-the-box, which isn't all that surprising. Is it?
These press renders don't reveal anything new apart from what we already know about the design of the Pixel 3 and 3 XL. Like previous Pixel smartphones, the Pixel 3 and 3 XL will also be same smartphones that will be differentiated by screen size, screen resolution and battery capacity. Both of them will be powered by Qualcomm's Snapdragon 845 SoC which will be mated to 4 GB RAM. But we really hope that Google will have a 6 GB RAM variant too for those who want more RAM.
We are around three weeks away from the unveiling of the Pixel 3 and Pixel 3 XL. Let's see what else do we get to know about these third-gen Pixels before they go official.