We are still a couple of hours away from the kick-off of Google I/O 2018 conference. The I/O conference is held annually and is a place where Google shows off its latest and greatest software products. Two years ago, back in 2016, Google announced its smart messaging app Allo and video calling app Duo at its I/O conference. And at this year's I/O, we are expecting Google to reveal some more features about the next version of Android which is currently known as Android P. However, before the I/O 2018 kicks-off, Google has announced its winners of Google Play Awards 2018.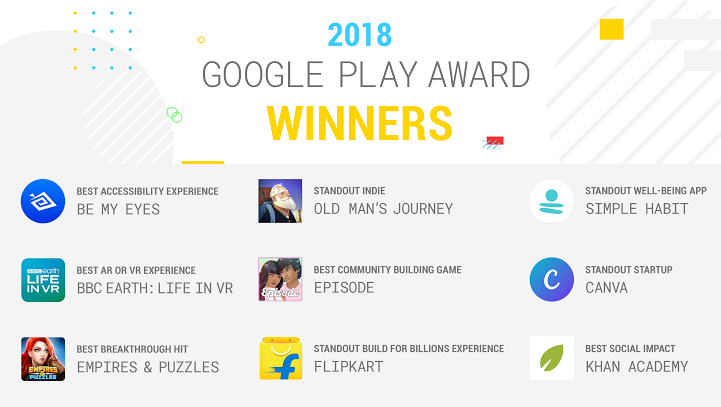 Google, for the first time ever, had given awards to best apps and games back in May 2016 at Google I/O by announcing the Google Play Awards. And now, Google has announced the winners of the third installment of Google Play Awards. There were a total of 39 apps and games across nine different categories who battled it out to win the award of Google Play's best of 2018.
And the winners are…
Over a month ago, Google also released its list of Android Excellence apps and games for Q2 2018. Android Excellence apps and games are announced every quarter, and, only those make it to this list that are "optimized for great performance" and are "noteworthy for adopting the latest Android features".
Anyways though, coming back to Google Play Awards 2018, you can click here to check out all 39 apps and games that were in the race to win Google Play's Best of 2018.
Did your favorite app/game win the Google Play Award? No? Well, was it even nominated?