Huawei revealed its stunning Android Wear powered Watch at the MWC but as we reported previously, the company decided to not launch its flagship at the Barcelona expo. Instead, Huawei plans on revealing its P8 flagship in April at a standalone event. Well, the company has started teasing the device.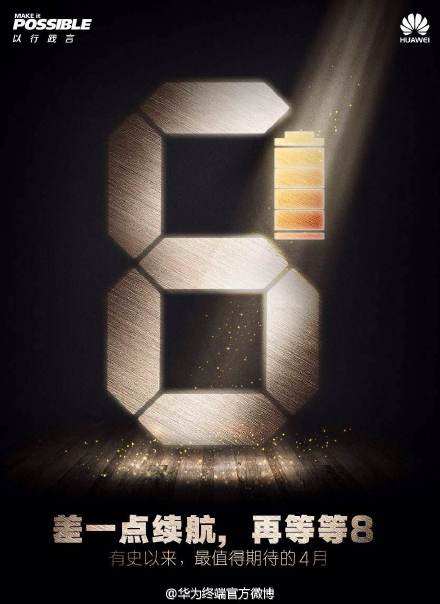 Huawei has just released a teaser for the Huawei P8, which as we know will not be coming with the "Ascend" branding. The teaser shows the digit '8' in segments, with one of the segment featuring a battery, which is in the focus thanks to some lighting over it.
The teaser makes us think that Huawei might bring a better battery to its flagship than we are used to. If we remove the battery indicator, we get a 6 but 6 day battery life on a modern day flagship doesn't sound plausible. Well, we'll have to wait to know more about the battery on the Huawei P8.
The Huawei P8 is rumored to be coming with a ceramic unibody and a pretty slim profile. The specs are said to be a 5.2-inch 1080p display, the company's very own Kirin 930 chipset with 3 GB RAM.
We should know more about the Huawei P8 next month and as always, we'll keep you up to date.