We have seen the LG built next Nexus smartphone leak and also seen the sample pictures taken from the purported 8 MP camera on the rear of the smartphone.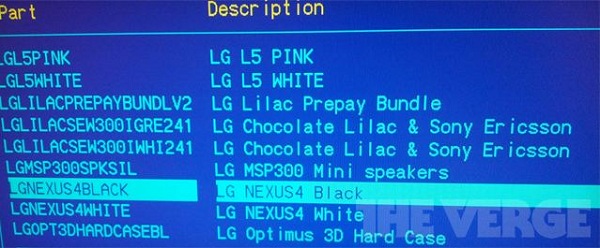 And now, the smartphone has appeared in the inventory listing of Carphone Warehouse as 'LG Nexus 4'

Now, as per the screen shot which was sent to TheVerge, there are possibilities that the next Nexus smartphone might be named officially as 'LG Nexus 4' or the '4' is just for the sake of reference that this would be the forth Nexus smartphone in the line-up.
 
The leak also suggests that we could see the LG Nexus 4 arrive in two colour options: Black and White for users an extra option to choose from.
 
As per the previous leaks, the LG Nexus 4 looks like the previous Nexus smartphones with curvy edges and not like the Optimus G which as initially suggested. Also the smartphone is said to run on Android 4.2, be powered by a 1.5 GHz quad-core Snapdragon S4 Pro processor, and have a 4.7 inch screen.
 
We expect Google to announce the smartphone by the end of October and make the device available in November.