Back in February this year, South Korean manufacturer LG unveiled its flagship G6 with bezel-less design and FullVision display. Later on, Samsung also unveiled the Galaxy S8 and S8+ with bezel-less design, and since then, more and more manufacturers have come up with smartphones having their bezels shrunk. While this design language was only seen on the flagships that cost a premium, LG went a step ahead and brought its FullVision display and bezel-less design down the mid-range segment by launching the LG Q6. However, are those aspects reason enough for you to spend your money on the Q6? Well, let's find that out with this LG Q6 review.
In box contents
LG Q6
Charger (5V/2A)
Earphones
USB Cable
SIM Tray Ejector
User Guide
LG Q6 specifications:
CPU: 1.4 GHz Snapdragon 435 octa-core processor
RAM: 3 GB LPDDR3
GPU: Adreno 505
Operating System: LG UX 6.0 based on Android 7.1.1 Nougat
Display: 5.5-inch Full-HD+ (2160 x 1080 pixels) FullVision Display with 18:9 aspect ratio and Gorilla Glass 3
Rear Camera: 13 MP with LED flash
Front Camera: 5 MP 100-degree wide-angle
Internal Storage: 32 GB
External Storage: Expandable up to 2 Terabytes via microSD card (dedicated slot)
SIM: Dual Nano SIM
Connectivity: 4G VoLTE, GPS, Bluetooth 4.2, Wi-Fi 802.11 b/g/n, 3.5 mm headphone jack, FM Radio, USB OTG
Other: Face Recognition, MIL STD-810G military grade certification
Colors: Astro Black, Ice Platinum, Terra Gold
Battery: 3000 mAh
Design
The LG Q6 looks similar to the company's flagship G6. It has a metal body, feels very sturdy and also comes with MIL STD-810G military grade certification which means it should resist some occasional falls. The phone also has a bit of a heft which inspires confidence while holding it.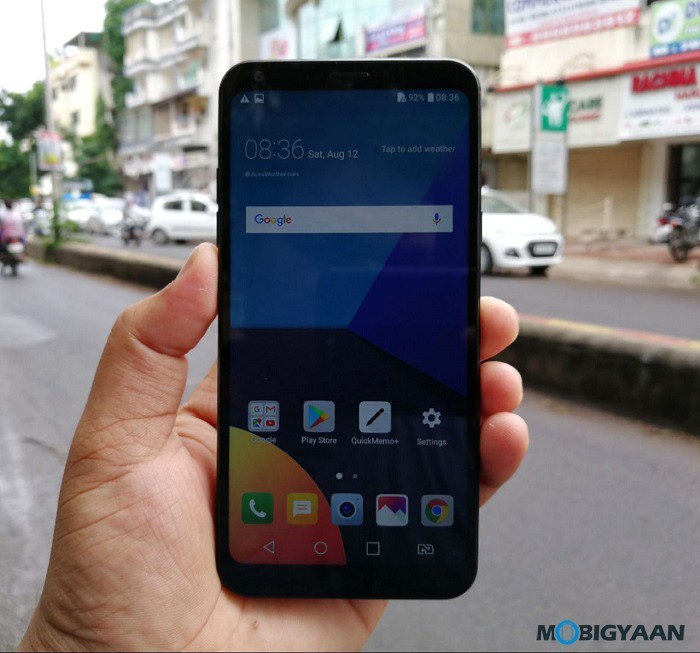 At the front is the 5.5-inch Full HD+ FullVision display that we have seen on the G6 in a slightly larger size with a bit higher resolution. However, thanks to this display with 18:9 aspect ratio, you get a bigger screen in a relatively smaller footprint which makes the phone compact and easier to operate with one hand.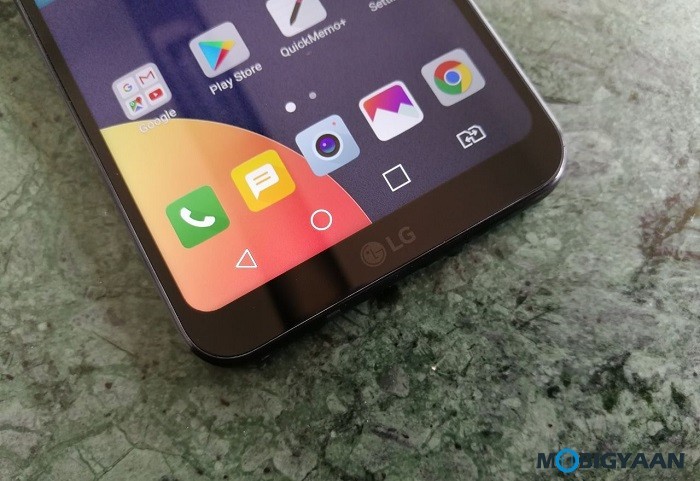 Moreover, as the phone comes with FullVision display, the bezels at the top and bottom have also been reduced, and, the only thing above the display is the earpiece and secondary camera, with the bottom only accommodating the LG moniker. There isn't any fingerprint scanner or capacitive navigation keys, and, neither is there any LED notification light which is a bummer.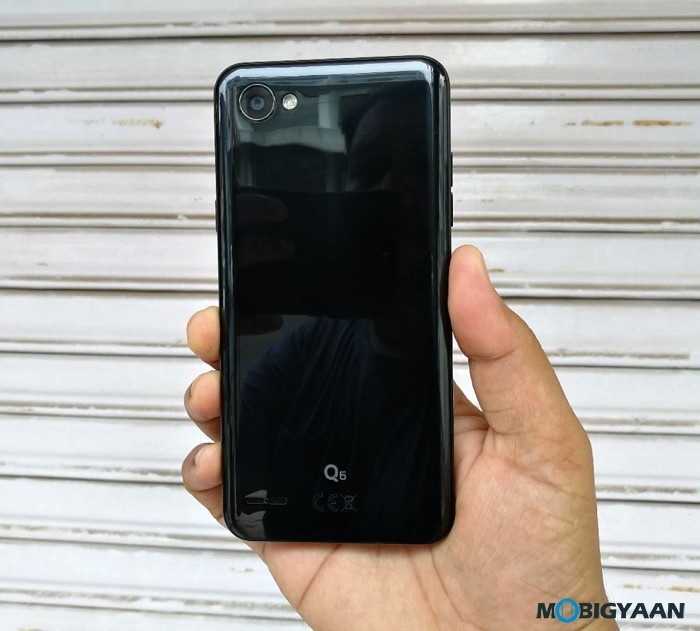 Like the front side of the phone, the back also looks premium with its glossy finish, however, the Q6 comes with a soft plastic back which gets scratched easily. Hence, if you buy this phone, you are better off purchasing a protective case as well. Moreover, you will also find a single camera at the back of the Q6 along with LED flash as well as the Q6 moniker further down below. The speakers are also located at the back of the phone, however, the placement isn't good as the sound will be projected away from your face while watching videos or playing games and will get muffled while the phone lies on a flat surface with its screen facing up.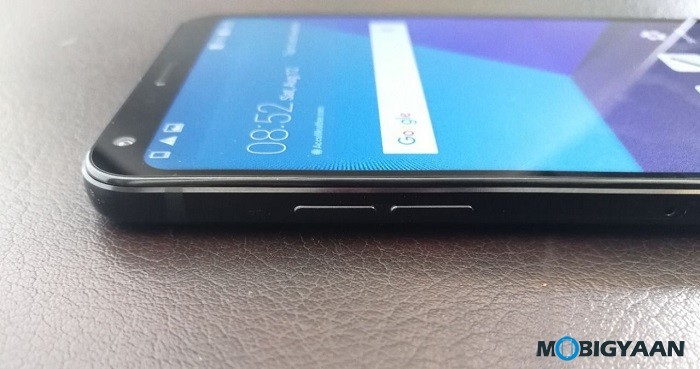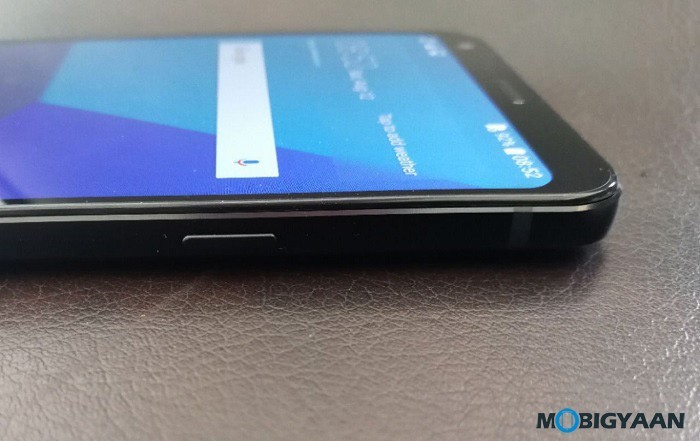 The LG Q6 comes with 'H Beam' frames that are made out of 7000 Series aluminium which should keep the phone safe from impact coming from any direction. At the right side of the phone is the power button whereas the volume rocker, SIM card slot and dedicated memory card slot reside on the left. The power button and volume rocker are also of good quality and provide nice feedback.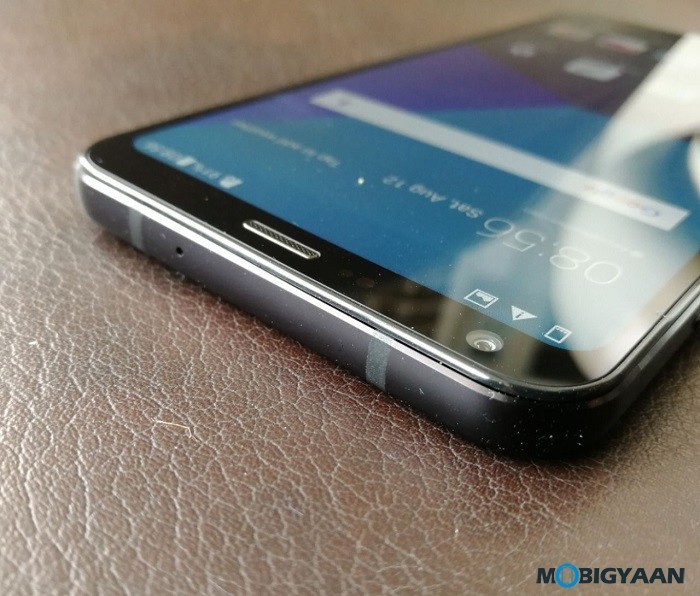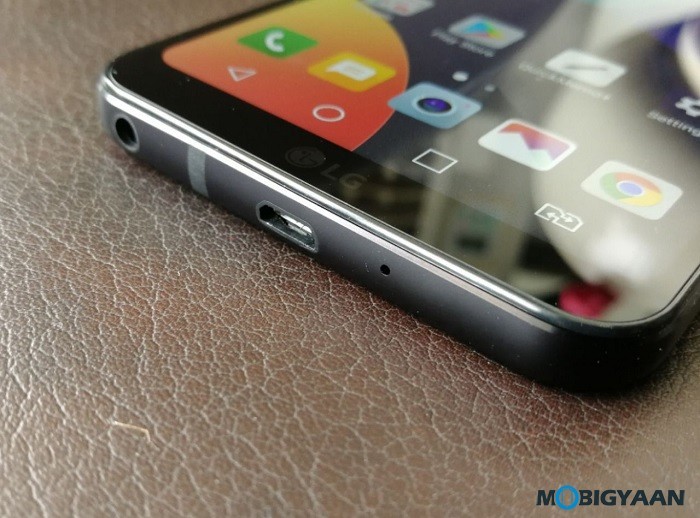 You can see two antenna lines on the top of the phone along with secondary microphone, and, at the bottom is the now outdated micro USB port flanked by 3.5 mm headphone jack and antenna line to its left and primary microphone to the right.
So overall, in terms of design, like we said, the Q6 looks similar to the G6. It's compact, is built well, feels sturdy and is comfortable to operate with one hand. However, the back of the phone gets scratched easily so you will have to invest in a protective cover or maybe just apply a skin on it to keep it in its pristine form. Moreover, the absence of something as basic as an LED notification light is not appreciated. Especially as this isn't a phone which comes with something like Ambient Display or Always On Display which would draw your attention towards new notifications.
Display
The LG Q6 sports a 5.5-inch Full-HD+ FullVision display that has an aspect ratio of 18:9 and a resolution of 2160 x 1080 pixels. While it doesn't have a 2.5D curved glass atop, it does come with the protection of Gorilla Glass 3 while having a pixel density of 442 ppi.
The display on the LG Q6 is its biggest highlight. It is of great quality and the color reproduction is also good. Viewing angles were also good enough. While the sunlight visibility wasn't as good as we would have liked to see, it's wasn't too bad at all. It would suffice.
As the LG Q6 comes with a display having 18:9 aspect ratio, the company provides an option for App Scaling to adjust the screen size of downloaded apps as chances are you might often see black bars while playing games or watching a video in landscape mode.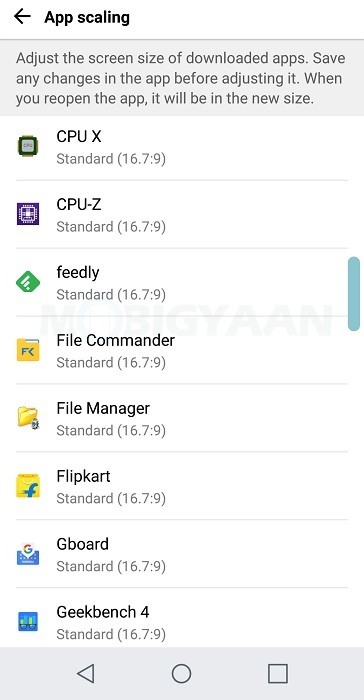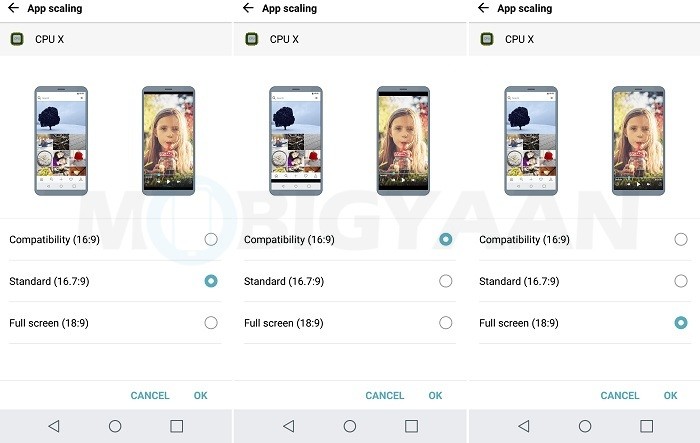 By default, the downloaded apps are set to 16.7:9 aspect ratio, however, you can change it to 16:9 or 18:9 based on your liking. But, do keep in mind that if you change the aspect ratio for an app which is open in the background, you will loose any modifications made in it as the app will restart when the aspect ratio is changed. Moreover, it also doesn't go well with some games as we noticed huge zig-zag lines along the sides of the screen. This happened when we took a beating in FPS games or a hit in racing games.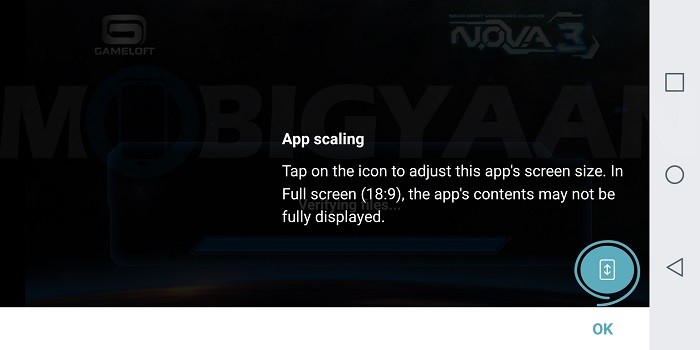 Well, having said that, the LG Q6 also comes with blue light filter which helps reduce strain to your eyes when you use your smartphone in low-light, especially during night time.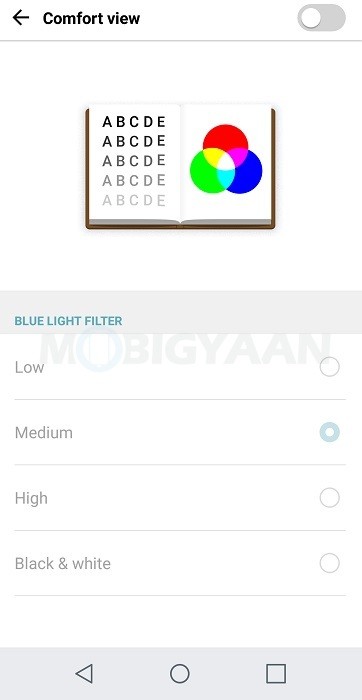 In Q6, it's called Comfort View which can be turned on by going to the Settings > Display > Comfort View menu, or, it can also be turned on directly from quick settings. You can adjust the intensity of Comfort View to Low, Medium or High based on your liking. Besides, you can also choose the Black & White mode which turns the display of Q6 to grayscale. Something similar to the Reading Mode that we have seen on the OnePlus 5.
Face Recognition
Like we already said, the LG Q6 doesn't come with a fingerprint scanner. A feature which has been commonplace even among the phones that are priced under ₹10,000. LG probably gave it a miss as a part of cost-cutting to bring us the FullVision display. However, as a substitute, LG has thrown in Face Recognition on the Q6.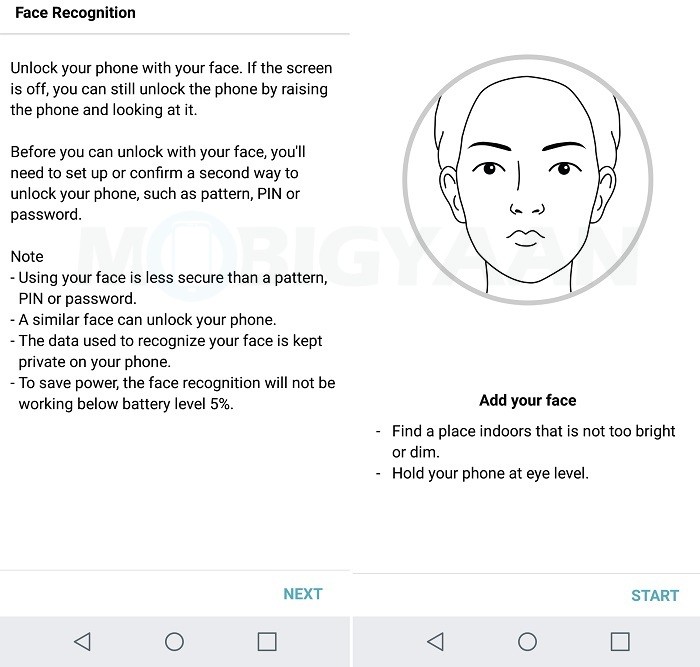 As the name suggests, with Face Recognition turned on, you can unlock your Q6 with your face by looking at its front camera. Face Recognition can be enabled by heading over to the Settings > Display > Lock screen > Face Recognition menu.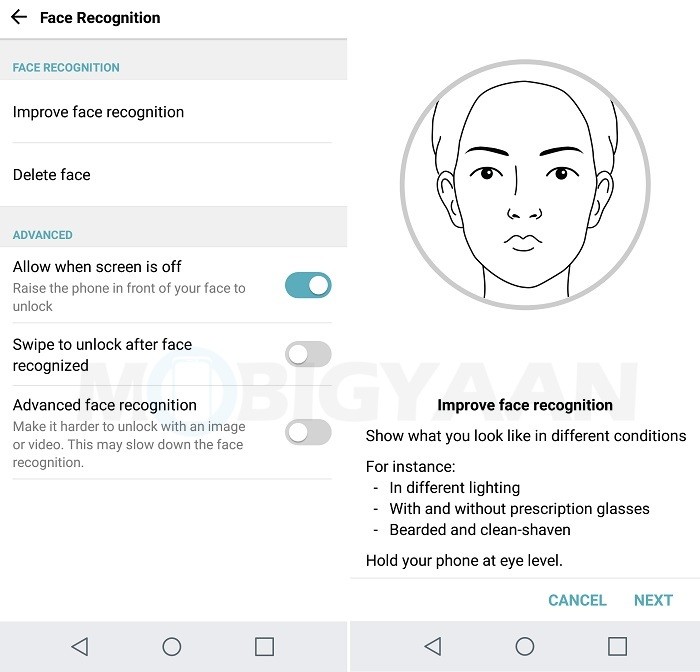 While adding your face to the system, make sure you have it scanned in different conditions like in low-light, with a different hair style, with/without beard and with/without your spectacles. The face recognition feature unlocks your phone even when its screen is turned off. You just have to look at it. No need to even press the power button.
However, it isn't perfect. When it works, it unlocks the phone insanely fast. But when it doesn't, you are forced to unlock your smartphone using the PIN/Pattern/Password that you have used to secure it. Moreover, it can be fooled easily using your photograph. I successfully tried it myself by holding a photo of mine on another smartphone in front of the Q6. Well, this defeats its purpose at the first place.
Furthermore, the Face Recognition feature is also useless at night. You will have to unlock your smartphone using the PIN/Pattern/Password. Well, the point is that Face Recognition won't always work perfectly and you will miss the fingerprint scanner on the Q6 a lot.
Performance
The LG Q6 comes with Qualcomm's Snapdragon 435 SoC under the hood which is laced with 3 GB of LPDDR3 RAM and backed by Adreno 505 GPU. The SoC is clocked up to 1.4 GHz and consists of eight ARM Cortex A53 CPU cores.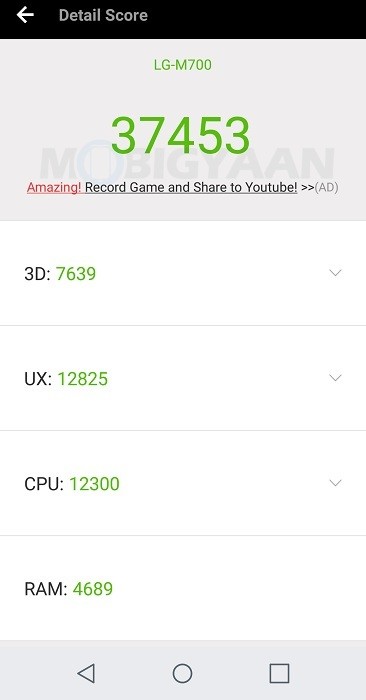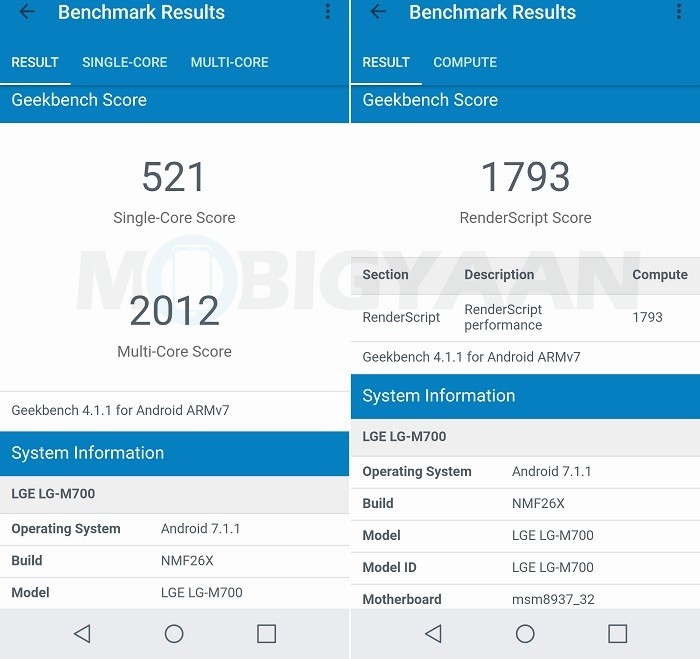 The LG Q6 made a score of 37,453 points in AnTuTu benchmark test while scoring 521 and 2012 points in Geekbench 4's single and multi-core test respectively. The Q6 also scored 1793 points in Geekbench 4's Compute test. In case you are interested, here are the full stats of Geekbench 4 CPU and Compute test of LG Q6.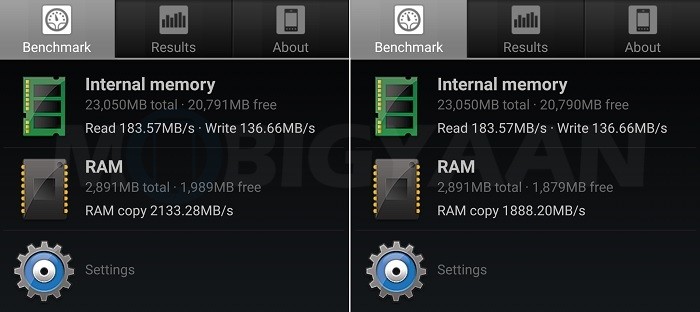 Like we already said, the LG Q6 comes with LPDDR3 RAM which is pretty much standard on most phones today. In our benchmark tests, we got an average RAM copy speed of around 2010 MB/second. Speaking of the internal storage, the Write speeds were consistent at around 136 MB/second with the Read speeds clocking in at 183 MB/second.
Well, that was the performance of the Q6 in synthetic tests. In real life, the LG Q6 did just fine. It wasn't super snappy at all in our experience, but it wasn't totally a slouch either. If you are someone whose daily usage circles around chatting on WhatsApp and other IM apps, browsing through Facebook and Instagram, and, watching videos on YouTube, you will do just fine with the Q6.
Speaking of games, the graphics rendered on the device were also fine enough. However, we did notice frame drops and stutters while playing heavy titles like N.O.V.A. 3, NFS NL and Asphalt 8. To get relatively smoother performance, you can try playing games at a lower resolution. But again, chances are you will notice occasional stutters while playing heavy games. Moreover, you might also want to check the Game Battery Saver settings if you experience lower resolution and stuttering while playing games. More on that in the Battery section.
Games we tested on LG Q6
N.O.V.A. 3: Freedom Edition
Asphalt 8
NFS No Limits
Traffic Rider
There's one thing that we would like to point out though. The left portion of the back of Q6 does get quite hot after being used for more than half an hour. Be it for gaming, browsing Facebook/Instagram, watching videos on YouTube or just keeping the Wi-Fi hotspot turned on. We are unsure if this is a known problem or if it's an issue with our review unit. We will get in touch with LG to share more information on this with you.
Software
The LG Q6 runs Android 7.1.1 Nougat out of the box which is layered with LG UX 6.0 custom skin atop. The phone is currently on August 1, 2017 Android security patch, which though not the latest, is pretty impressive for a non-Google phone.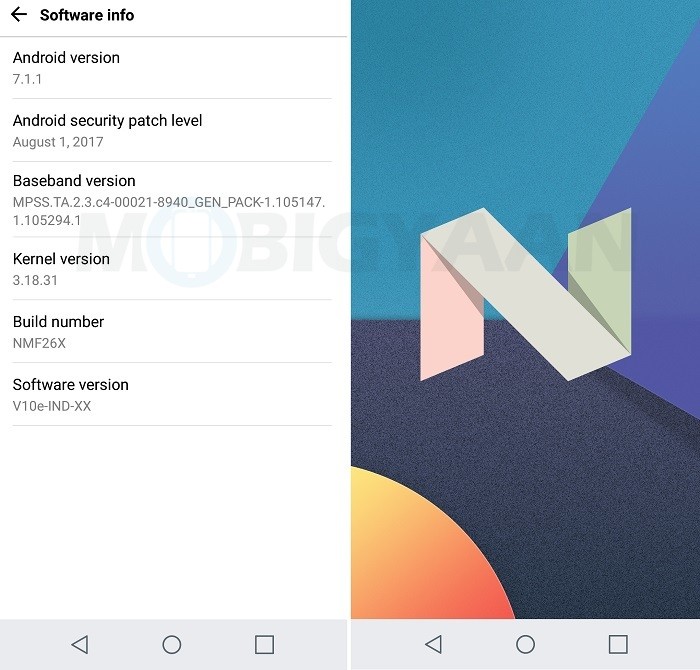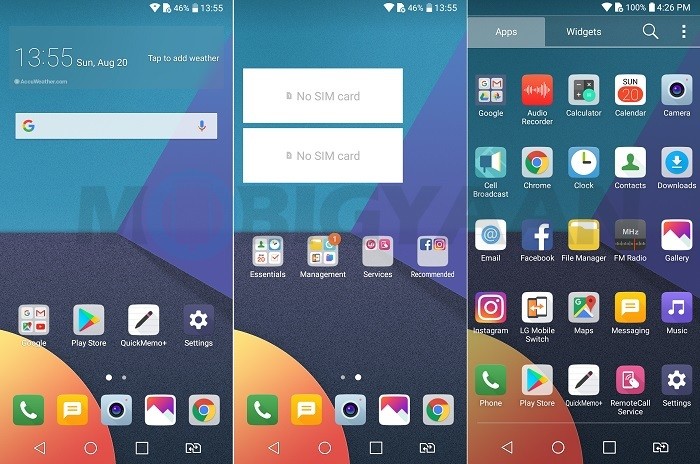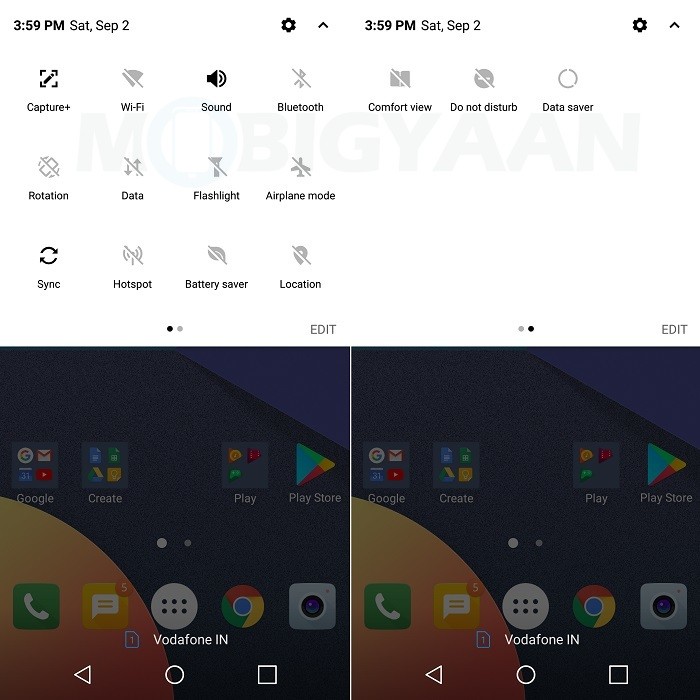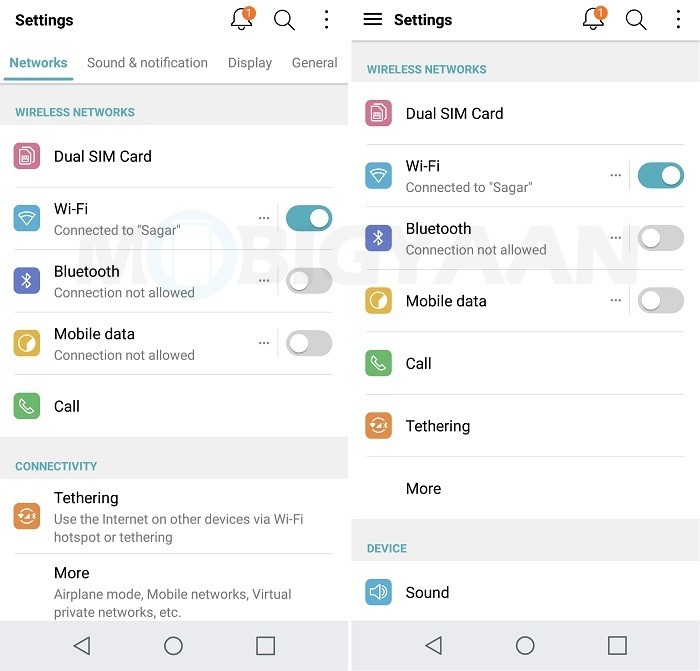 The UI of the LG Q6 is similar to the one we have seen on the G6. All the apps are on homescreen and the Settings menu is also tabbed under different categories like Networks, Sound & notification, Display and General. If you don't like this kind of view, you can switch to the traditional list view by tapping on the three-dot menu icon located at the top right corner of the Settings app and tapping on 'List view'.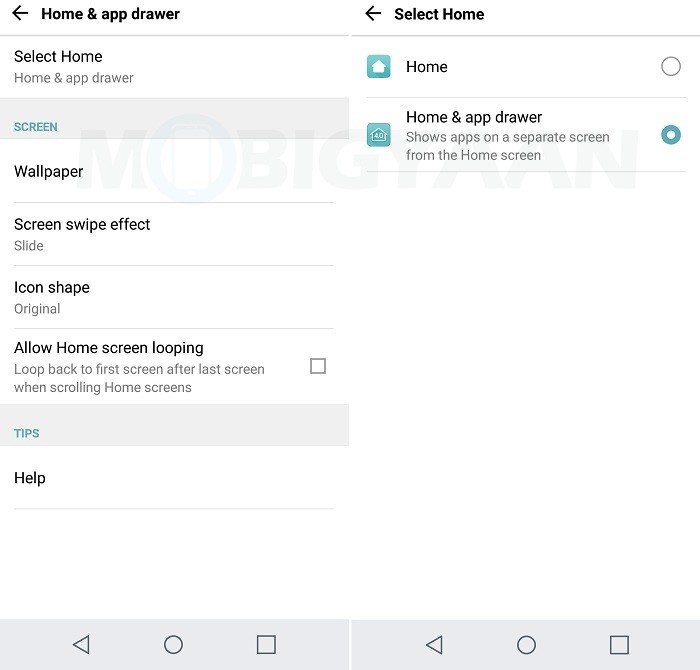 Also, if you are not a fan of having all the apps on the homescreen, then you can get the app drawer back by going to the Settings > Display > Home screen > Select Home menu and selecting the Home & app drawer option. Having said that, irrespective of whether you enable app drawer or not, you will be shown notification badges on an app's icon. For example, if you have 10 messages on WhatsApp, the app's icon will appear the number 10 on it. That said, this isn't limited to app icons, but, also extends over to the folders.
Well, speaking of app icons, you can change their shape by heading over to the Settings > Display > Home screen > Icon shape menu. By default, it's set to 'Rounded square' which shows the app icons inside a white colored square. However, if you switch to 'Original', the app icons will appear as they were originally intended to be displayed by the developer.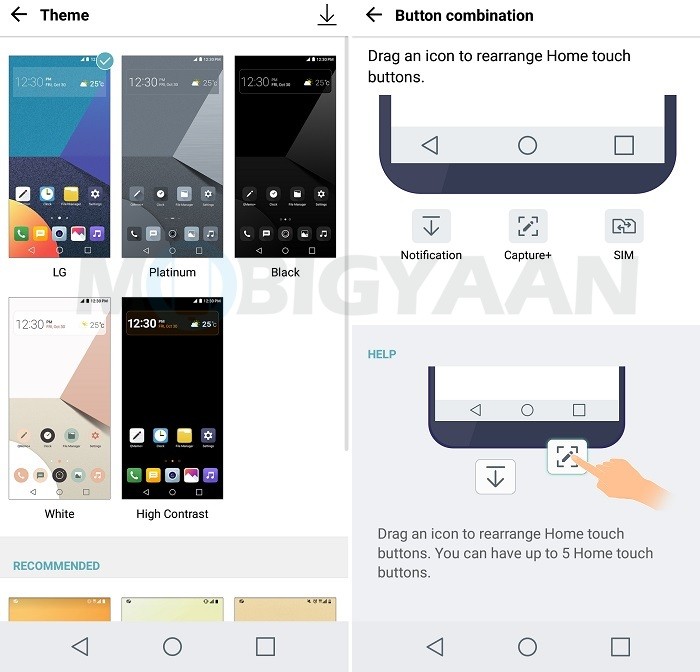 Besides, if you are bored of looking at the same UI everyday, you can change the theme of your Q6 by going to the Settings > Display > Theme menu. There are a total of five themes you can choose from called Platinum, Black, White, High Contrast, and the default one being simply called LG. However, if you are connected to the Internet, you will also get recommendations for different themes.
Moreover, like the G6, you also get an option to customize the navigation bar on the Q6. The customization options are limited though. Apart from the standard back-home-recent buttons, you can add buttons for Capture+, notification pull-down or SIM switching. You can also keep them in whatever order you want, but, the maximum number of buttons on the bar is five. And, you cannot add any other shortcuts there apart from the ones LG offers. This option can be found under the Settings > Display > Home touch buttons > Button combination menu.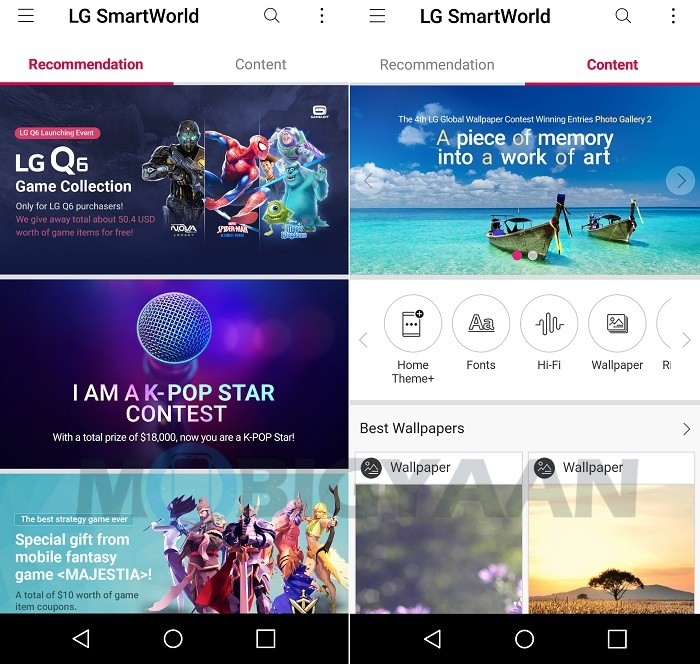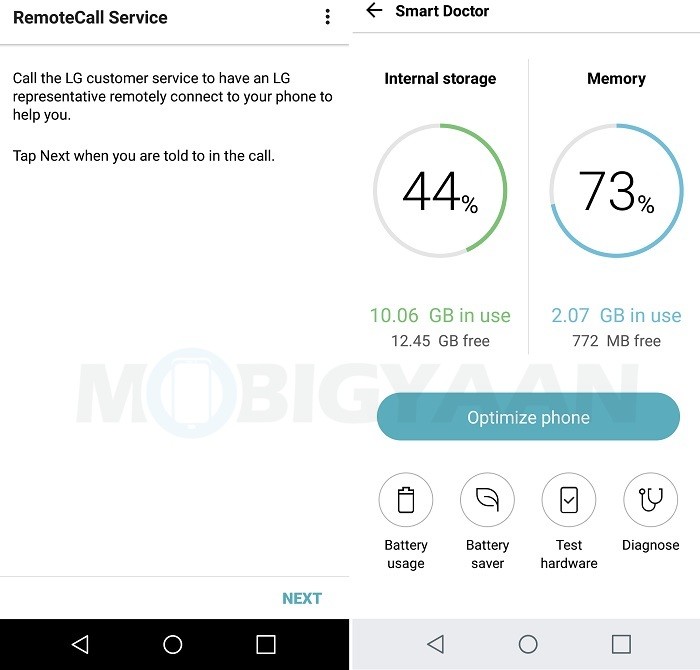 In terms of pre-loaded apps, the LG Q6 comes with Facebook, Instagram, File Manager, RemoteCall Service, LG SmartWorld and LG Mobile Switch. It also comes with an app called Smart Doctor which shows you different information pertaining to internal storage, RAM and battery usage, and, also gives you an option to "optimize" your phone with one touch by stopping unused apps and deleting temporary files.
Well, with all that being said, one thing that we were really annoyed with was the absence of App Shortcuts. The LG Q6 runs Android 7.1.1 Nougat and the App Shortcuts is a native feature of this version of Android. We are unsure of why LG chose to ditch such a useful feature on the Q6.
Camera
The LG Q6, unlike the G6, comes with a single 13 MP camera at the back and a 5 MP camera on the front which has a 100-degree wide-angle lens so that you can accommodate more people in a selfie.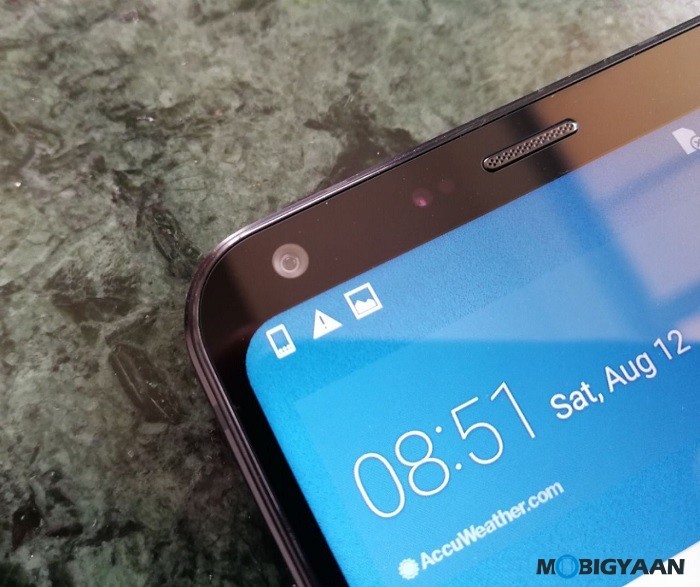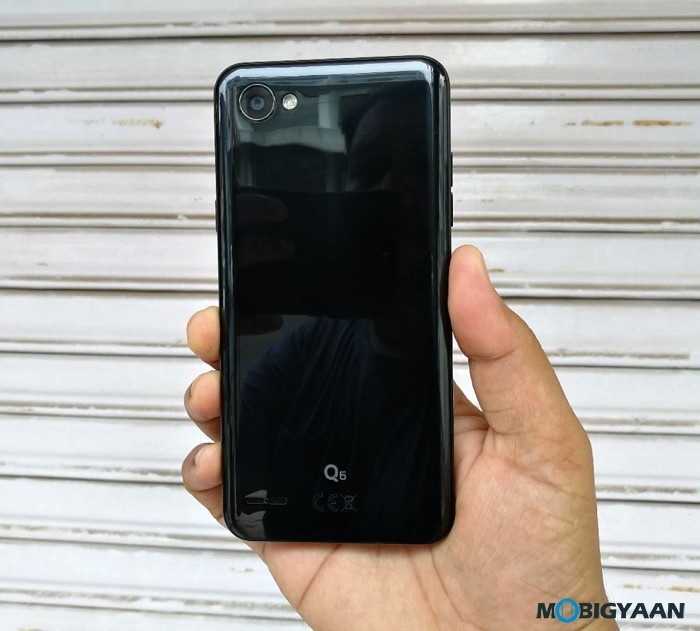 The 13 MP single rear camera can capture photos at a maximum resolution of 4160 x 3120 pixels while being able to record videos in Full-HD resolution at 30 frames/second. Speaking of the 5 MP front camera, it too can record video in Full-HD resolution, but, the maximum resolution at which it can capture photos is 2560 x 1920 pixels.
That was the UI of the camera app. Like most other things, the camera app of the Q6 resembles the camera app of the G6. With the front camera, you can adjust the skin tone and choose from various filters like Bright, Classic, Cool and more that can be applied to the photo, and, with the rear camera, you can choose to take photos in different modes like Snap Shot, Match Shot, Grid Shot and Guide Shot while also being able to apply different filters like Nostalgia, Vintage and much more. Besides, you can also quickly share the captured photos/videos directly on your social media accounts from within the camera app.
Having said that, let's take a look at the daylight shots taken from LG Q6.
Click on any image above to enlarge it.
Now let's take a look at the photos taken during night.
Click on any image above to enlarge it.
The photos taken during the day were fine and weren't something too unusable, however, the shadows turned out to be way darker than we expected. Moreover, the images also turned out to be dull, especially with the HDR mode turned off. However, with the HDR mode turned on, things got a little better, as the images turned out to be bit brighter with some level of details and sharpness to them.
Having said that, we found the camera app to be slower, irrespective of whether the HDR mode was turned on or off. This could be problematic for those who have a shaky hand as even a slight movement while capturing a photo would result in blurriness in it. Moreover, this also means you might miss capturing a moment if you have to take multiple photos in quick succession.
As for night shots, there isn't much to talk about here, because as expected, there was a loss of quality in the images taken during night time and in low-light conditions. The images lacked detail and digital noise crept in as well. Moreover, enabling the HDR mode didn't help much either.
Speaking of the front camera, it was pretty average, be it day or night. However, on the upside, it does come with a wide-angle lens so that you can have more people than usual in your selfie without having to raise your hand much higher to accommodate them in a single frame.
So to conclude, if you are someone who captures photos occasionally for uploading on social media, the camera on the Q6 should do just fine for you. However, don't expect anything more from it. If better camera is what you are looking for in this price range, then there are other options available.
Call Quality, Audio and Storage
What good is a smartphone if it doesn't have good call quality, right? Well, you need not worry much about it on the LG Q6 as it was decent enough. Both the parties could hear each other very well, however, problems crept in when the signal reception wasn't strong enough. But again, that's something which happens on all smartphones.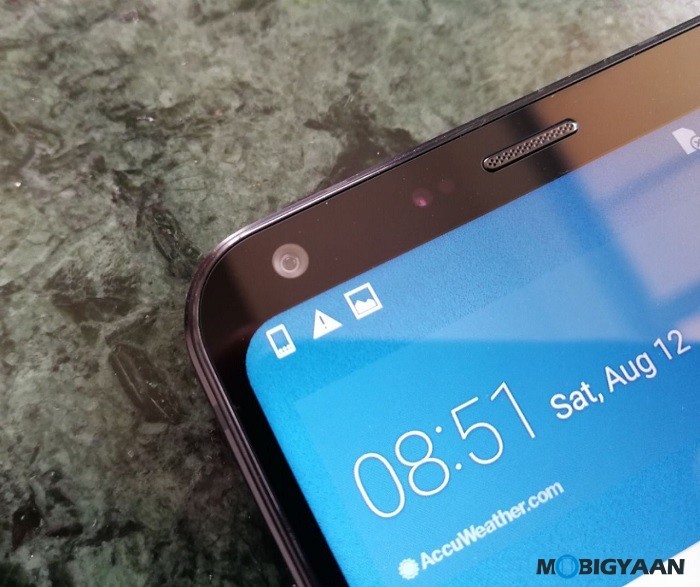 Moreover, we would also like to point out that ending a call sometimes used to be a time-consuming affair as we often had to tap the red button 3-4 times on an average to end the call. Well, this is something which isn't appreciated at all. We hope that LG will fix this with a software update as soon as possible.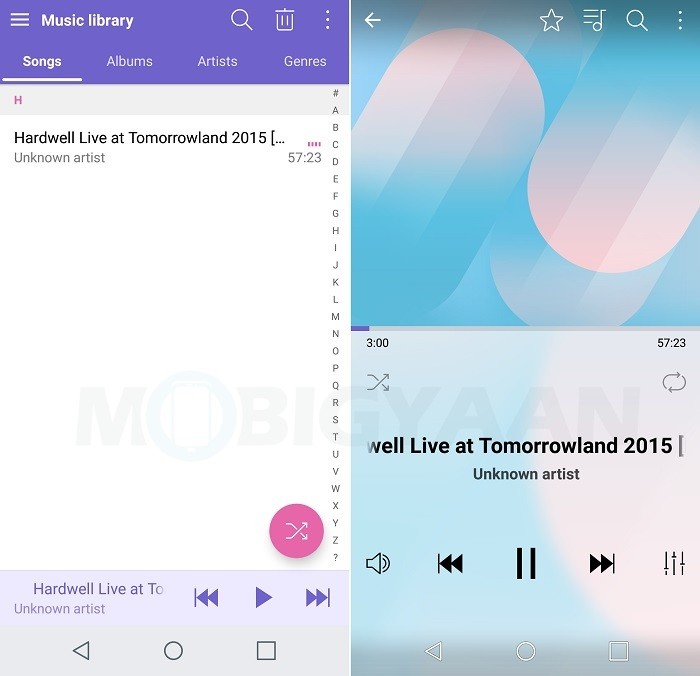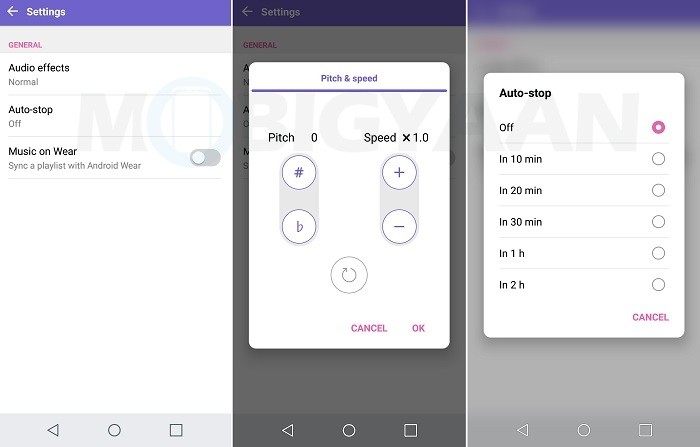 Moving on, while the LG G6 came with a quad-DAC for better audio experience through earphones, the Q6 didn't. But again, that's something understandable given the price difference between both the devices. Having said that, we were miffed at the Music app that came along as there was no option to fine-tune the audio output. While we don't expect all the features that are found on the G6 to trickle down to the Q6, LG would have at least thrown in a basic Equalizer setting so that people can adjust the audio to their liking.
Also, the bundled earphones are pretty average and the speaker located at the back is nothing much to talk about. However, we would like to say that its placement could have been better. Probably at the bottom of the phone so that the audio coming off it wouldn't get muffled while it's kept on a flat surface with the screen up. Moreover, the experience could have also been better while playing games and watching videos as the audio wouldn't have been projected away from you.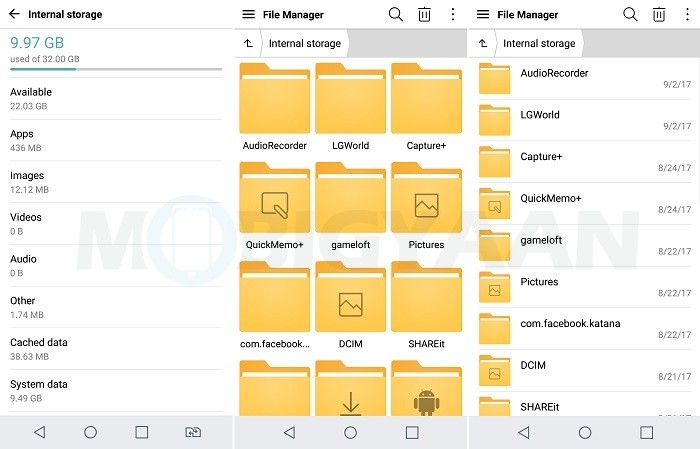 Speaking of the storage, the LG Q6 comes with 32 GB of internal space, however, only 22.03 GB of that is available to the user. But, if you run out of space on the internal storage, you can expand the storage up to 2 Terabytes via microSD card. Also, the good thing here is that LG has thrown in a dedicated slot for the microSD card so that you don't have to choose between sliding in an extra SIM card or expanding the storage.
Furthermore, the LG Q6 also comes with a File Manager app which is pretty much basic, but enough to get things done for you if you aren't a power user. You can view the files and folders as a list or a grid. Moreover, you also get an option to see hidden files and have an option to compress any to save space.
Battery
The LG Q6 ships with a 3000 mAh battery and is user non-removable.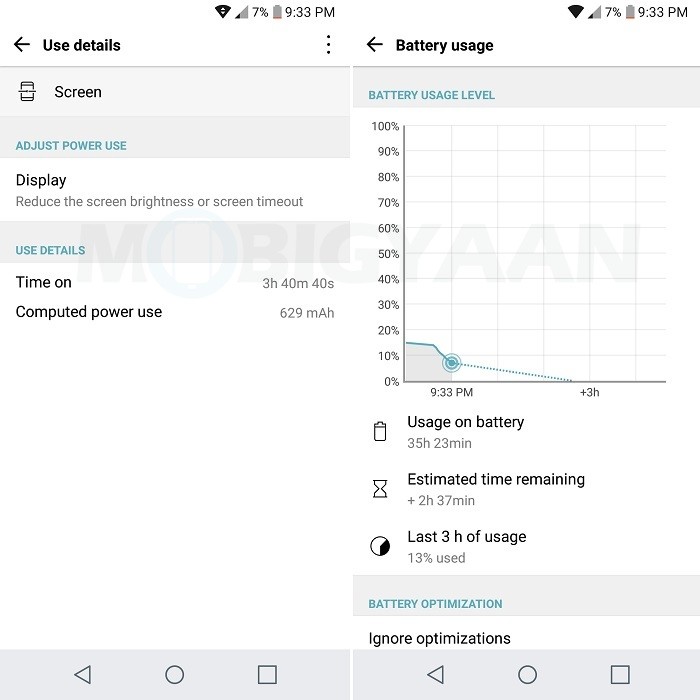 The battery life of the LG Q6 is decent enough. On an average, we got around 3.5 to 4 hours of screen on time on normal to moderate usage with the battery lasting us for more than a day while having around 7-8% charge left in its reserve.
[table id=113 responsive=flip/]
Our typical daily usage included playing games for around half an hour, watching YouTube videos for around another half an hour, some browsing on Facebook and Instagram, and, streaming music over SoundCloud. However, we would like to say that most of the times we were connected to Wi-Fi while using apps that require Internet, hence, if you are connected to 3G/4G network instead of Wi-Fi, you will get a little less battery backup.
Having said that, we spent majority of the time testing the phone in an area that had bad signal reception, which sometimes can turn out to be the reason for quick battery drain. If you live in an area that has excellent mobile network, the battery won't discharge as fast as ours.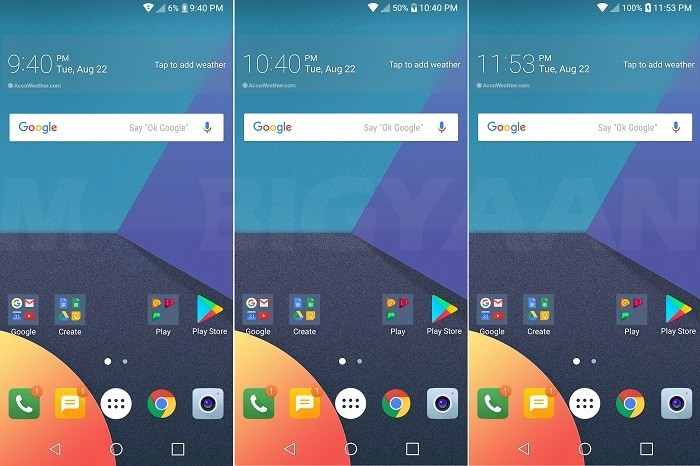 We would like to mention that the battery charging is pretty slow on the LG Q6. It comes with a 5V/2A adapter, which in our test, took around 2 hours 13 minutes to charge the 3000 mAh battery from 6 to 100%.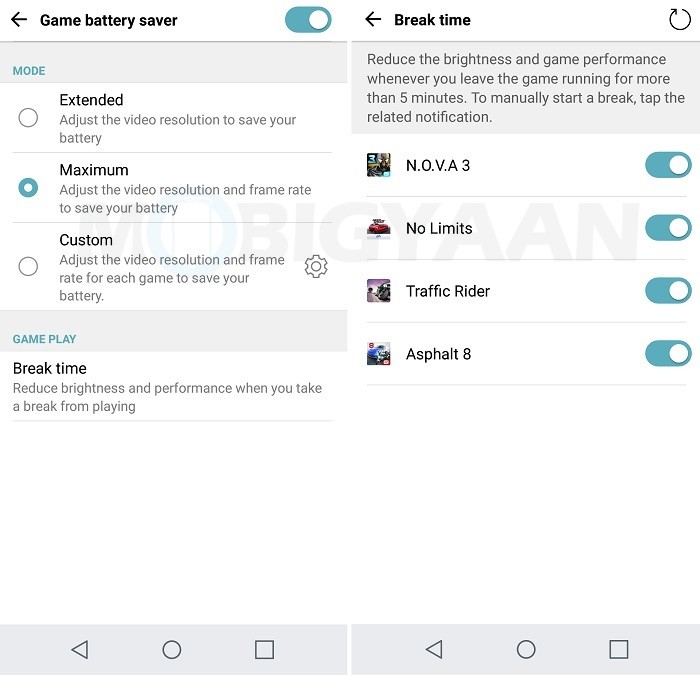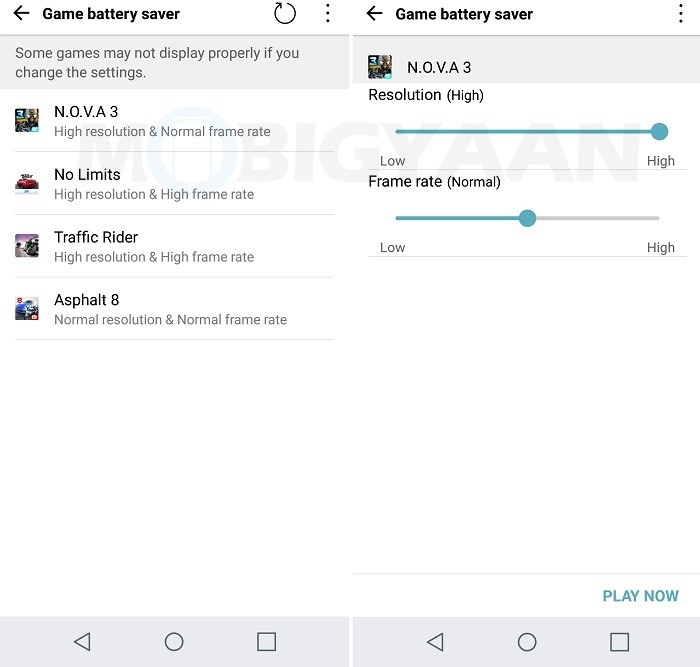 Oh, and do you remember we talked about the Game Battery Saver settings in the Performance section? Well, the LG Q6 comes with a Game Battery Saver feature which when turned on adjusts the video resolution, screen brightness and frame rate to save battery while playing games. With this mode turned on, you might see a dip in performance while playing games. Hence, make sure this feature is turned off if you experience stutters or anything unusual while playing games on the Q6.
Pricing and Availability
The LG Q6 is offered in three color variants:
Astro Black
Ice Platinum
Terra Gold
The review unit we received is the Astro Black colored variant. All three of these variants are priced at ₹14,990 and are available for purchase exclusively on Amazon India.
Final thoughts
Well, it's time to wrap up our LG Q6 review with final thoughts. The LG Q6 is a looker, there's no doubt about it. Rather, it's the best looking phone in this price range. It not only looks good and premium, but, it's also built well and feels very sturdy. Not to forget that it comes with MIL STD-810G military certification.
The Q6 comes with FullVision display that we saw on the G6 earlier this year. It's this display which makes the phone bezel-less and look beautiful while keeping the overall footprint of the phone minimal and making it compact. The display is of good quality, however, it can be difficult to see what's on screen under direct sunlight.
Speaking of the photography department, the photos taken with the rear camera in daylight are decent enough. However, quality takes a hit during night. Speaking of the front camera, the photos didn't turn out to be all that accurate. But again, one shouldn't expect DSLR level quality from any smartphones in this price range.
As far as the battery is concerned, it should get you through a day with ease on normal to moderate usage. However, the lack of fast charging means you will have to wait over two hours for the battery to go from 0 to 100%.
Talking about the performance, it will suffice those casual users who only use their smartphone for browsing through Facebook and Instagram, chatting on WhatsApp, and watching videos on YouTube. But, the power users will be highly disappointed with this phone. The Q6 will be able to handle low-end games, but throw heavy games like Asphalt 8 and NFS No Limits at it, and you will see that this phone isn't meant for that.
So, should you buy the LG Q6?
Well, the phone's design and display help it stand out among other phones in this price range. However, there are many things that work against it. There's no fingerprint scanner on the phone and the Face Recognition isn't reliable enough. The back of the phone gets scratched easily. Moreover, there's no USB Type-C port, and, for some reasons, LG has also ditched something as basic as notification LED light.
If you are in the market for a phone that has a nice display, looks beautiful, and stands out from the rest in terms of design, then go ahead and buy the LG Q6. However, if you want a phone which is better performer overall, then you should look elsewhere.
Other options:
Pros
Beautiful and Compact Design
Display
Build
Dedicated slot for microSD card
Cons
Lack of fingerprint scanner
Lack of notification LED light
Scratch prone plastic back
Face Recognition can be easily fooled with a photo
No USB Type-C