Last week, we came across renders of Google's upcoming smartphones – Pixel 2 and Pixel XL 2 – which gave us an idea of what the phones would look like. Now, we are having a look at the live image of the Pixel 2 that has surfaced online.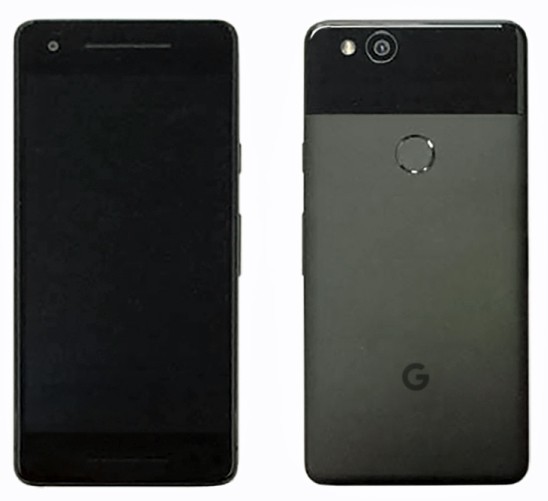 This image has been leaked on VentureBeat by the ever so reliable Evan Blass. Like we said, this is the live image of the Pixel 2, which is codenamed Walleye. The device is successor to last year's Pixel, and obviously, is smaller than the Pixel XL 2 (codenamed Taimen) which is successor to last year's Pixel XL.
As you can see, while the device has smaller bezels at the sides, Google seems to have a liking for bigger bezels at the top and bottom. At the back, you can see the same two-tone glass-metal design, however, the glass window has now been reduced and the fingerprint scanner now sits outside of it. Moreover, you can also see that Google has stuck to single rear camera strategy while dual camera setup seems to be the trend for the rest of this year.
Moreover, you can also see front-facing stereo speakers, and, these are also going to be available on the larger Pixel XL 2 as well. Blass also confirmed that the Pixel 2 is manufactured by HTC whereas the Pixel XL 2 is manufactured by LG.
Besides, both the Pixel smartphones are going to feature squeezable frame, something we have seen on the HTC U11. Having said that, Google has decided to ditch the 3.5 mm headphone jack on both these Pixel smartphones. A feature which is common to have, but something that's being ditched by more and more manufacturers lately.
Also, even though Google hasn't gone totally bezel-less with the Pixel 2, the company will be making the bezels relatively smaller on the Pixel XL 2, however, that phone will also be coming with a single camera at the back and not dual.
There's still some time for Google to unveil both these Pixel smartphones, hence, expect to see them leaked more on the Internet in the coming weeks.