At the beginning of this month, Google officially revealed the name of Android N calling it Android Nougat. While there's still some time for the Android Nougat's release, people are using Android N Developer Preview on their Nexus devices. Till then, Android Marshmallow remains the latest Android version available. And, the latest numbers shared by Google shows Marshmallow slowly but steadily gaining share in Android Distribution chart.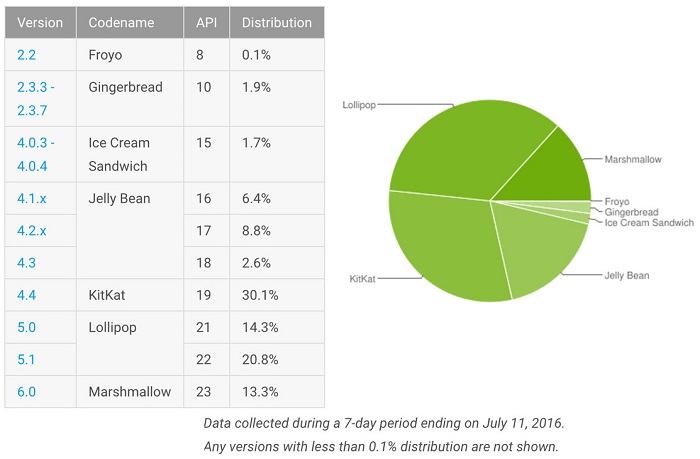 Android Marshmallow's share which was 10.1% last month has grown to 13.3% this month. While Marshmallow's share is increasing in the Android Distribution chart, it's nothing to happy about as it's sky rocketed. The share is increasing very slowly.
Back in February this year, Marshmallow stood with 1.2% share in Android Distribution which later increased to 2.3% in March, 4.6% in April, 7.5% in May, 10.1% in June and now 13.3% in this month. You can see there aren't huge jumps in the numbers, if this rate remains the same, we wonder when will Marshmallow gain a considerable amount of share in Android Distribution.
Going by the latest numbers, Android Lollipop still leads the chart with 35.1% share. It is then followed by Android KtiKat with 30.1%, Android JellyBean with 17.8%, Android Marshmallow with 13.3%, Android Gingerbread with 1.9%, Android Ice Cream Sandwich with 1.7% and Android Froyo with 0.1%.
We are still seeing manufacturers launching devices which are running on Android Lollipop out of the box with no promise of Marshmallow updates. Maybe its time for Google to be strict with its partners when it comes to rolling out updates on time. What do you think?