Moto X+1 leaks in new press shots
The Moto X+1, the Moto X successor has been rumored for what seems like an eternity now and today, we have press shots of the device.
The press render of the Moto X+1 come as a retirement gift from the serial leaker @evleaks. In case you have missed out, @evleaks recently announced that he plans on retiring and he has presented the Moto X+1 pictures as a retirement gift.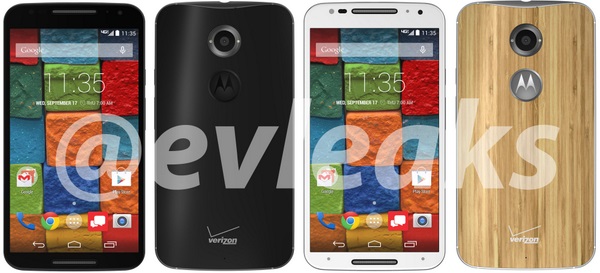 This time we get a good look at the upcoming Motorola smartphone and as we noticed previous, it takes some of the design cues from the Moto E. Apparently, there are dual frontal speakers and the top speaker is a bit wider than the bottom one. The bezels look pretty narrow and we can expect a larger display than the Moto X.
The camera unit on the back seems a little add and reportedly, the two dots on the camera ring are said to be the flash. The volume and the power button have been moved to the sides, which is a good decision considering the bigger display. The Motorola logo on the back might seem weird but it seems to be fixed right into the body to give different back covers support.
We can expect the software on the device to be stock along with useful additions in the form of touchless controls. On the image, we can see a Verizon Messages app logo, so a Verizon launch is confirmed.
Motorola is all set to unveil the device along with the Moto G successor and the 360 Android Wear smartwatch at an event on September 4.