We had heard rumours about a LTE enabled Nexus 4 coming at the Google I/O, now to add weight to it, we saw the benchmark listings of the device.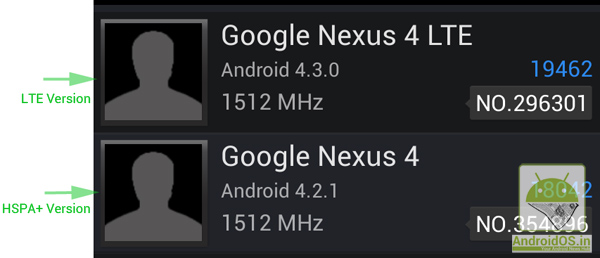 As per reports, the Google Nexus 4 LTE was seen at benchmarks. Interestingly the device is loaded with the Android 4.3, which is rumoured to be seen at the Google I/O. The Android 4.3 which is supposed to be Jelly Beans, is said to be an upgrade to the Android 4.2.
Now that it's obvious that the Google Nexus 4 with LTE would indeed be seen at the Google I/O conference, it's no surprise that it will feature the latest version of Android, which is the v4.3. The LG Nexus 4 was launched last year with only HSPA+ support, but with the increasing use of LTE, Google plans on having a LTE version of the device.