While Nokia's MWC event was all about its new Android line-up, it seems to finally getting back to the Windows Phone platform, maybe due to pressure from Microsoft.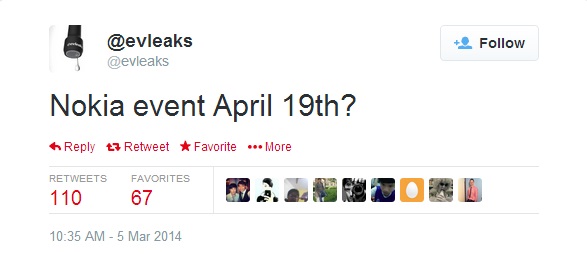 According to sources, Nokia would be hosting a big event on April 19. While there are no details about the event, we are guessing it has something to do with the Windows Phone segment, which Microsoft feels is being given step-motherly treatment by Nokia. This could also signify the incoming Windows Phone 8.1 smartphones.
It has been rumoured that Nokia is leading the Windows Phone 8.1 race with its handset codenamed Martini. The April 19 event could be the launch event of this smartphone. Also the two dual SIM Windows Phone devices, the Lumia 630 and the Lumia 635, could make an appearance at the event. We might still have to wait for a few days before we get more details about this event.