It seems like Nokia is working on yet another affordable Windows handset. Nokia might have a Nokia Lumia 525 sucessor in the works – a Nokia Lumia 530 handset codenamed Nokia Rock has popped up online.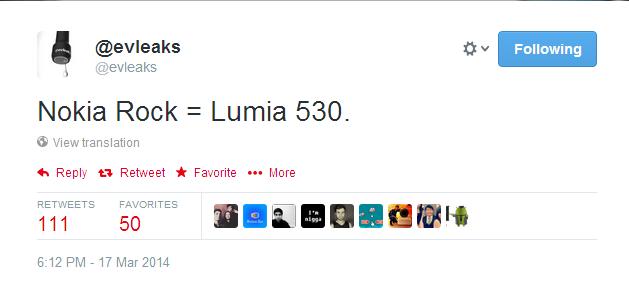 The Nokia Lumia 525 succeeded one of the most successful Nokia Windows handsets ever – the Nokia Lumia 520. While this handset took the mantle from the legendary phone, it did not offer anything too different. The Nokia Lumia 530 is expected to rock the same features and attack a similar price range, albeit with Windows Phone 8.1 OS.
Nokia has some interesting handsets under its wings. While there is a lot of hype currently about a mid-range Nokia Lumia 630/635 and a high-end Nokia Lumia 930 handset, we will get to know the whole story pretty soon, at the Microsoft Build event taking place in April.
Lets hope we get to see some more Nokia Lumia handsets before the Microsoft-Nokia deal is finalized.