After rolling out Android 8.0 Oreo based OxygenOS 5.0 update for OnePlus 3 and 3T last November, OnePlus recently started rolling out the OxygenOS 5.0.1 update for both the 3 and 3T. However, soon after upgrading their OnePlus 3/3T with the OxygenOS 5.0.1 update, several users have reported about a warning message that's being shown by Google Play Protect.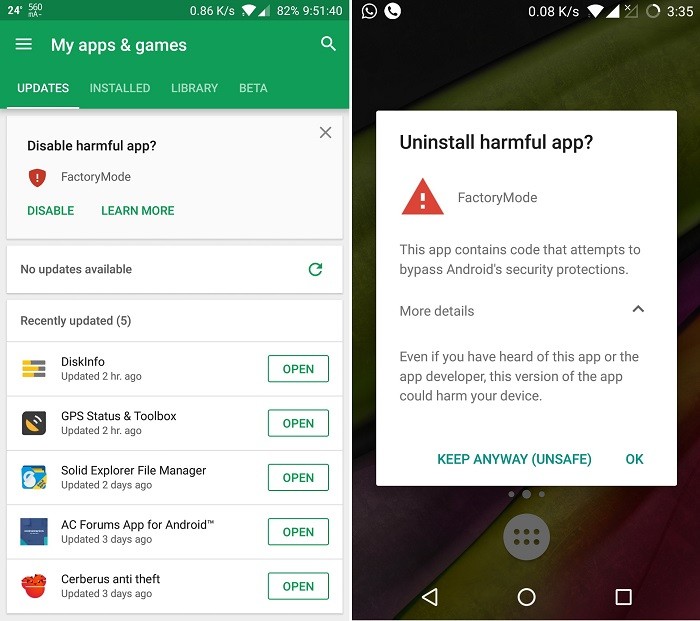 OnePlus 3 and 3T users on OxygenOS 5.0.1 update are reporting about a warning message that's displayed by Google Play Protect. The message keeps popping up and advises users to uninstall an app called 'FactoryMode'.
The 'FactoryMode' app is actually a OnePlus system app which was previously known as 'EngineerMode'. This app was developed to assist in device testing during its manufacturing process, however, last November, the app received a lot of flak due to its ability to let users with physical access to the device gain root access.
Well, OnePlus later made modifications to the app by changing the code and re-branded it as FactoryMode. Now, it seems Google Play Protect is detecting a code in the app which it thinks can be harmful to the device, and hence, users are being advised to remove the app from their phone.
To be precise, according to Google Play Protect, the FactoryMode app "contains code that attempts to bypass Android's security protections". However, there aren't any reports yet of the app doing any harm to the phone.
But, having said that, tf you are a OnePlus 3/3T user and are seeing this message, you can choose to either ignore the message or remove the app from your phone if you get annoyed by the constant pop-ups.