Yesterday, we saw the leaked promotional teaser image of the OnePlus 5T as well as a screenshot of the phone's listing on the official website which showed off its smaller bezels and also revealed the tagline the company will is probably going to use for the 5T. We have also been hearing rumors regarding the specifications of the 5T, however, there was no concrete information. Well now, specifications of the OnePlus 5T have surfaced online through a benchmarking tool which does give some credence to past rumors.
The OnePlus 5T specifications have been leaked through popular benchmarking tool AnTuTu. The phone carries model number A5010, and, it's worth noting that the OnePlus 5 has model number A5000 whereas the OnePlus 3T had model number A3010. Hence, this OnePlus smartphone that has appeared on AnTuTu is indeed the 5T.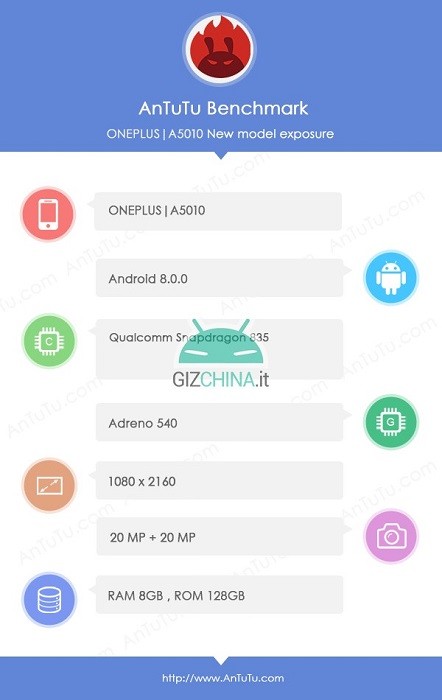 According to AnTuTu, the OnePlus 5T is powered by Qualcomm's flagship Snapdragon 835 SoC which is paired with 8 GB RAM and backed by Adreno 540 GPU. It has 128 GB of internal storage and runs Android 8.0 Oreo. While the size of 5T's display isn't mentioned, the resolution is stated as 2160 x 1080 pixels which means it has an aspect ratio of 18:9. This also means that the phone will have smaller bezels, something we have seen through leaked images and renders before.
Furthermore, AnTuTu lists the 5T with 20 MP + 20 MP camera. Well, we are unsure whether that means two 20 MP cameras at the back, or, one each on the front and back. In case you are unaware, the OnePlus 5 comes with combination of 16 MP + 20 MP cameras at the back and a single 16 MP camera on the front.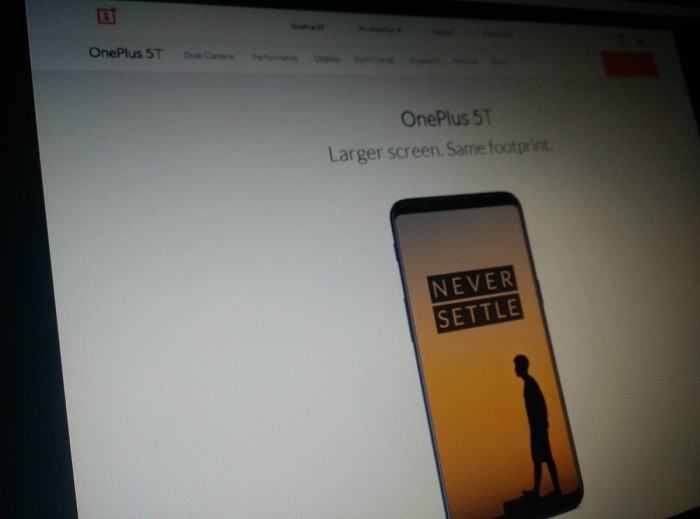 As we mentioned earlier in this article, a screenshot of the OnePlus 5T's listing on official website had surfaced online. That screenshot did show off the front of the 5T which revealed smaller bezels and the lack of fingerprint scanner below the display. Well, that only means that the fingerprint scanner has now been moved on to the back. Furthermore, the screenshot also revealed the tagline of 5T which is "Larger screen. Same footprint" which says it all about the design of the 5T.
If last year's OnePlus 3T is anything to go by, then this year's OnePlus 5T will have the same hardware that the OnePlus 5 has, except with the difference in screen size, screen resolution, and probably the battery size.
There's no word from OnePlus yet regarding the 5T, however, looking at the frequency of leaks, we expect to see it launched next month. Also, speaking about this AnTuTu leak, we suggest you take it with a proverbial grain of salt, as nothing's ever confirmed until it comes directly from the company.