A month ago, Chinese smartphone brand OnePlus released Android P Developer 2 for OnePlus 6. And now, the company has released Android P Developer Preview 3 for the OnePlus 6. Before any of you get confused, let us tell you that this is actually the Android P Beta 3 released by Google earlier this month, and, it's also called Android P Developer Preview 4. But, for some reasons, OnePlus chose to call it Android P Developer Preview 3.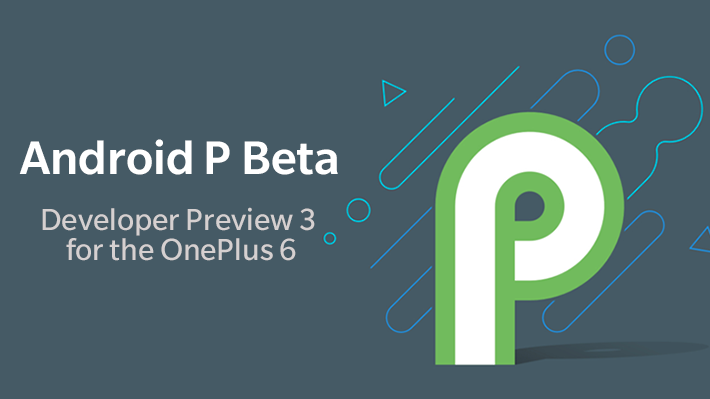 Well, irrespective of what it's called, the latest Android P Developer Preview is here for those OnePlus 6 owners who like to tinker around with the latest version of Android, even after knowing that it's not ready for prime time and has its fair share of bugs and known issues.
The Android P Developer Preview 3 released by OnePlus brings in July security patch, improvements to system stability, improvements to image quality, and more to OnePlus 6. But, it also comes with some known issues related to Bluetooth connectivity, power consumption and functioning of apps.
Here's the entire changelog of Android P Developer Preview 3 (Beta 3) for OnePlus 6:
System – Updated Android security patch to 2018.7
System – Updated Google Mobile Services
System – Improved system stability
System – Fixed issue with hotspot functionality
Camera – Improved image quality
Camera – Fixed issue with watermark option functionality
Third-Party Apps – Improved camera functionality with third-party apps
Third-Party Apps- Fixed compatibility issues with certain third-party apps
These are the known issues with Android P Developer Preview 3 (Beta 3) for OnePlus 6:
System – System stability and power consumption issues
Bluetooth – Compatibility issues with Bluetooth connectivity
Third-Party Apps – Some apps may not function as expected when running on this Developer preview release
If you are interested in checking out Android P, you can head over to the Source link below for more details and instructions. But, do note that this build is meant for developers and early adopters, and, is not suitable for daily usage scenarios. Moreover, like we already said, this build comes with bugs and known issues, so proceed by keeping that in mind, and don't forget to backup all your data before you flash Android P on your OnePlus 6.