OnePlus has been better known for providing good quality products at a cheaper price. From the beginning of OnePlus One, it has consistently rolled out smartphones which are cheaper than the competition. On the launch day of OnePlus 6, OnePlus also released their new pair of wireless earphones. Those were named as OnePlus Bullets Wireless. OnePlus priced them at $69/₹3,990, which is the beginning range of Wireless headsets these days. So, how does it compete against the rivals? Let's find that out in this Review.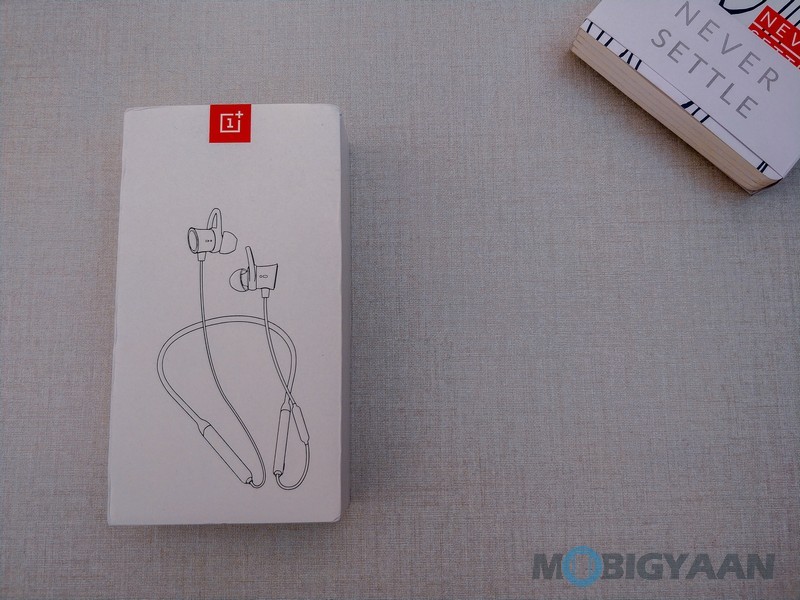 What's in the Box?
1xBullets Wireless
3xEarplugs
3xFins
1xUSBType C Charging Cable
1xStorage Bag
1xUser Manual
1xSafety and Warranty Card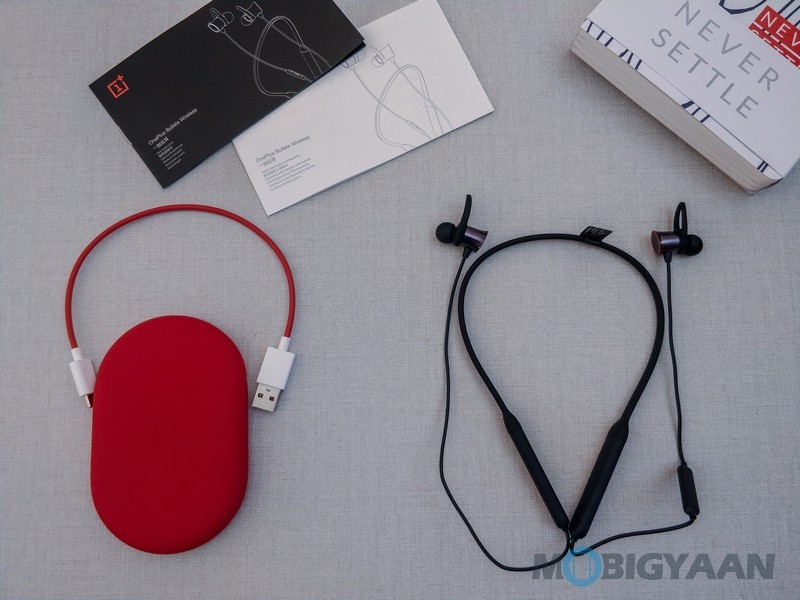 Specifications
Audio Drivers: 9.2mm drivers with Energy Tube
Battery Life: Up to 8 hours
Bluetooth Connectivity and Range: Bluetooth 4.1, supports Qualcomm aptX and range up to 10m
Controls: Magnetic Controls for OnePlus 5/5T/6, with an in-line remote control as well
Design
The OnePlus Bullets Wireless are made from aluminium alloy, which gives it a premium looking build. That premium looking build also continues when you hold them in your hands. Also, it would feel great when you touch them when they're in your ears. It's a smooth metallic finish, which feels just amazing. We didn't expect it to feel so good, considering the price range.
These earphones come with 3 different sizes for Earplugs and Fins, and you can select the ones which fits the best for you. We tried it the ones which come attached with the Earphones i.e. medium-sized and it fitted perfectly well. The fins help them stay in our ears even after vigorous head shake.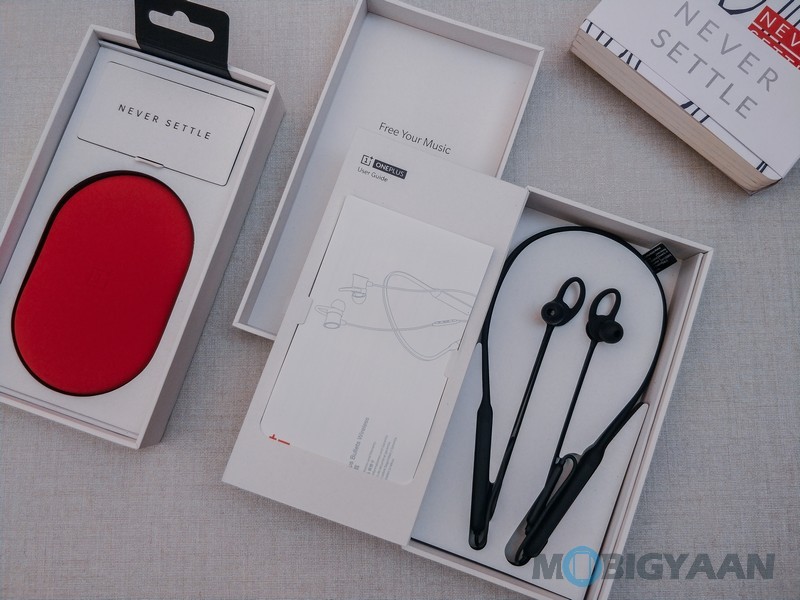 The in-line remote control is well within the reach on the left side. Note that there is no control for going back to the previous song.
The neckband is where the battery resides and a small little LED. This would notify you when the charging completes. Also, it would notify you when you're pairing with a new device.
Comfort
Comfort is one of the most important things in any earphones. Well, these won't disappoint you on that front. The neckband just stays there, so there's nothing to worry about the wires hanging on your neck. The combination of earplugs with the fins allows for a good, comfortable fit in your ears. So, as I said earlier the earphones aren't going anywhere even with a vigorous head shake. Also, you can easily wear them for long usage periods and your ears won't even hurt.
Just remember to select the perfect combination of earplugs and fins for your ears to get that comfortable experience.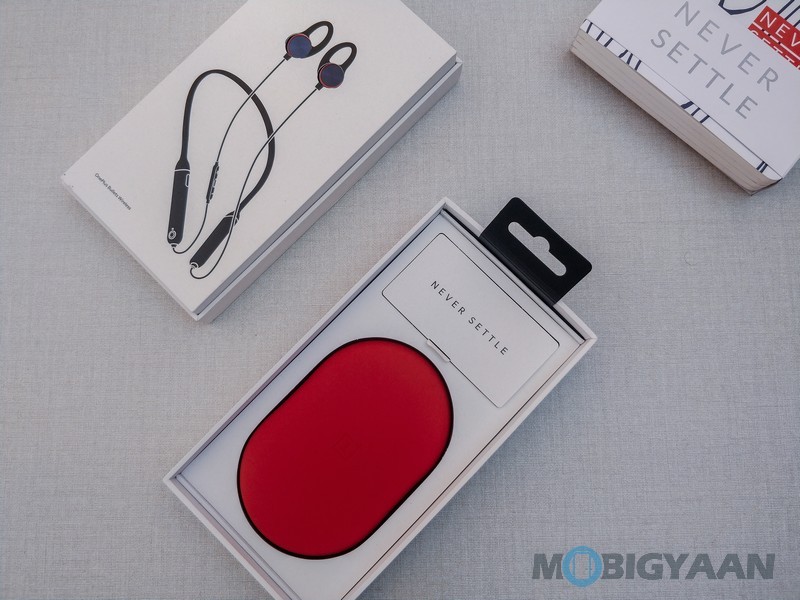 Now, there is magnetic control present in the Bullets Wireless for OnePlus devices from OnePlus 5. These magnetic controls are so intuitive that I don't even need to remember to turn them off. Also, turning them on automatically resumes the song where I left it. Note that it would happen only if you've kept that app open, just as it was.
Even though there is no aptX HD, it is important to note that they have proper sync with the videos on YouTube. This is one thing which quite a few wireless earphones would not be able to do, especially in this price range.
Sound
If you love to hear bass heavy songs, then these pair of earphones are not for you. Overall, it sounds balanced. A good tuning of the headsets by OnePlus, which doesn't over emphasize either the vocals or the bass. And considering the small size of these earphones, they can get really loud at full volume. I usually ended up listening to songs at 60-80% volume for an enjoyable experience. While on YouTube, I had to turn up the volume to about 80-100%. I didn't do that for all the videos on YouTube, but quite a few of them.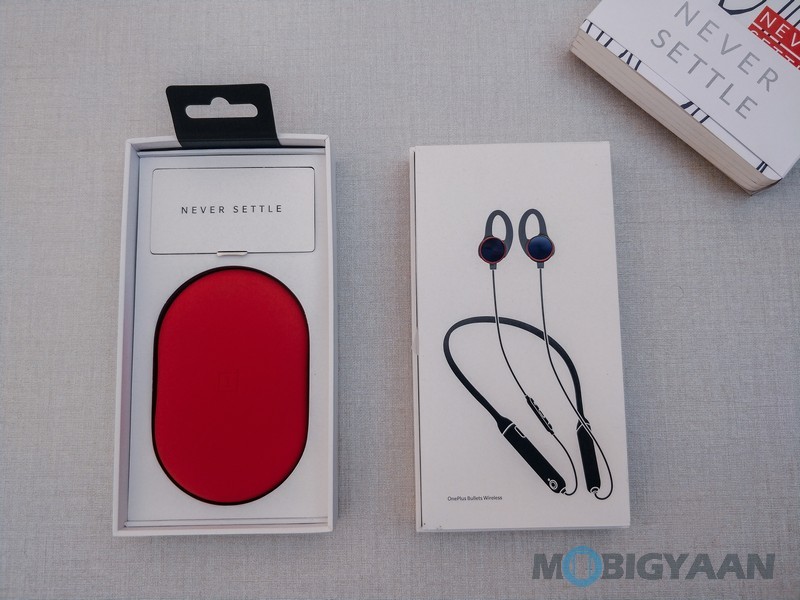 It is important to note that they don't distort much even at higher volumes. Is it due to the energy tubes which they're using in these earphones? We don't know, but whatever it is, it's just working. Also, one more thing that is important to take a note of is the volume for Google Assistant. It's really low even at the highest volume.
Verdict
So, would we like you to buy these wireless earphones? Yes and no. If you love listening to bass heavy songs, then don't buy them as you'll be disappointed. If you are not one of those who listen to a lot of bass heavy songs and prefer balanced music, then this would be a good deal for you. It provides you with a great experience for the price. Also, these earphones are the best compatible with OnePlus devices. So, if you already own a OnePlus device, especially after OnePlus 3T, then this is a great deal for you. And if you don't own a OnePlus device, then the magnetic controls won't work. Even in that case, you've the usual in-line remote which works perfectly alright.
Rivals
Skullcandy Smokin' Buds 2 Wireless
Skullcandy Methods Wireless
Jabra Elite 25e
Strength
Build Quality
Magnetic Controls
Battery Life
Battery Charging Time
USB Type C Charging Port
Weakness
Not for bass heavy users
No aptX HD