We've come up with the specs comparison of these two strong performers, Xiaomi Redmi Note 3 vs LeEco Le 2. Being in the game with their low and similar price, which one offers more for the buck, let's find it out in this specs comparison of the two budget wonders, Xiaomi Redmi Note 3 and LeEco Le 2.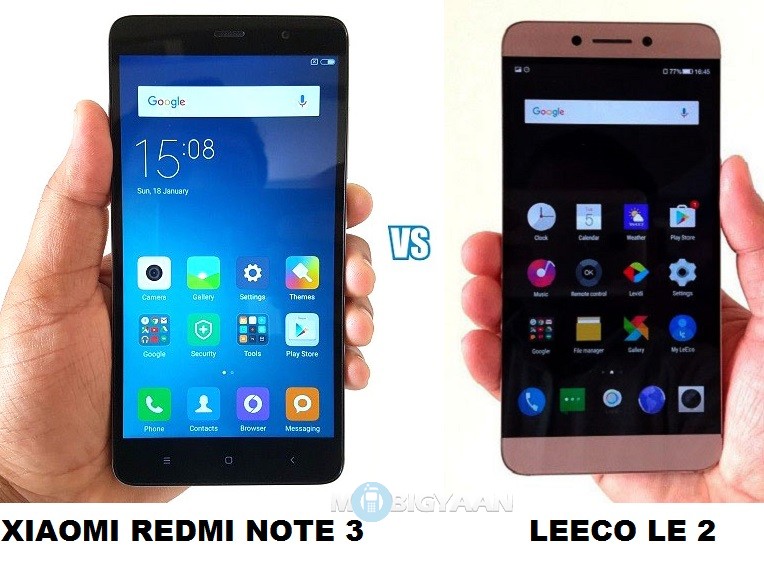 Both of them have a metal unibody, they both have a strong build, however, LeEco Le 2 appears to be thinner and lighter than Xiaomi Redmi Note 3. The overall design I like is of LeEco Le 2, but that would be a personal preference. Below we have compared the specs of these two phones.
Xiaomi Redmi Note 3 vs LeEco Le 2 – Specs Comparison
[table id=45 responsive=flip /]
CPU, RAM, and Storage
Since both the smartphones have a very competitive specs, the LeEco Le 2 has an edge over the CPU, RAM, and storage. Le 2 sports a 1.8 GHz octa-core from Qualcomm Snapdragon 652 (MSM8976) with 3 GB RAM and 32 GB onboard storage. Xiaomi Redmi Note 3 sports rather 1.8 GHz hexacore processor from Qualcomm Snapdragon 650 (MSM8956) with 2 GB RAM and 16 GB internal storage. Note that, Le 2 has an 8-core CPU while Redmi Note 3 has a 6-core CPU. A higher number of cores means the CPU is better in multitasking. LeEco Le 2 has a clear advantage in the performance area.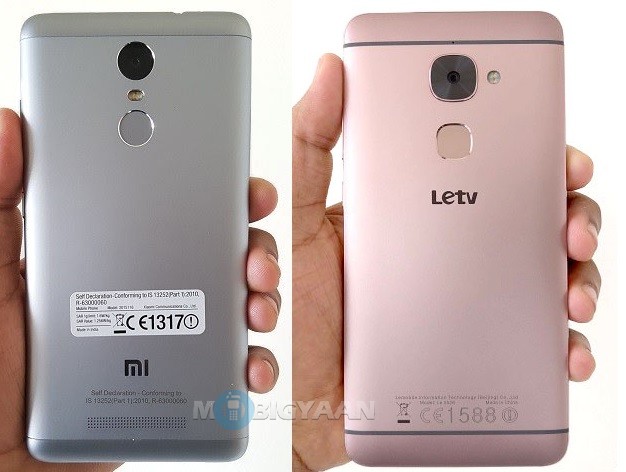 A 3 GB RAM Redmi Note 3 variant is available from Xiaomi that can match the Le 2's 3 GB RAM while the CPU remains the same i.e. Qualcomm Snapdragon 650.
The maximum storage capacity on the Le 2 is 32 GB while Redmi Note 3 comes with 16 GB which can be further expanded up to 32 GB using MicroSD card. So, in total Redmi Note 3 can reach up to 48 GB.
Software, Camera, and Battery
When it comes to the software, LeEco Le 2 has the newer version of the Android. It runs on EUI 5.8 based on Android 6.0.1 Marshmallow while Redmi Note 3 is still stuck with the older Android Lollipop. A newer version ensures updates to the operating system and latest security patches.
As for the camera, LeEco has a 16 MP f/2.0 autofocus camera with dual tone LED flash that can record up to 4K videos and slow motion videos at 720p at 120 frames per second. Xiaomi's Redmi Note 3 also has the same number of megapixels camera i.e. 16 MP f/2.0 autofocus with dual tone LED. The camera has a 0.1s ultra-fast focus but can only capture up to 1080p videos. LeEco still is ahead in terms of camera.
LeEco Le 2 packs a decent 3000 mAh battery while the Xiaomi Redmi Note 3 packs larger 4050 mAh battery. The battery life on the Redmi Note 3 is significantly longer than Le 2. We have done the battery test of both the phones, you can check them out below.
Conclusion – Which is better?
The Xiaomi Redmi Note 3 is priced at ₹9,999 cheaper than the ₹11,999 LeEco LE 2. LeEco is somewhat future-proof, it has the CDLA Technology that uses the new USB Type-C port to deliver the ultimate sound quality. LeEco offers a free CDLA earphones worth ₹1,999 if you buy LeEco Le 2.
Xiaomi Redmi Note 3 performs better at the battery, however, to sum it up, LeEco offers more for the buck, and no doubt is the winner. Tell us what do you think about these two smartphones.
Do check out their full reviews: