Yesterday we reported that Mukesh Ambani-led Indian telecom operator Reliance Jio was giving a total of 8 GB data to its customers for free to celebrate its 2nd anniversary. However, Jio has now announced that it's not giving 8 GB data for free, instead, it's giving 16 GB of data.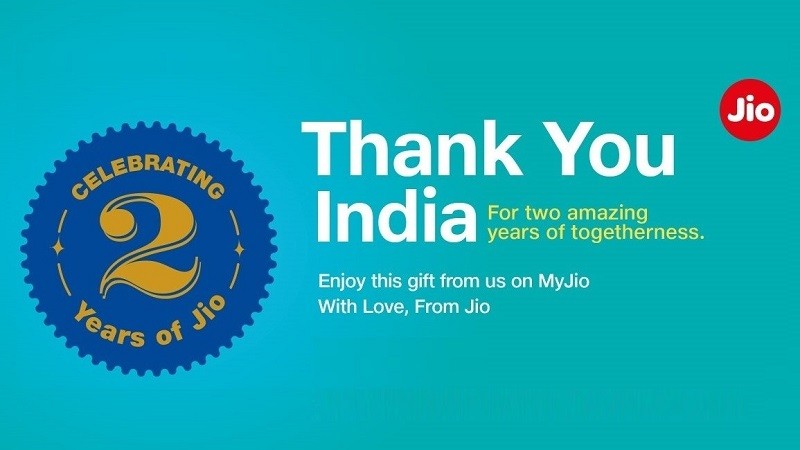 We reported that Reliance Jio was giving 2 GB of data per day for free to its customers through Jio Celebrations Pack which comes with a validity of four days. This translates to a total of 8 GB of free data. But now, the telco has said that it's offering a total of 16 GB of data for free to its customers.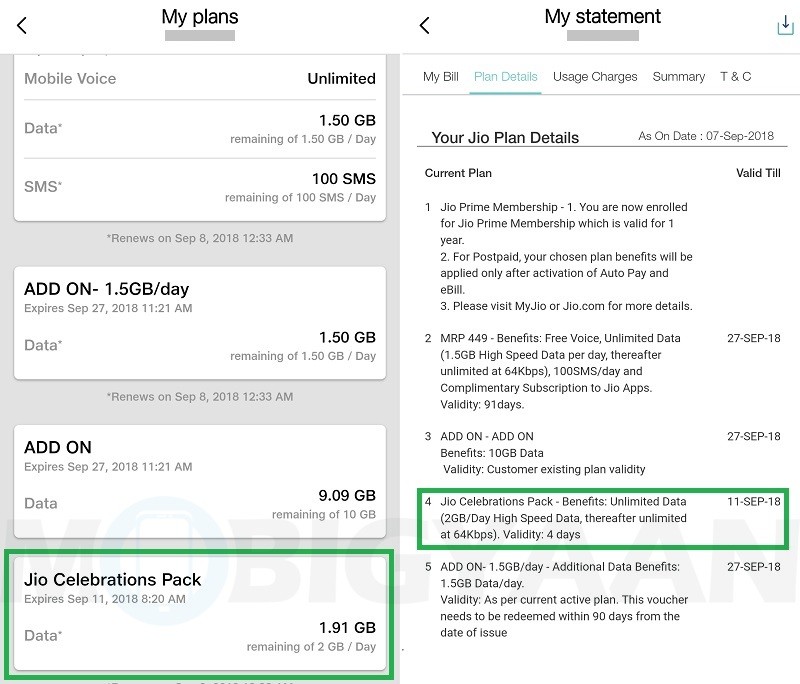 How to get 16 GB of free data from Reliance Jio?
Well, there isn't anything that you as a customer have to do to get this 16 GB of free data. It will be credited automatically in to your account and you can check it by heading over to the 'My plans' section in the MyJio app.
That said, do note that this 16 GB of free data will be given to customers in the form of two separate vouchers – each offering 2 GB data per day for a period of four days, which translates to a total of 8 GB of data.
Jio has already started crediting the first voucher in the accounts of many customers, and, those who haven't received this free data yet will get it by September 20, 2018. The other voucher with a total of 8 GB of data will be credited next month. Once credited, these vouchers will be applied automatically on your existing plan, and like we already said, you can check them under the 'My plans' section in the MyJio app.
Reliance Jio completed two years in the Indian telecom sector, and to celebrate, the telco is giving this 16 GB of free data to its customers. In these two years, Jio has proved to be a disruptor and has kept the incumbents on toes. The telco changed India's telecom industry entirely by offering dirt cheap data along with free voice calls. As a result, others had to follow suit to stay in the business, which further resulted in customers being the ultimate beneficiary.
According to the latest quarterly report shared by Jio, the telco has a subscriber base of over 215 Million customers, with an average of 10.6 GB data consumed by a customer per month. You can check out the stats down below.
Reliance Jio by numbers in Q1 of FY 2018-19 (April 2018 – June 2018):
Jio customers consumed a whopping 642 crore GB of data
Jio customer on an average consumed 10.6 GB of data per month
Voice calls clocked in at 44,871 crore minutes for the entire quarter
Average voice calls per user per month clocked in at 744 minutes
Video consumption clocked in at 340 crore hours per month, with average video consumption per user per month clocking in at 15.4 hours
Added 28.7 Million more customers to the network as opposed to 26.5 Million in previous quarter, thus taking the total to 215.3 Million customers
Churn rate (percentage of Jio customers leaving Jio for other network) of 0.30% per month which Jio claims is the lowest in the industry
Are you a Reliance Jio customer? How has your experience been on Jio's network so far?