The Samsung Galaxy Note 3 set the charts on fire from the moment it was unveiled. It is easily one of the most eagerly anticipated handsets of the year. The handset has opened to not just a great amount of hype but heavy demand. It takes up the mantle from its predecessors, the Samsung Galaxy Note and the Samsung Galaxy Note 2 handsets which have had a successful track record of their own.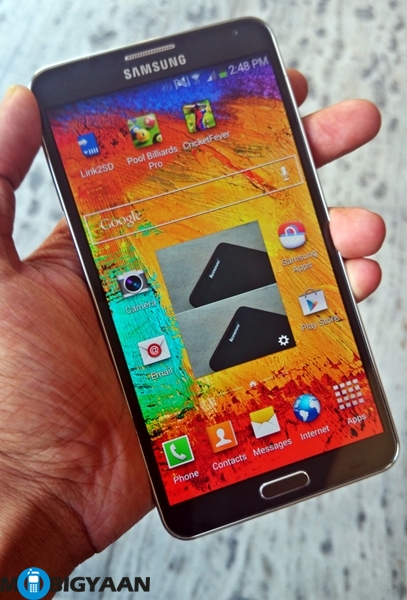 At 5.7-inches and a Rs. 49,900 price tag, the Galaxy Note 3 is definitely not something for the faint of heart or light of pocket. It has a magnanimous presence and appeals to only a particular kind of consumer – who aims big to say the least.
The Note 3 is something of a standalone device in its category, no device currently addresses the segment of the market that it appeals to. It also has a major presence amongst the Samsung devices since even in the vast Samsung line-up, it is one of the two flagship phones.
Just like you, we  are excited and looking forward to the Samsung Galaxy Note 3 Review – we have finally landed our hands on the device and want to say all there is to say about. Here we go.
Introduction
The first glance at the device will leave you filled with awe. It is a nicely crafted device and  doesn't have the cheapo feel we generally associate with most Samsung devices. The Samsung Note 3 might no longer be the biggest smartphone in the market, losing out to the likes of the Galaxy Mega 6.3 and the Sony Xperia Z Ultra, but it is definitely the most powerful phone in the market. The Samsung Galaxy Note 3 does exude the same confidence in its looks too.
The Samsung Galaxy Note 3 has two stand out features, a new back with a leather feel that gives it a premium edge and a new S Pen that has added features such as Air command. Of course there is also Android 4.3 – Jelly Bean OS on-board, but more about that later.
The Samsung Note 3 has an imposing 5.7-inch 1080x1920p screen, but still fits pretty comfortably both in the palm and the pocket owing to its great design and light physique. Inside, Samsung has put in new versions of apps such as S Note and Scrapbook but also new stuff such as S health and Galaxy Plus.
Overall, it is an amicable experience when you look at or hold the Samsung Galaxy Note 3.
Samsung Galaxy Note 3 Specifications
5.7 inch display
1920 x 1080 pixels resolution
2.3 GHz quad core Snapdragon 800 processor
3 GB RAM
13 MP primary camera
2 MP front facing camera
32 GB internal memory
Google Android v4.3 Jelly Bean
3200 mAh battery
Design
For the price it commands, this phone cannot lag in any department but most of all design, since that is what will matter most to the premium customer it is targeting. Well, the Samsung Galaxy Note 3 doesn't disappoint.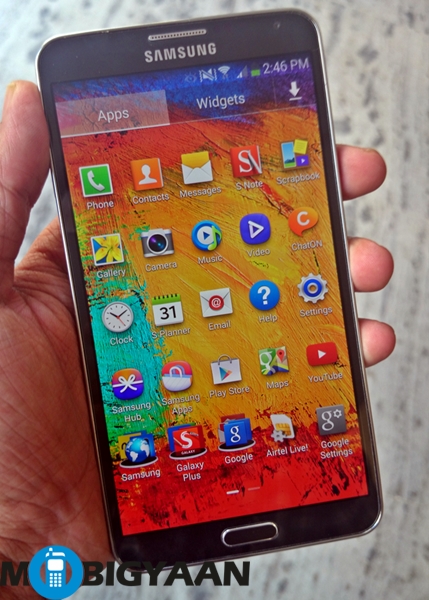 The handset brims with elegance. It is something different alright. Samsung has refined the design of the Galaxy Note 2 and in this iteration the edges are better positioned, they are curvier and make the handset easy to hold.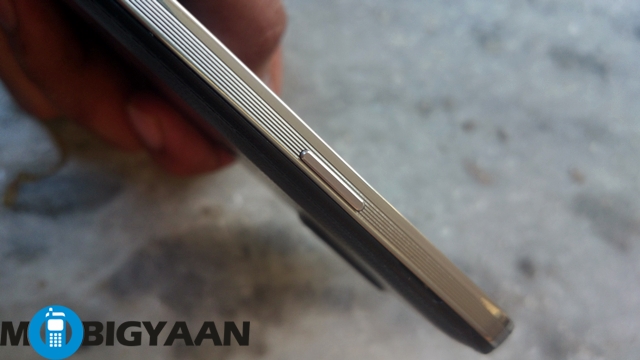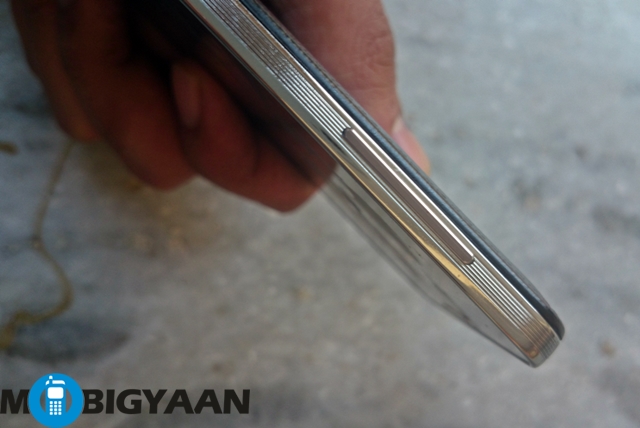 The handset weighs just 168 g which is evenly distributed  in its 8.3 mm frame. A layer of chrome surrounds the handset and lends it not just class but stability too, the handset can take the daily wear and tear without ending up all scratchy.
The Back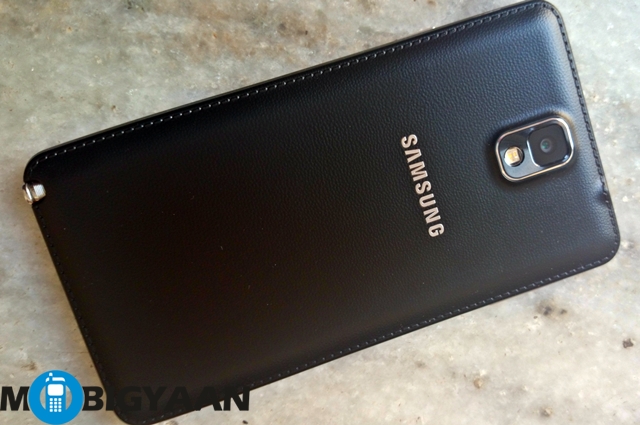 The back is a feature that Samsung has added which lends the handset a whole new feel. Samsung has finally begun deviating from its crappy plastic form factor – the Galaxy Note 3 is an amazing mix of everything.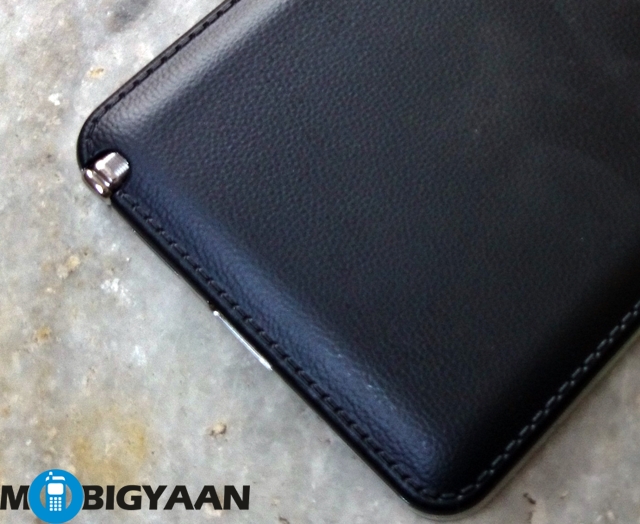 The back is an amusing thing to say the least. At the first look, you will definitely think that Samsung has endowed the Note 3 with a leather back. Well, it is a clever ruse – the back is still plastic but textured in such a way that you will feel as if you are experiencing leather. This way Samsung gives the handset a premium feel, while keeping things light and durable.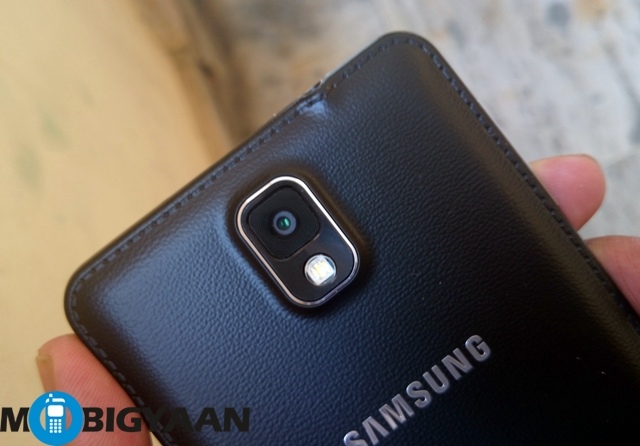 The back is also graced with a big camera which reinstates the spirit of the phone. The camera too has a chrome outline, a curvy semi-rectangular shape and despite being just a 13-megapixel camera, it has a large lens which again looks pretty good and merges right into the feel of the handset.
The Front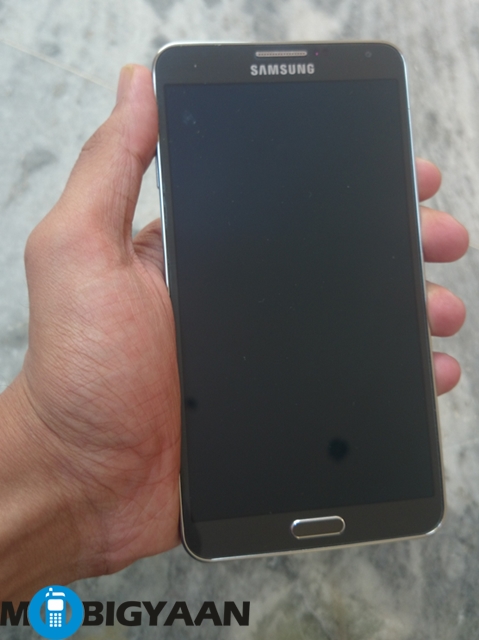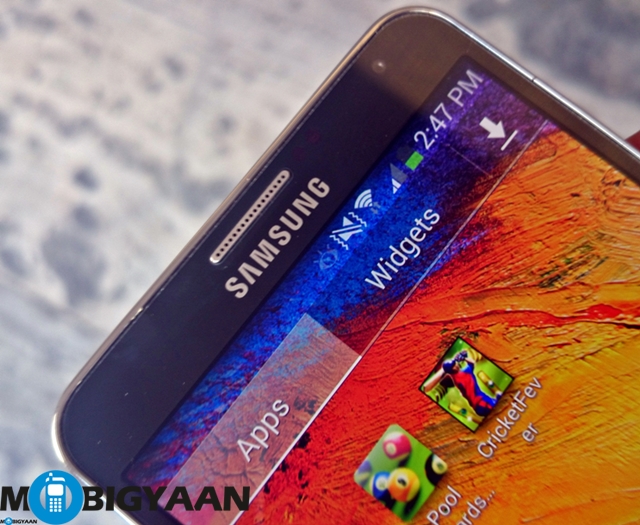 The front of the handset looks great too, although no fireworks here, since Samsung has maintained the thin bezel, home and capacitive buttons and the smooth feel of the Note 2. There is a front cam and a speaker which looks good and makes the handset feel well proportioned.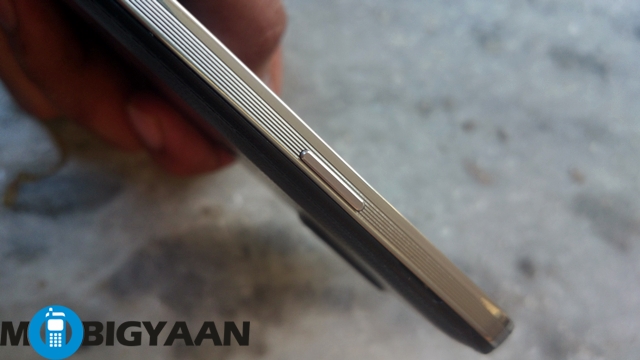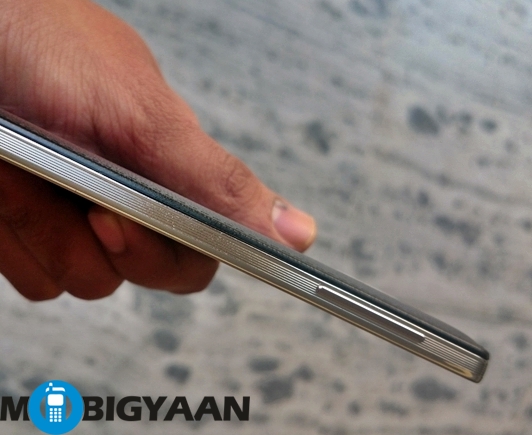 Buttons and slots
In terms of the buttons, Samsung has endowed the handset with similar stuff like most of its handsets – there is a volume rocker on the right, a power button on the left. There is the quintessential Samsung home button at the bottom accompanied by the capacitive menu and back buttons which light up on a single touch.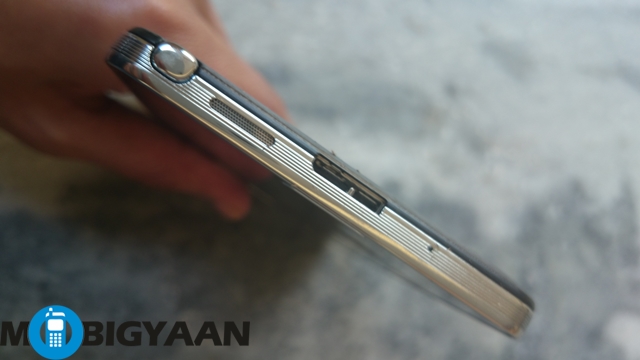 There is a 3.5mm audio jack located on top along with the microphone. Samsung has deviated introduced a new slot at the bottom though.
Alongside the bottom USB slot, you will now find the HDMI port, along with a microphone for voice calls.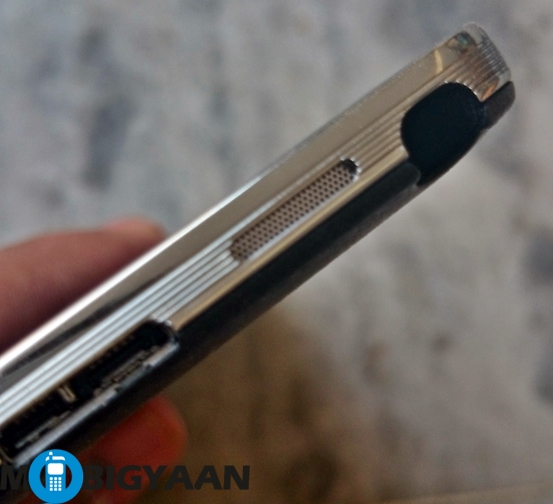 There is also a stylus dock, where you put in the S-pen. A speaker is located towards the left side of the handset.
S Pen
The S pen is also a highlight that you just can't miss whenever you talk about any Note handset, let alone the most recent one.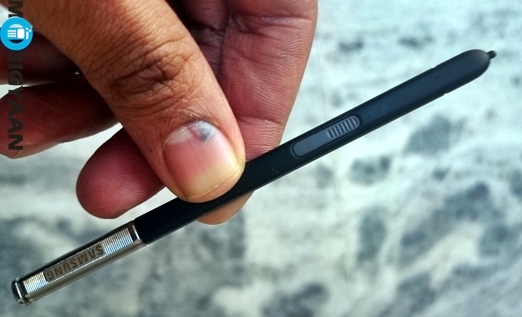 This time, Samsung has largely reinvented the S Pen stylus.Unlike the previous stylus of Galaxy Note handsets, this one is not just equipped with a bit of chrome, it is actually textured with it. It looks pretty cool.There is something different this time – for example, you do not need to insert the S Pen in a particular way, whether you insert the front or the back, it will fit in easily, which makes you less worried about damaging it.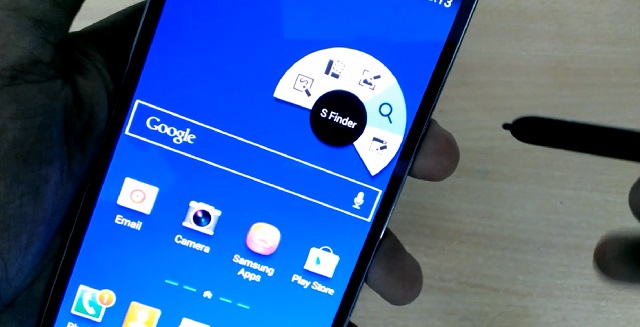 There is an Air Command button aboard just like the previous iterations and it is easy to use. The S Pen stylus is easy to use and hold. Just like the handset it is curvy rectangular and stylish.
Battery, SIM and SD card slots
As you open up the back, you are greeted by the 3200 mAh battery. Above it is located the MicroSIM slot and the MicroSD slot atop it. Both look suave, although if you are experiencing it for the first time, you will find it a little trouble putting in your MicroSIM for the first time, although from there on it is a smooth road.
Overall, in the design department, we give the Galaxy Note 3 two thumbs up.
Interface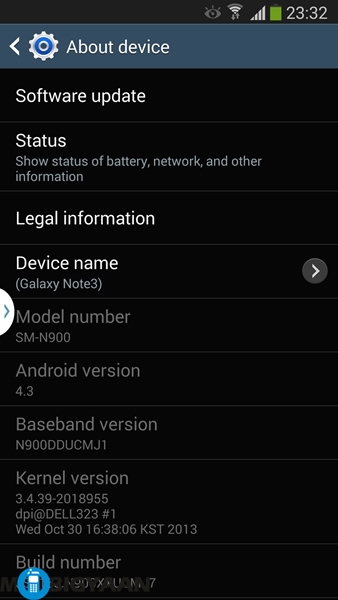 Android 4.3
The Samsung Galaxy Note 3 is one of the first devices to boast of Android 4.3 out-of-the-box. While we expected fireworks out of this iteration of Android. It is not that different. The only thing that sets it apart from Android 4.2.2 is that it is smooth, simple and easier to use.
Camera app
With every new Android iteration, one thing we look forward to is how different the camera app is from the previous iteration. Well, Android 4.3 makes the small things matter. Like with the previous iterations, you couldn't multi-task that well. As in, if you are doing something and just want to click a picture at the same moment, for example listening to music, the music would automatically be paused. But now you can actually click pics while listening to music.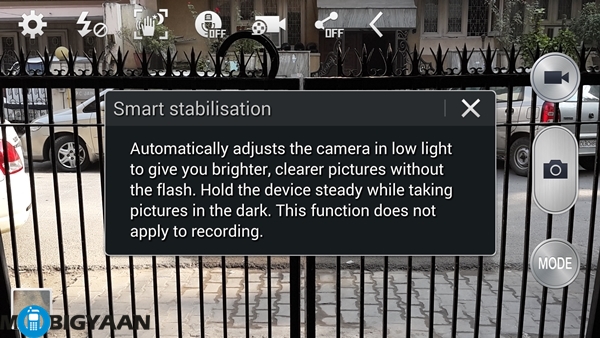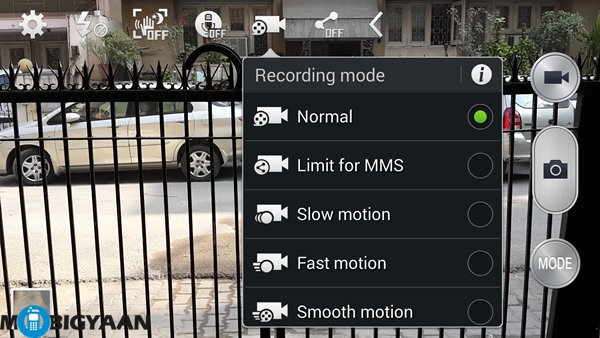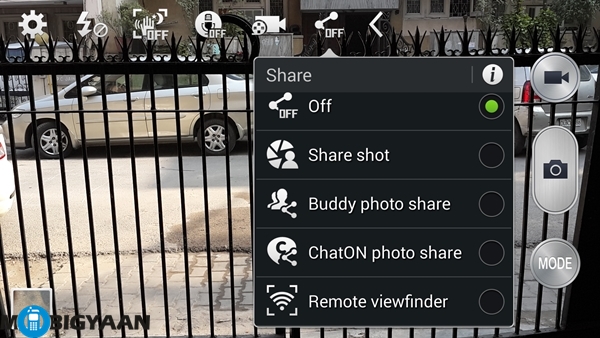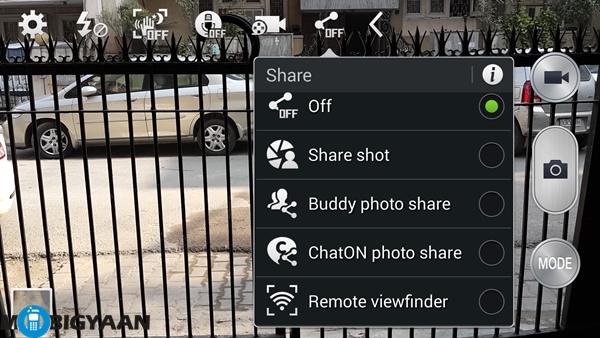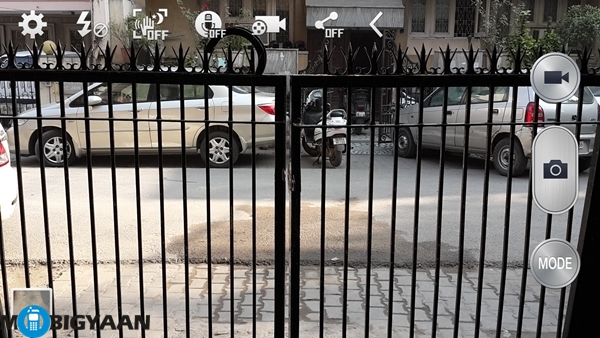 There are also easy controls and other stuff on offer.
The camera app is mostly same as far as the way it works is concerned and although the controls are pretty simple, it does offer a variety of stuff.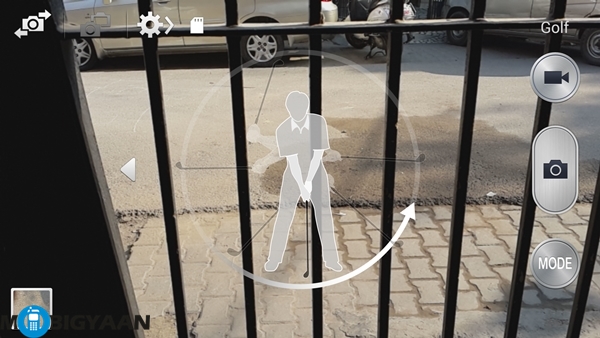 Two new clicking modes are there though – the golf mode and the animation mode. While the animation mode is self-explanatory, the golf mode is designed to capture a sportsperson in motion, and actually is best suited for those who play golf. There is also a drama mode that selects the most dramatic amongst a series of images.
UI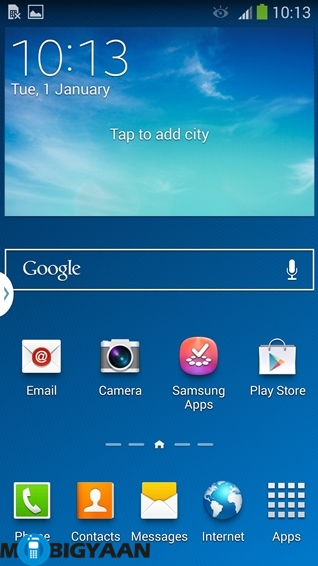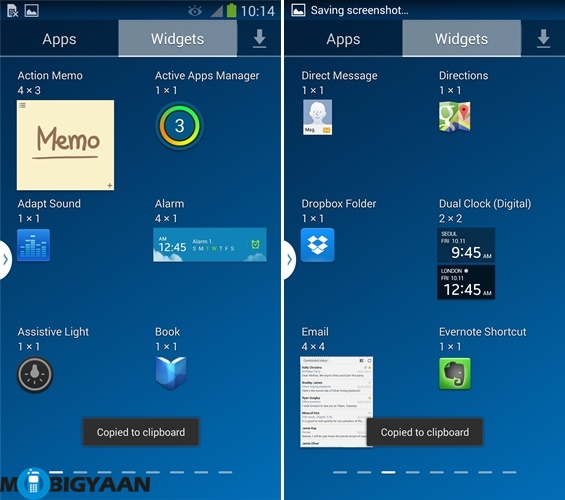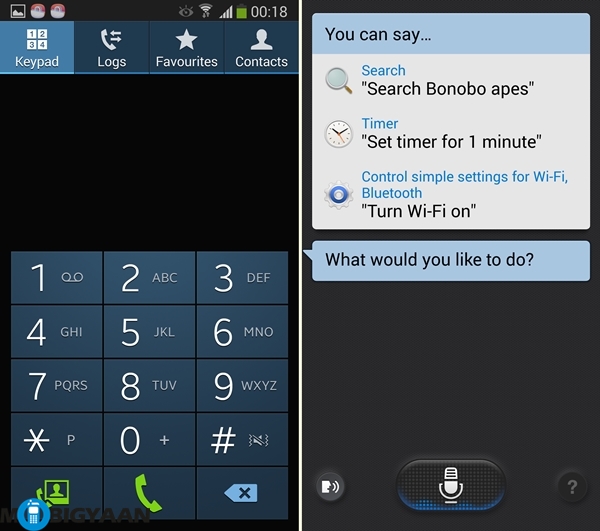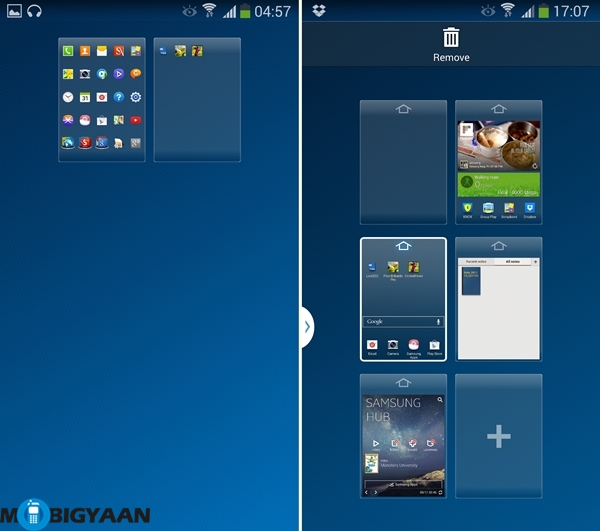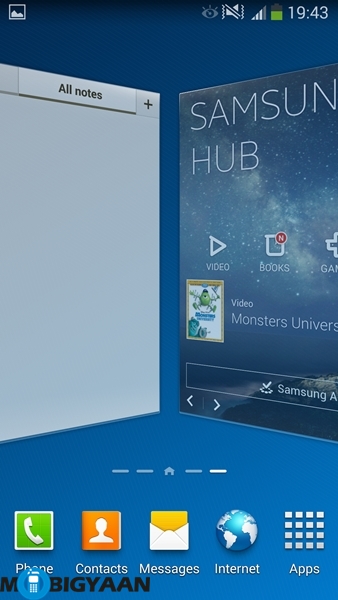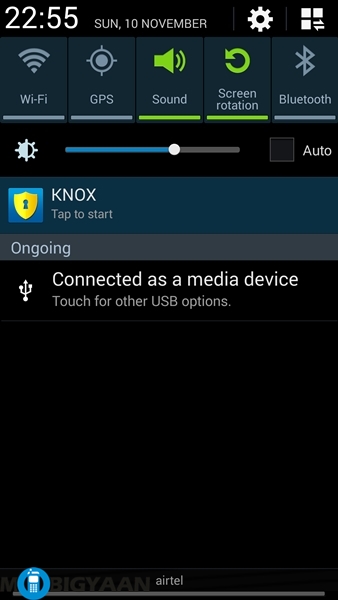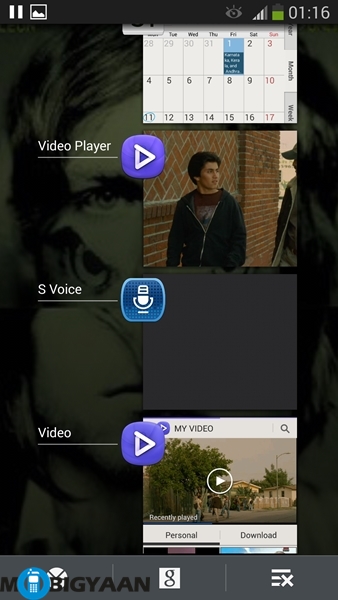 The interface is something different from what Samsung generally endows its phones with  – it is simple. There is actually no clogging of apps that you don't need despite this being a flagship phone, which is like a  breath of fresh air.
All the apps quaintly rest on a single page. Instead of creating too many pages Samsung has clubbed apps under different heads. Besides the run-of-the-mill apps such as phone and camera, Samsung has clubbed apps under 3 heads – Samsung, Google and Galaxy Plus which is cool.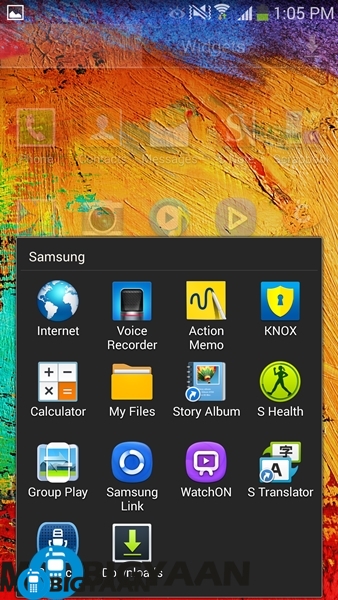 Samsung
The Samsung head has all the Samsung apps under one umbrella – the internet browser, the voice recorder, Knox security, calculator, My files – file manager, Story Album, Watch On, Group Play, Samsung Link, S Translator, S Voice, Downloads and of course, some new ones such as Action Memo and S health.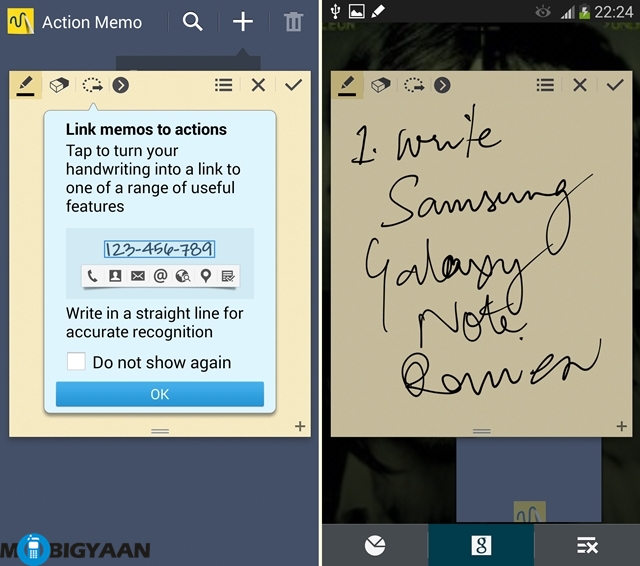 The Action Memo app is an easy note taking app. With the S Pen, it is easy to use, in fact it celebrates the fact that you have a S Pen at your disposal. Simply put, you will never know the joy of scribbling on a 5.7-inch screen until  you have done, so. It  is a nice way to remember things, 'Pen' down your thoughts or just scribble idly.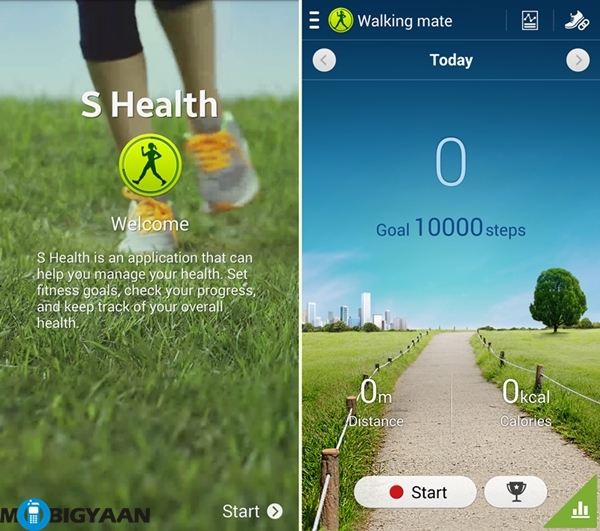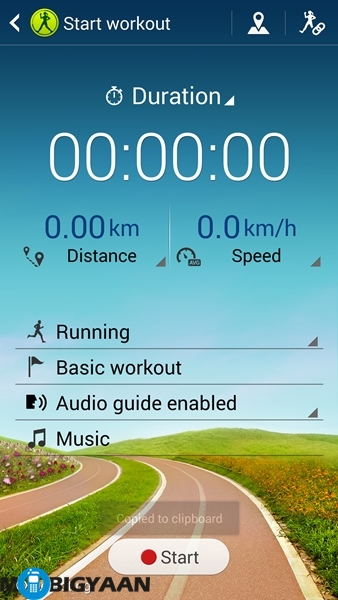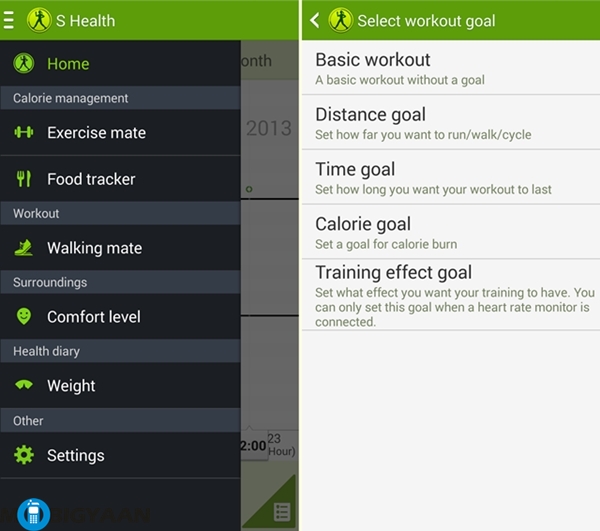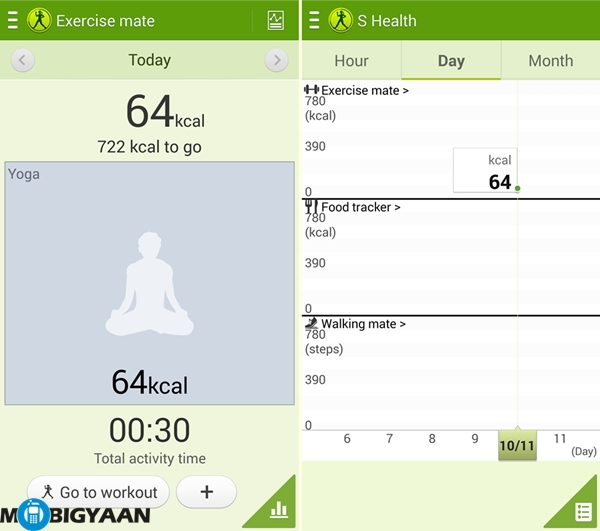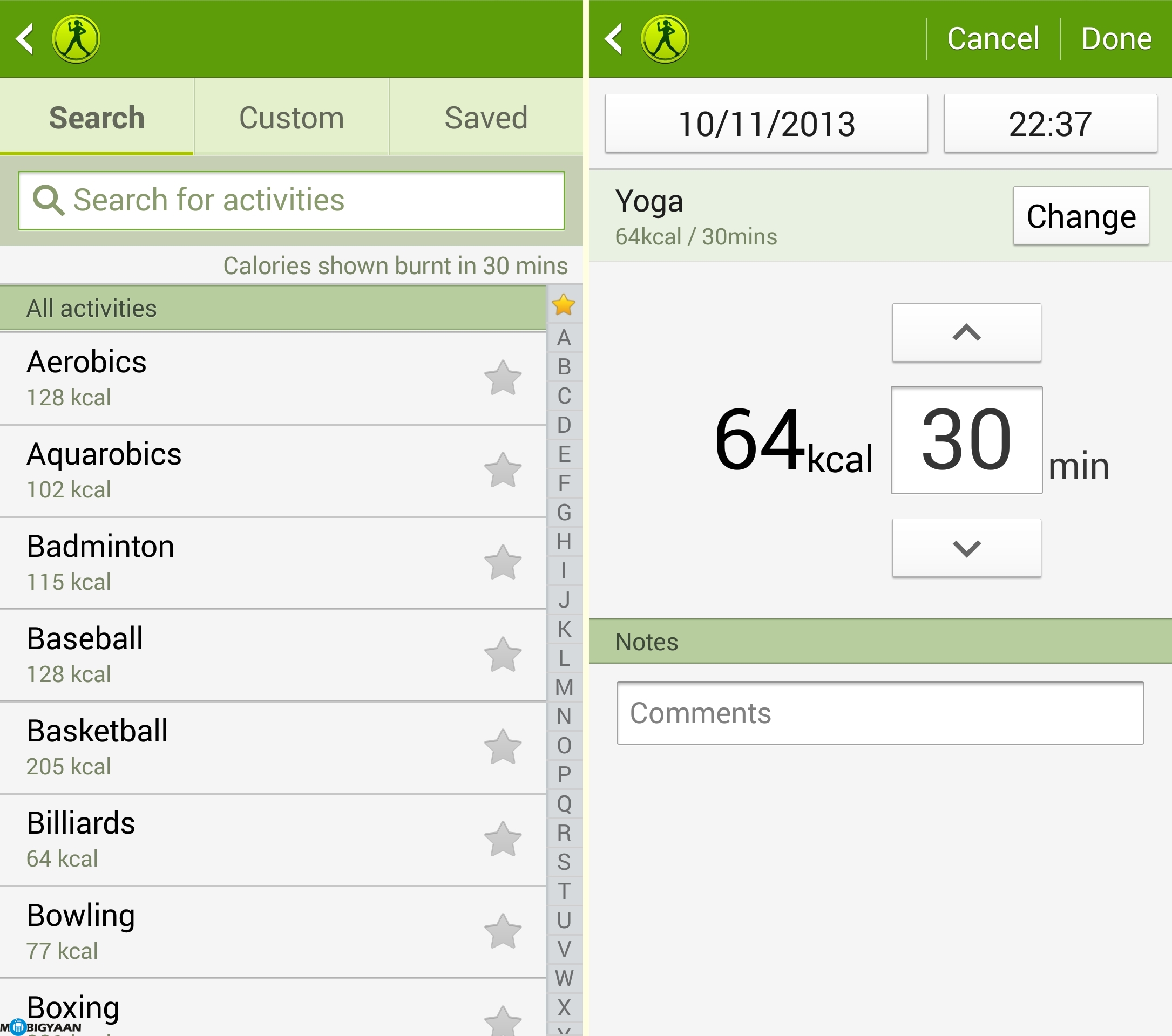 S Health is Samsung's attempt at lightening your body fat, after you have lightened your pocket for this phone. It is a comprehensive health app, aimed at keeping tabs on your health. Whatever activity you choose, you can easily keep track of how many calories you burnt. There is a lot of stuff here, there is an audio guide that will tell  you when you are starting pausing or stopping your workout. You can also connect the phone to a heart rate monitor and find out how your heart is responding to exercise. There is a deluge of activities to choose from – you can choose from a variety of activities and still get an account of how productive your workout was, according to your body stats.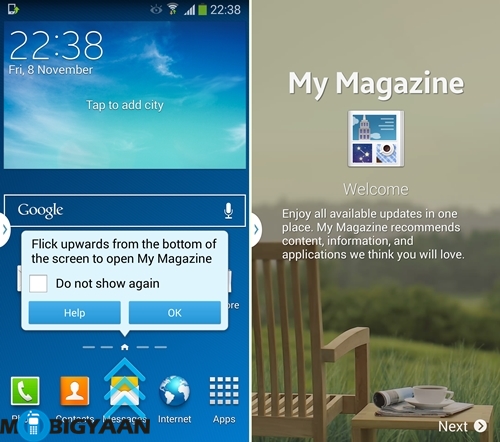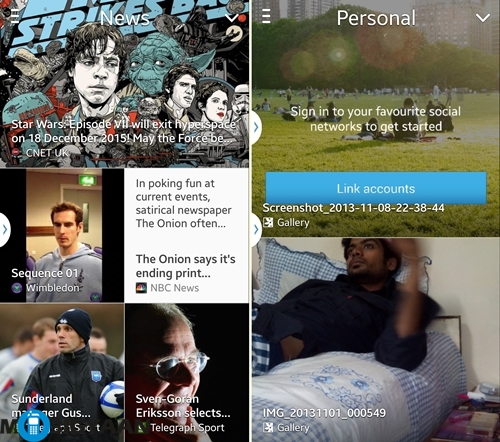 There is also a side, pull up feature called My Magazine which is a welcome alternative to Flipboard and you can easily have all your favorite feeds on it, whether it be news or social networks.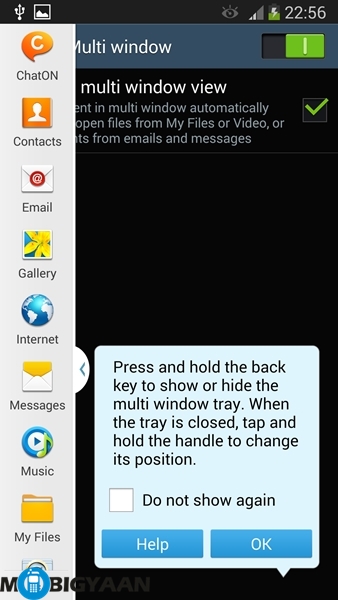 Another thing that intrigued us was the pull out menu that shows  all the requisite shortcuts and is accessible at a single left to right swipe.
Google
The Google head has all  the Google stuff, clubbed under one head. All the regular suspects are there – Voice search, Google Search, Gmail, Google+, Play Music, Play Movies and TV, Play Books, Play Games, hangouts, Chrome and something new – Photos.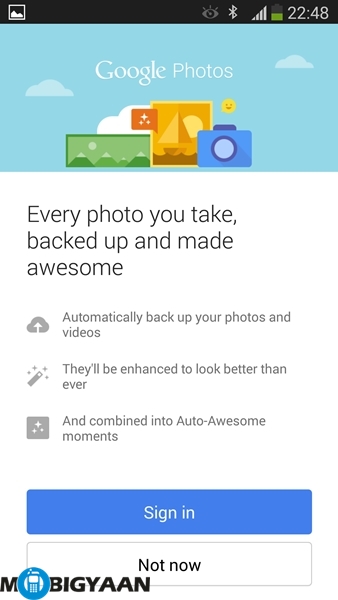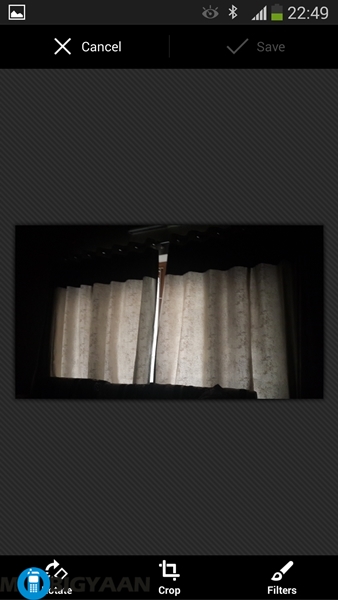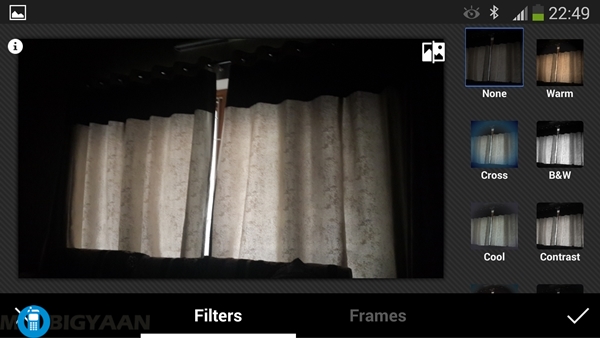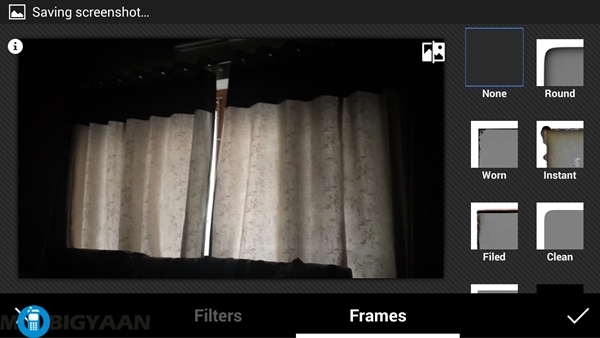 Google Photos is a new way to edit and backup your photos. It has frames and filters aboard while it allows you to crop or rotate your pics. It is a good thing.
Galaxy Plus
The Galaxy Plus is a collection of 5 apps – 4 third party ones – Flipboard, Dropbox, Evernote and  Trip advisor along with one Samsung app – Sketchbook for Galaxy, which is an app designed especially for those with an artistic bent of mind.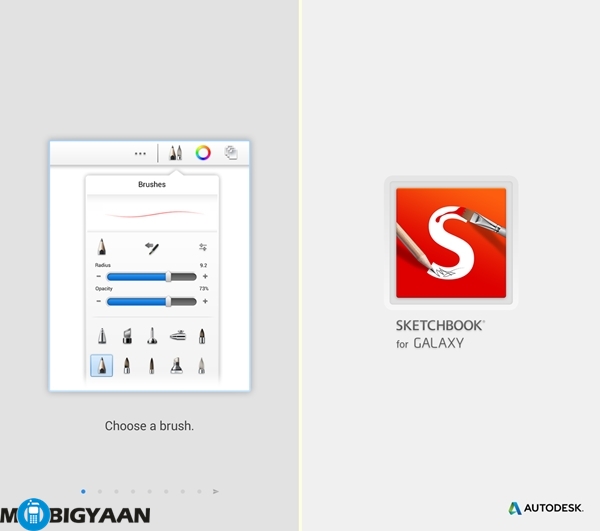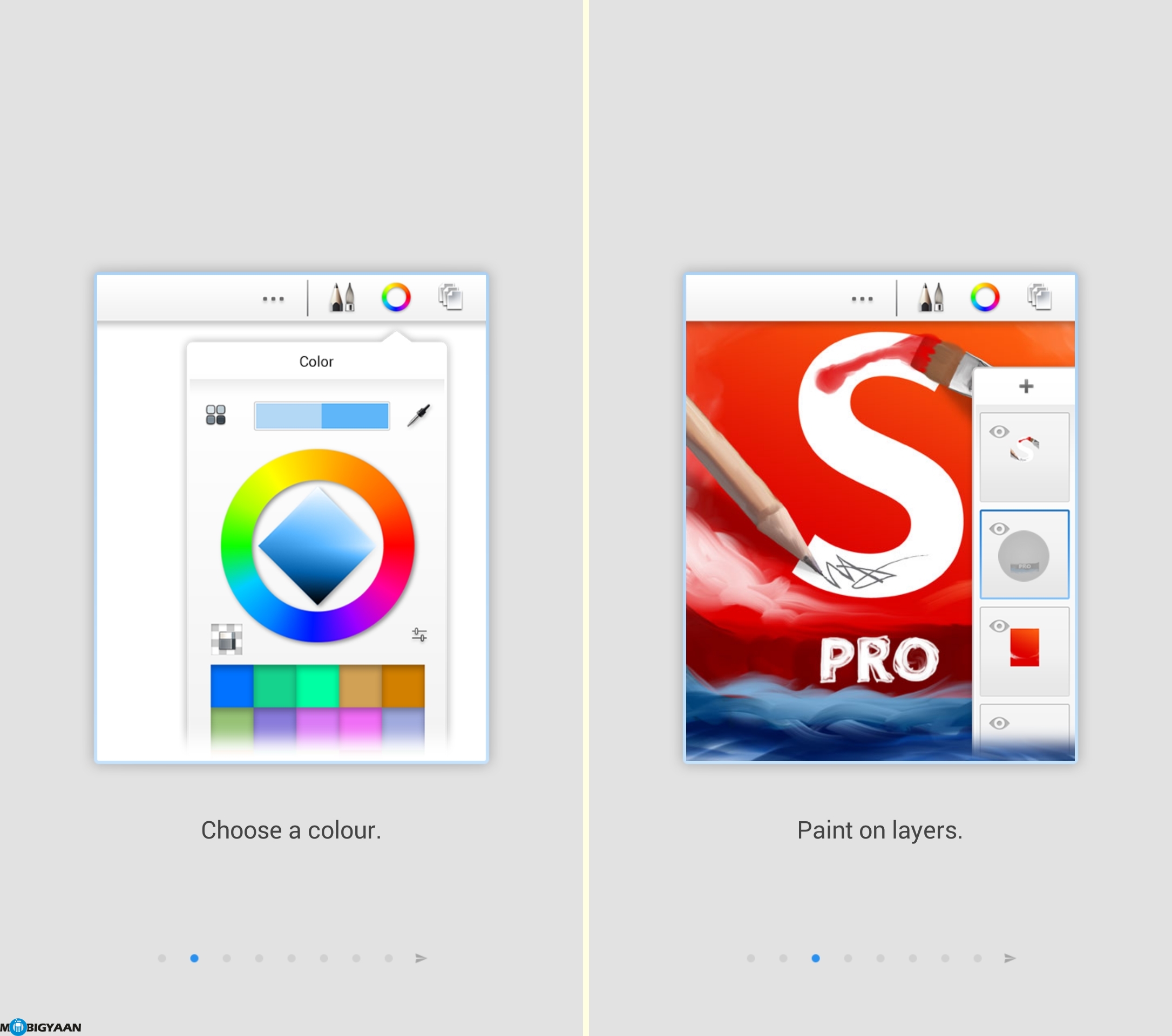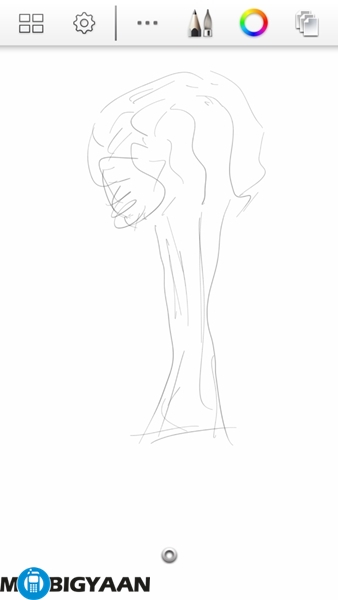 You have a range of choices from choosing the brush stroke to the kind of effect you want. It looks pretty cool and complements the S Pen.
Main Menu     
Besides the three shortcut menus, you will find many features in the main menu. Besides the usual icons such as phone, camera and contacts, there is a lot of Note-sy stuff here.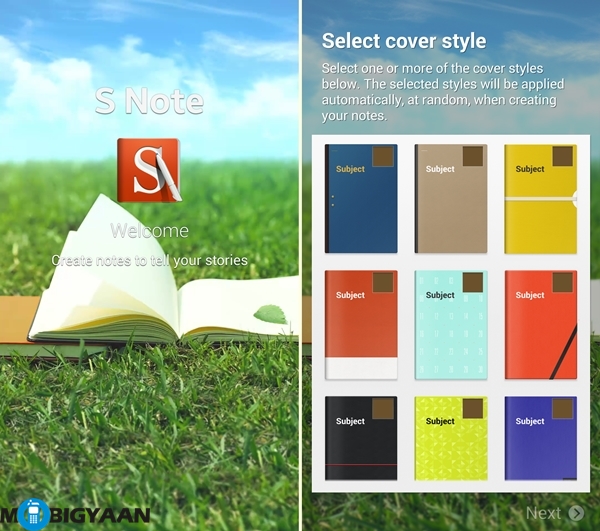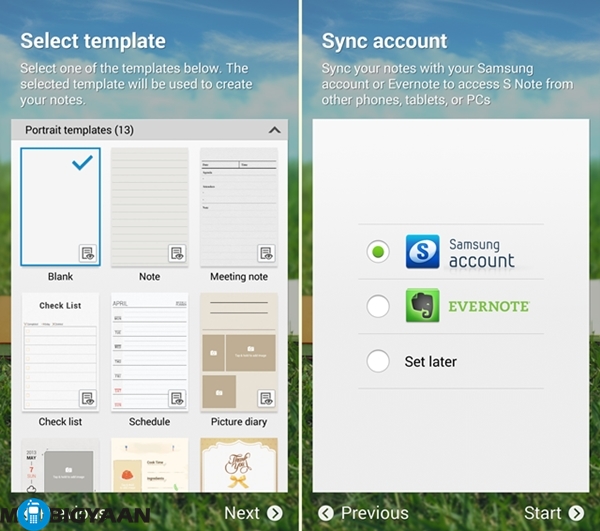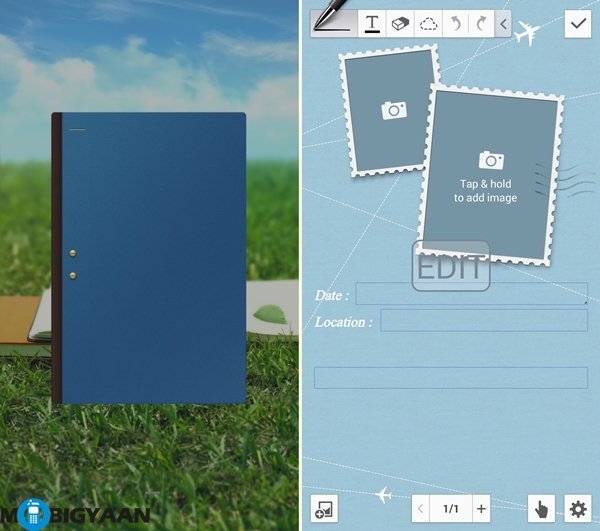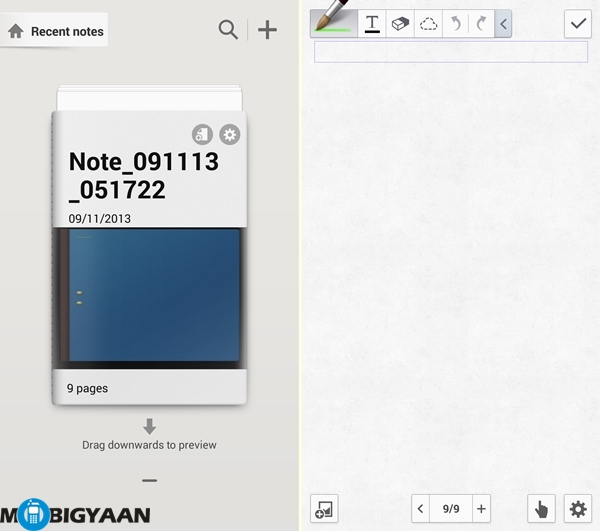 The first thing you will notice is the S note app. Just like the Sketchbook App this one too is S pen centric. You can easily scribble notes via the text input or use a brush to create a sketch of your choice, with ease and on a background of your choice – everything is easily saved and besides being a useful app, it is also a nice time pass.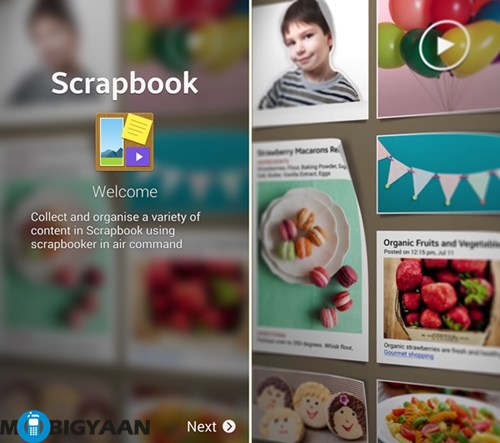 Another unusual app is the scrapbook app, which lets you collect pics for scrapbooking.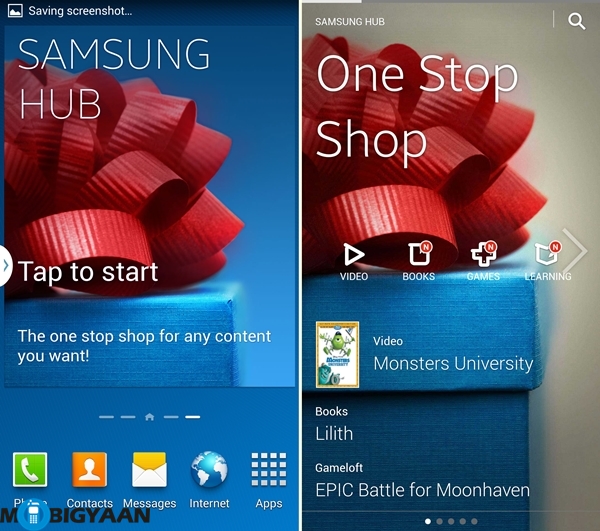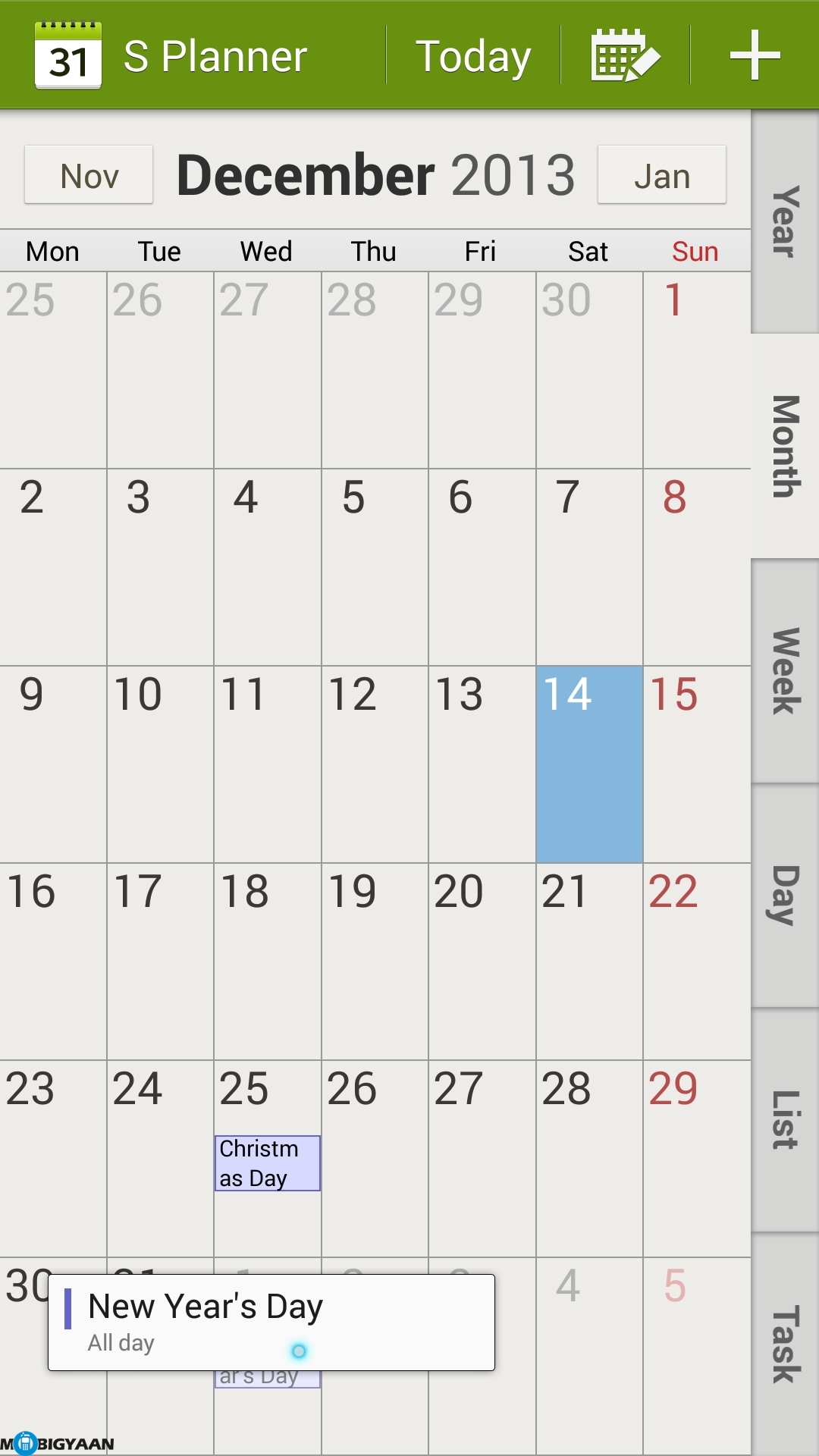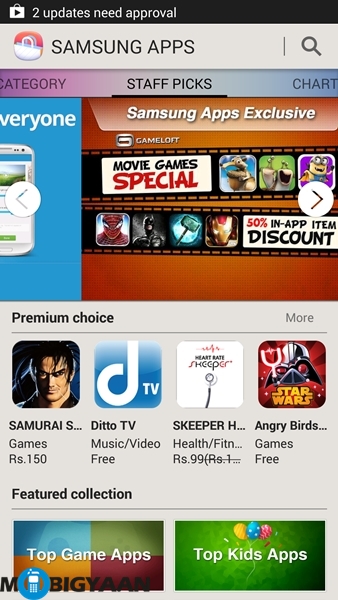 Besides this Samsung has also added the Samsung Hub, S Planner and Samsung apps shortcuts.
The whole interface is amazingly simple to use while having no dearth of features. Samsung has done a remarkable job and even though there were no fireworks from Android 4.3, it still wooed us with the simplicity and smoothness.
Camera
Samsung has done a good job by endowing the Galaxy Note with a 13-megapixel camera and a 2-megapixel front cam.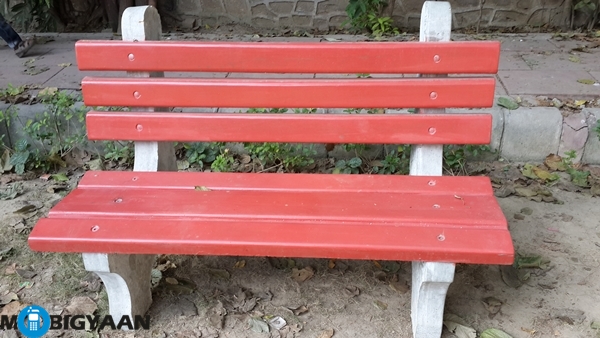 Auto Mode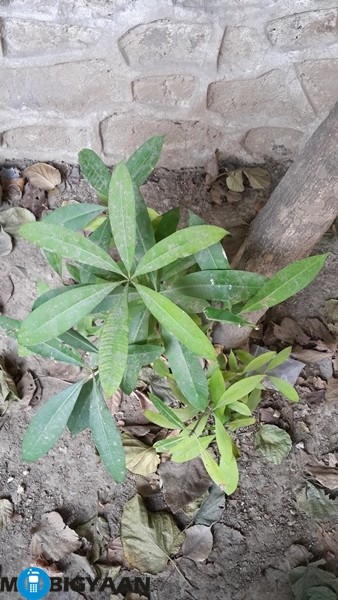 HDR Mode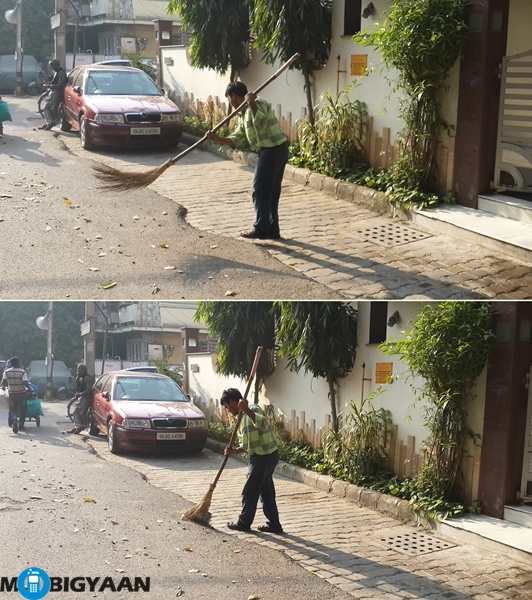 Sports Mode
Best face Mode – allows you to choose  from a selection of photos and add effects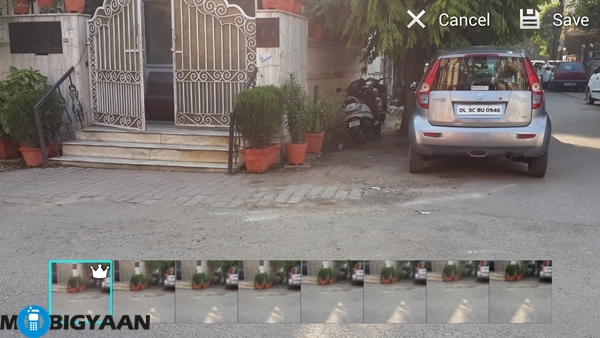 Best Photo Mode
The camera works on a variety of modes and performs good in each of them. You are instructed on  what mode to use and each mode comes with its own merits. You can view the whole list by clicking on the mode button.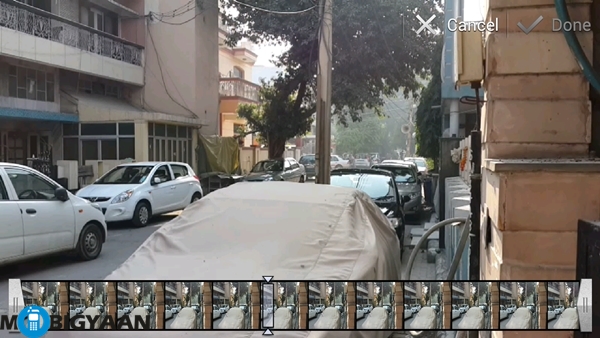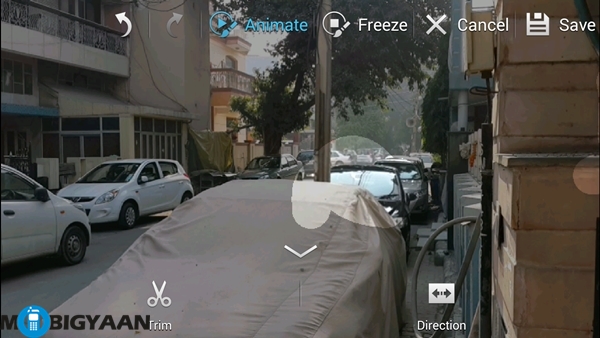 The Animation Mode – allows you to add effects such as animate, freeze and also trim frames.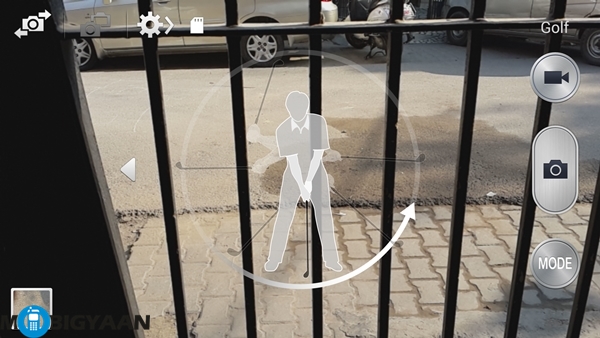 Golf Mode
While the usual sports and panorama mode are great the golf and animation mode will come in handy when you have lots of time on your hands. Essentially, you could use the animation mode to create a GIF and upload it on Flickr or Vine.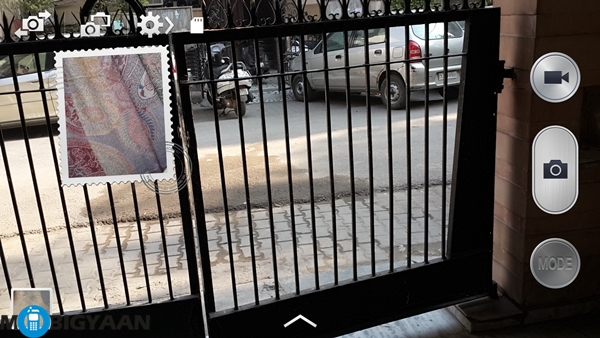 There is also picture–in–picture mode, which uses both the front and rear cams at the same time.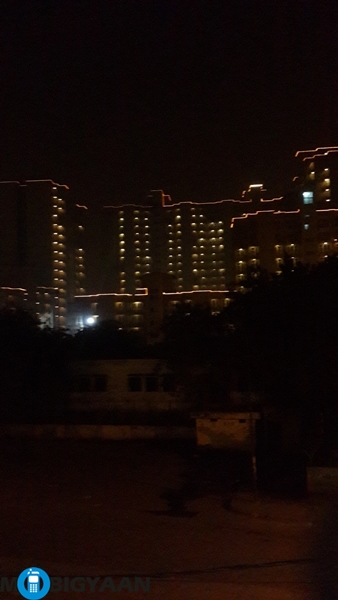 Night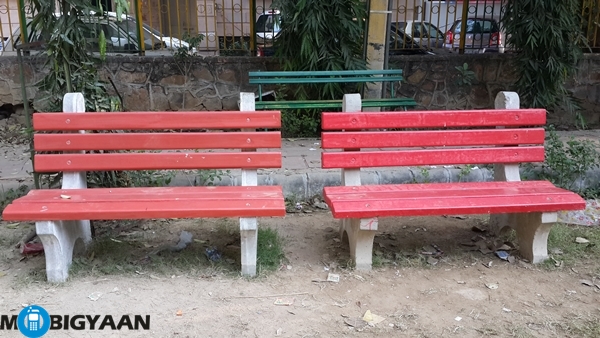 Outdoor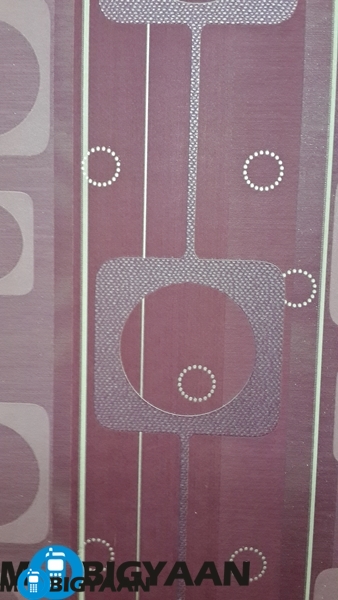 Indoor
The Samsung Galaxy Note 3 has a large senor on board and definitely makes good use of it. The maximum resolution of photos is an exciting 4128 x 3096 (Wow!). You can actually get pretty detailed pics with the cam.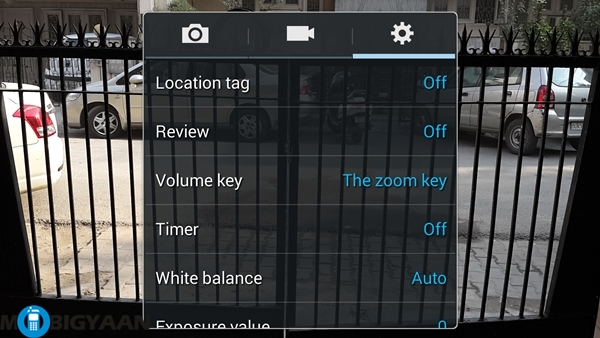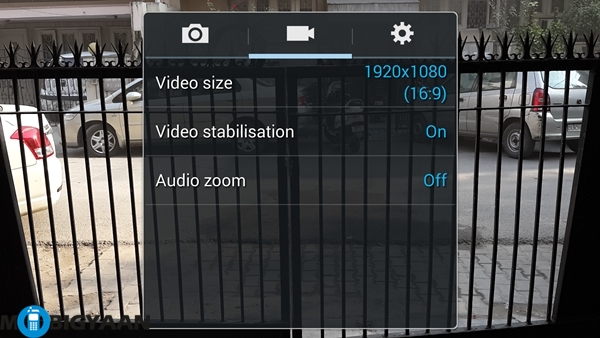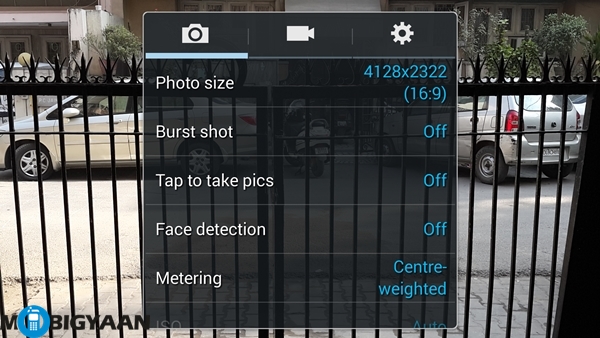 As far as pictures are concerned the camera is definitely not out-of-the world, it hardly gives you room for complaint, which is amazing as far as smartphone cameras are concerned.
Performance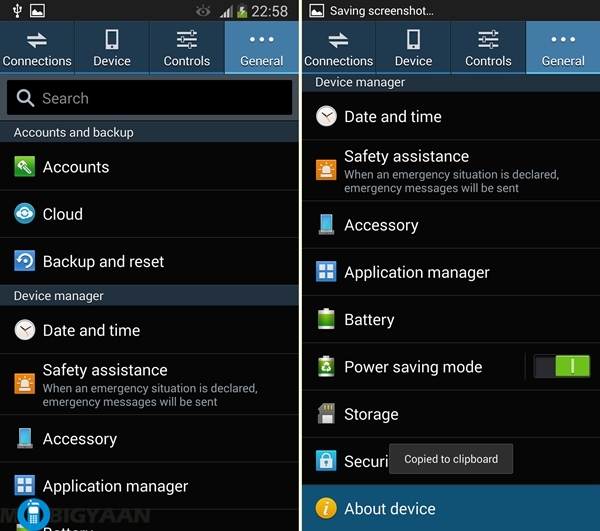 Multimedia
As far as as the multimedia performance of the device is concerned, we have kind of mixed thoughts about it. See, basically the device is endowed with great video and audio playback. The speakers on the top and bottom perform pretty great, playing out sound which is not just loud, it is actually amazingly clear, something Samsung has improved on.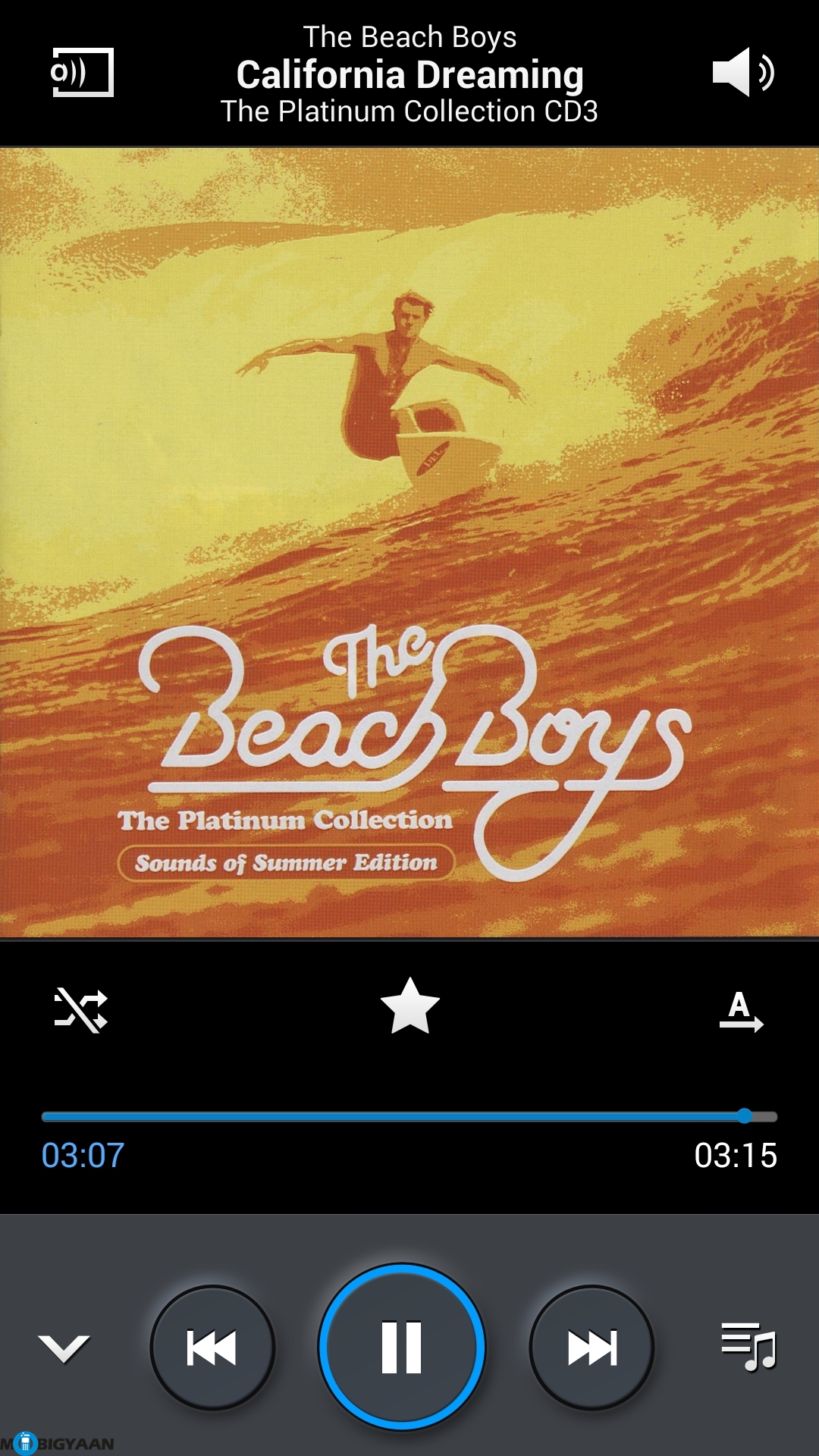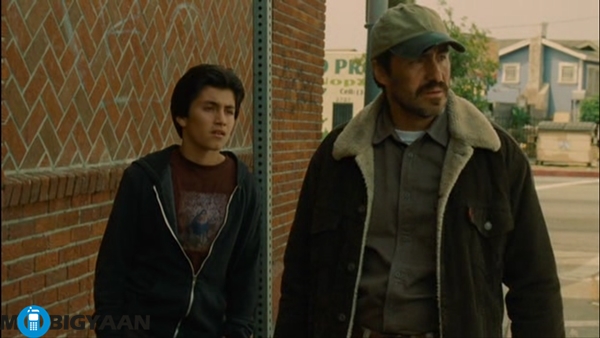 The Video playback is awesome too and you will relish watching movies on the big screen. You can also read books, but Samsung hasn't loaded a reading app surprisingly but still you can do pretty well with Kindle or Kobo.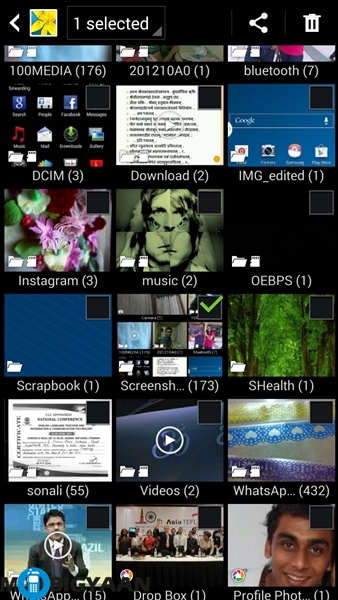 One other thing we love is the new gallery layout which makes it easy to view and edit photos.
Connectivity
The Samsung Galaxy Note 3 boasts of a multitude of connectivity options, whether it be 3G, Wi-Fi or Bluetooth. The call quality was good, while the Wi-Fi and Wi-Fi Hotspot perform good too.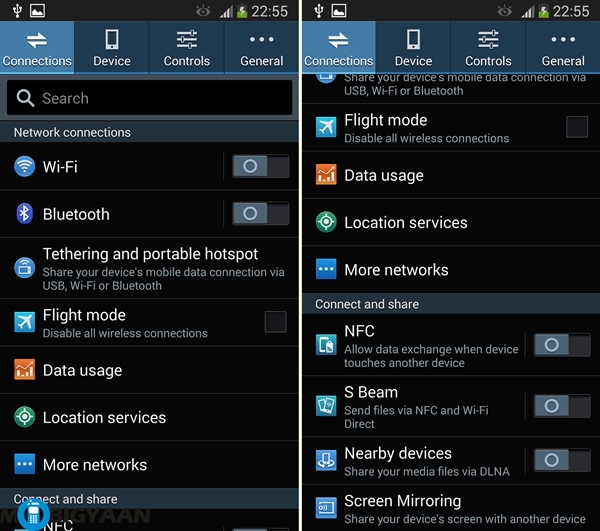 The handset is NFC capable and if you are into that kind of thing, it can also use the Samsung Beam to Beam content to other devices by simply holding the devices together, using NFC and Wi-Fi Direct.
Another way to share is DLNA, besides which you can also mirror your device screen with a device such as a PC or TV. GPS on-board will give you all the location assistance you need.
Sadly, we could not get our hands on the Galaxy Gear to test the device compatibility.
Storage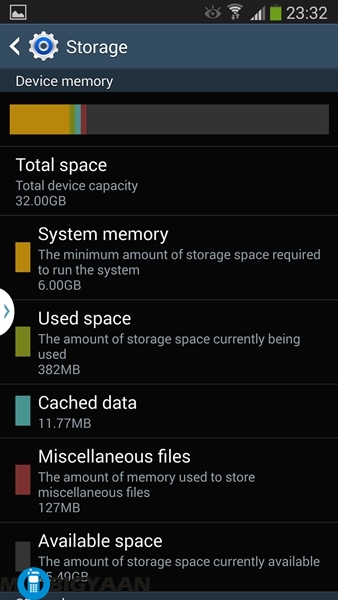 The device we got came with 32 GB internal storage, while there is also a 64 GB version available. Besides which, the phone boasts of 64 GB MicroSD expandable storage.
Battery Life, Processor and RAM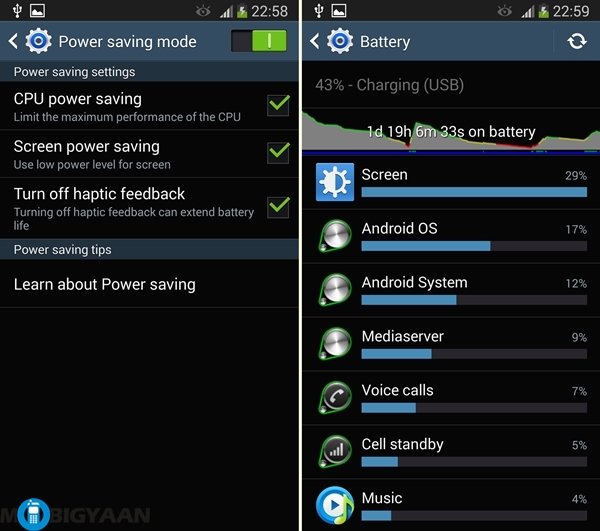 The Samsung Galaxy Note 3 boasts of an expansive battery life, thanks to its 3200 mAh battery. Besides, its comes with a Exynos Octa 5420 chipset and a quad-core 1.9 GHz processor and 3 GB RAM (!). There are two versions available, the one headed to India boasts of a Mali 400 GPU, while the international version boasts of Adreno 330 GPU. Neither will disappoint you.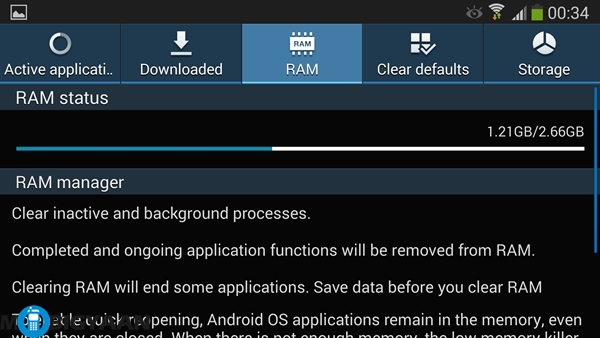 While the device performs great, It uses a lot of RAM, even when you shut down all apps, it still uses 1.3 GB of RAM  whichmakes you really thankful that it has 3 GB of it on-board, which helps as there are absolutely no lags when it comes to even high-def apps.
The handset takes a little bit of time to charge owing to its large battery but it can easily withstand a day or two of regular usage on a charge.
Gestures
One thing you will definitely look forward to in a Samsung flagship device is gestures. And there are so many of them that you will be amused.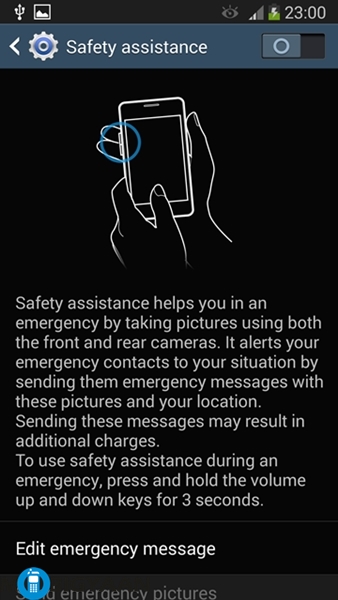 One great feature would be Safety Assistance, which is a feature that will come in handy in case you are trapped or kidnapped, if only you have the device by your side – what it does is when turned on clicks pics from rear and front cams and then messages your emergency messages with your pics and location.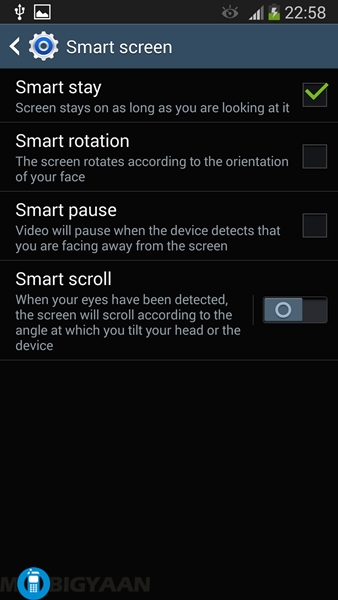 Then there is smart screen which controls auto-rotation, screen sleep, smart pause – which pauses the video as you look away and smart scroll, which lets you scroll, just by tilting your head.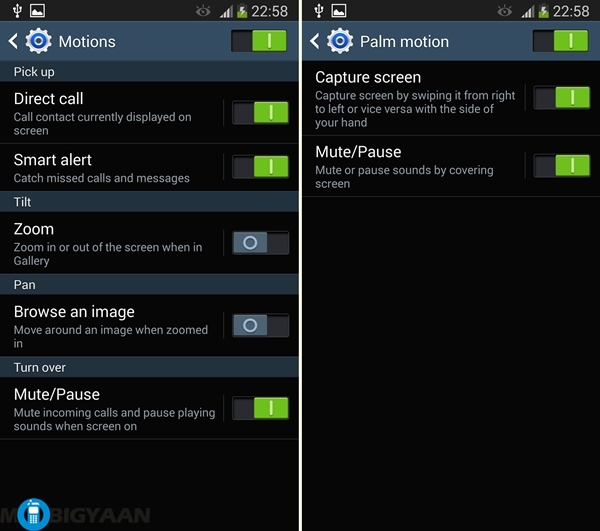 The Palm Motion, which has poured down from the Samsung S series lets you mute or pause with your palm or take screenshots.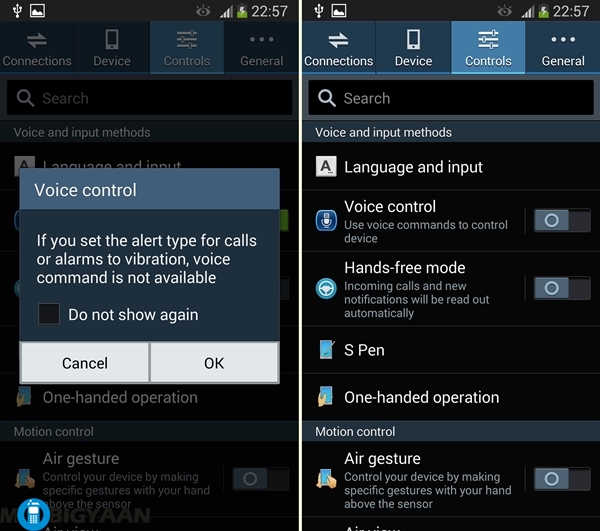 Other motion gestures include Direct call – which calls the contact which is displayed on screen, smart alert which alerts you about calls and messages, while you can zoom out and in of the screen in the gallery, you can move in and zoom on an image or mute pause sounds and incoming calls.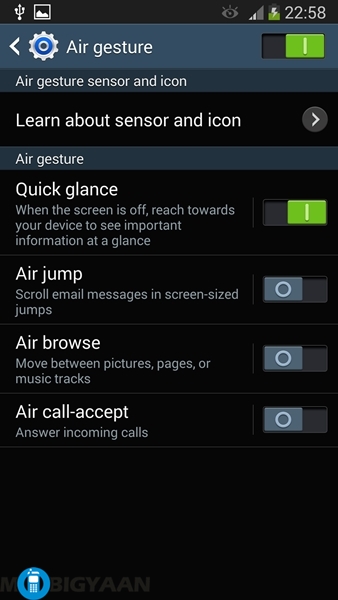 The one gesture that is the attention grabber is the Air Gesture, which makes the best use of the phone's sensors. It definitely has some tricks on offer –
Quick Glance – As soon as you glance on the phone, it will light up to show notifications.
Air Jump – You can easily scroll your email messages.
Air Browse – You can gesture in the air to scroll images, pages and music.
Air Call accept -just gesture in the air to answer calls.
Pretty Fancy, huh?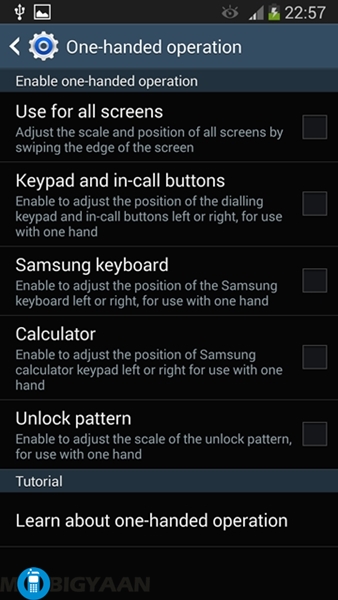 Despite being a large device you can customize the Samsung Galaxy Note 3 for One–handed operation.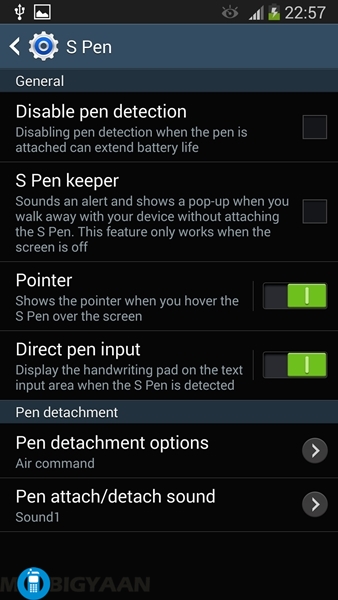 There are also hordes of S Pen gestures on board. You can actually turn off disable S Pen detection to save on battery.
Then there is S Pen Keeper which will alert you in case you ever forgot your S Pen and save you the worry of losing it.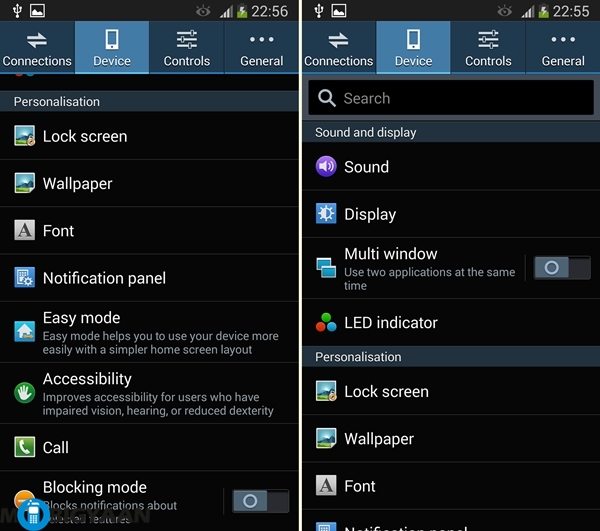 There is a pointer and also direct pen input which works like handwriting recognition. You can set stuff for when you detach your S Pen such as Air command and Action Memo. Then there is a hands free mode, which we wouldn't actually recommend, since the joy of a handset as big as this is only experienced without the hands free.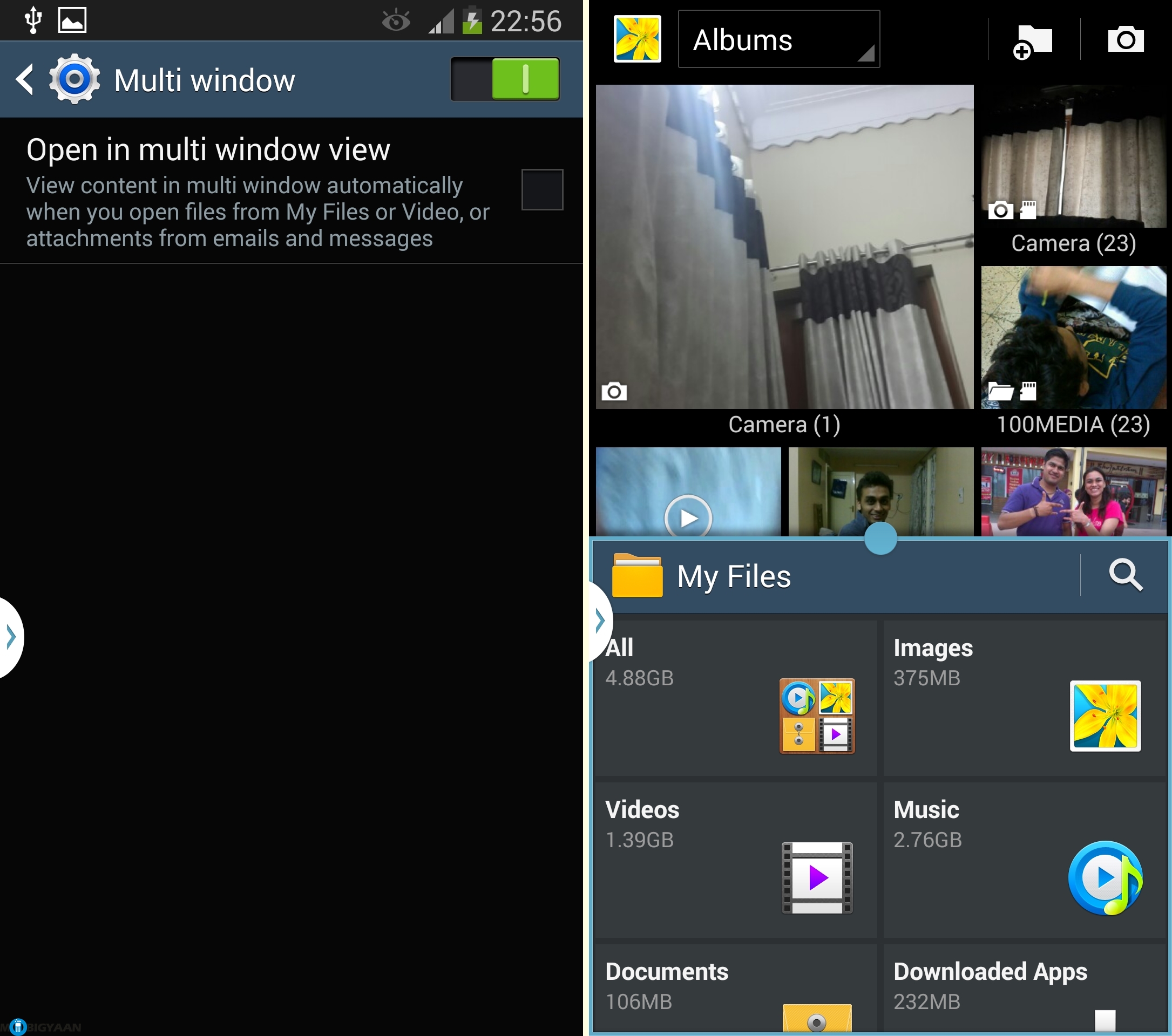 Another this is the Multi-Window, which would let you open multiple windows of  different stuff, which is again, great for the 5.7-inch Galaxy Note screen.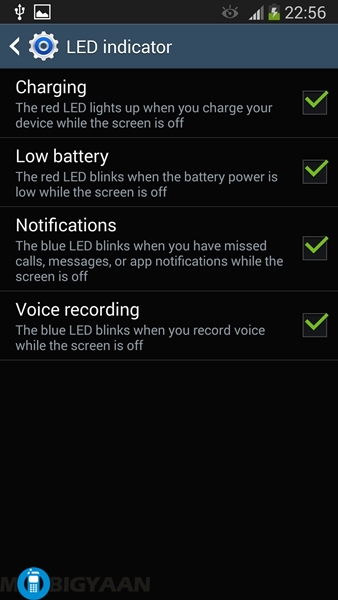 Besides this you can manipulate the LED according to your choice.
 
Air Command
The Samsung Galaxy Note 3 review would be incomplete without the mention of Air Command. Air Command is a shortcut menu that you can access via the S Pen.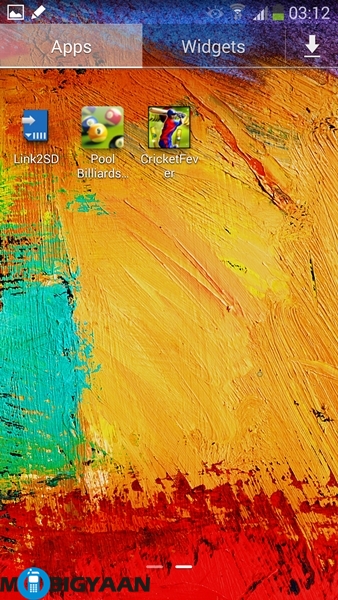 When you bring your S Pen near your Samsung Galaxy Note 3, a little dot appears on the screen. Then you need to press the button on your S Pen and Lo and behold! a shortcut menu with 5 different options opens up –
Action Memo – The memo app opens up on the screen.
Scrap Booker – You can actually create a pattern on any part of the screen and then save  it as an image. This is an interesting function. See, for example, if you are looking at a  youtube video and want to see just a little part of a still in detail, all you need to do is open scrapbooker, create a pattern around it and you can save it as a separate image.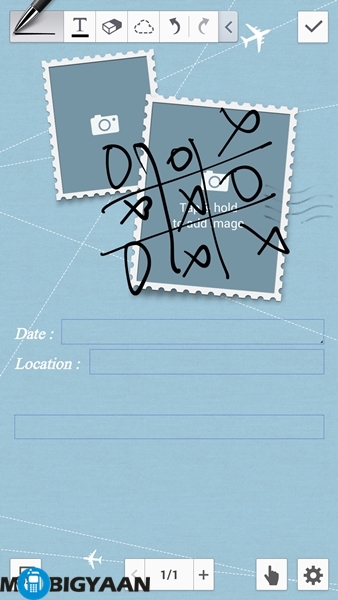 Screen Write – Using this function, you can write anything you want on the homescreen or the app, it is another great utilization of the S Pen and a bliss for scribblers and doodlers.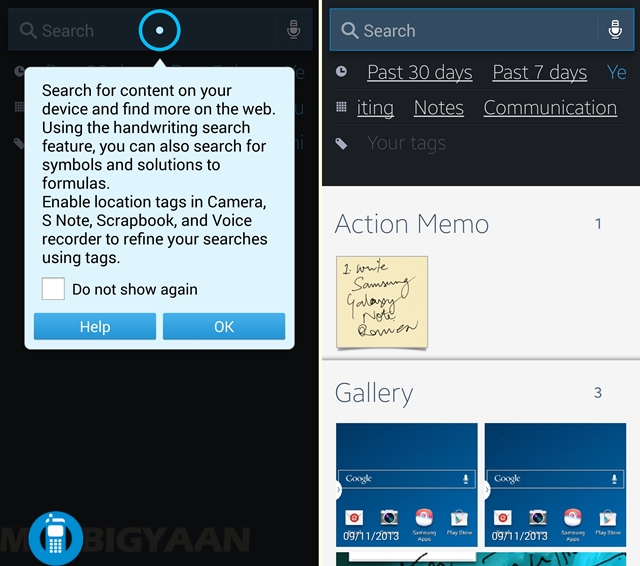 S Finder – S Finder enables you to look for content both in the phone and on the web. It is easy to use and helps you find and browse through stuff quickly.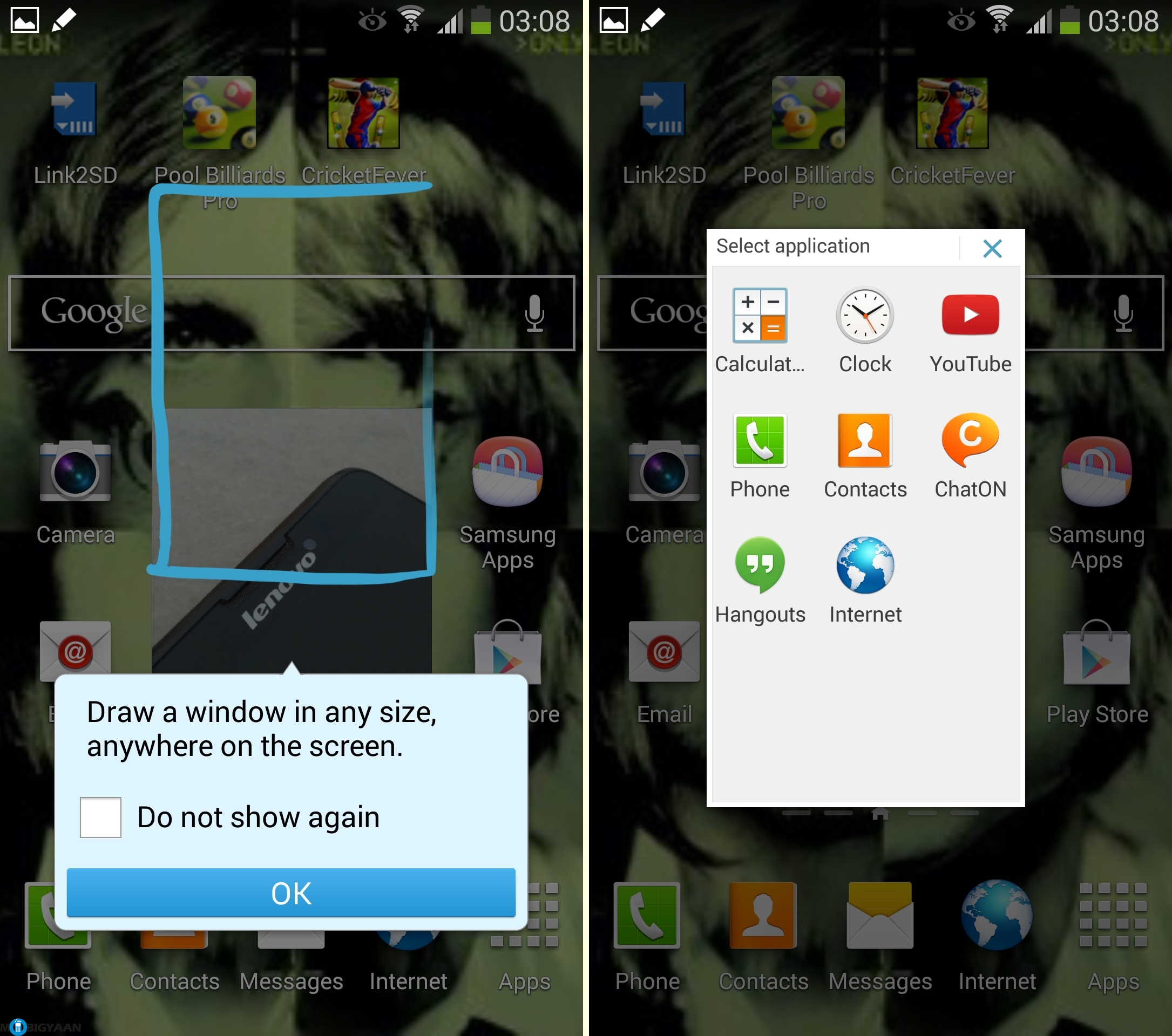 Pen Window – If you want to open the shortcut menu in a small place on the screen, all you need to do click on pen window and create a rectangular pattern and a menu will open up. This feature will come in handy during presentations.
Verdict
The Samsung Galaxy Note 3 is truly the phone which has its act together, from start to end. It is a super powerful phone and will definitely charm the pants off anyone who is not intimidated by its size.
The 5.7-inch full HD smartphone hardly dissapoints on any count , whether it be features, camera, hardware or software. The screen size is more than ideal and the stand out S Pen again holds pleasant surprises. The battery performs well and the processor never gives up. It is definitely a phone you wouldn't be able to keep your hands off, just if you get your hands on it.
The pricing is then, the only grouch we have with Samsung. It is available at around Rs. 46,000 in the market currently but we feel shaving some more thousands off the price tag will place it better. Also for the average Joe, deals like the one Apple has signed on with  Reliance would do so much good to affordability.
How did you like our extensive Samsung Galaxy Note 3 review? Leave us some love in the comments section.