When it comes to instant messaging, there are two apps which often become the topic of discussion. Yes, we are talking about WhatsApp and Telegram. While WhatsApp is simple and fast, Telegram comes with some cool features which are missing from WhatsApp. However, there's one such feature which is available in WhatsApp but missing from Telegram. Yes, you guessed it right, the calling functionality. Well, if the recent tweet by Telegram CEO is anything to go by, that feature would soon be rolled out to the users.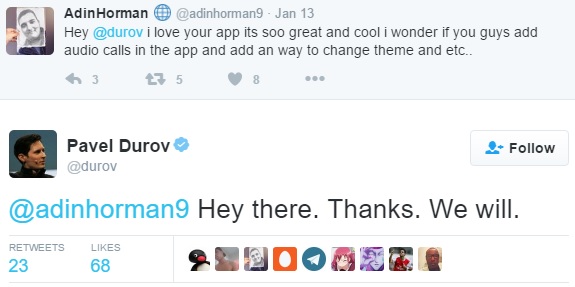 A Telegram user tweeted to Telegram CEO Mr. Pavel Durov about what he would like to see next from the app. The user wants to see features like audio calls and theme support making their way in to the app. Well, the CEO responded by tweeting "Hey there. Thanks. We will."
Needless to say that audio calls are something which have been around on WhatsApp for quite some time now and the video calls feature was rolled out recently. The beta version of the Android app is now also supporting the GIF search through Giphy, however, sending GIFs is something that the Telegram users have been enjoying for long.
Talking about the theme support, that is something which is missing from WhatsApp as well, however, once the audio calling (and maybe video calling as well) feature is rolled out, Telegram will definitely get an edge over WhatsApp when it comes to features.
Currently, users of Telegram can send any type of file they want, they can retract the messages within 48 hours and also start writing on one device while finishing it on other. These are the kind of features which makes Telegram our favorite as well. By the way, Telegram vs WhatsApp, which one do you think is better? Do share your opinion with us in the comments below.