The very first time we saw night mode in Twitter's Android app was back in June last year. At that time, it was only available to some users, however, Twitter rolled it out to all the users later in July. Fast forward to April this year, Twitter started testing automatic night mode in its Android app, and now, the company is finally rolling out the automatic night mode to all the users.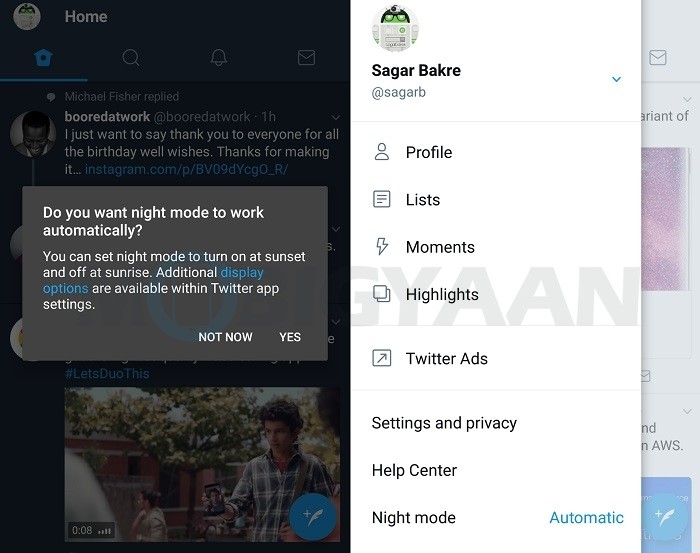 The automatic night mode is being rolled out as a part of update 7.2 for the Android app. Once you update the app to the latest version, and tap on the Night Mode toggle in the slide out menu for the first time, you will be asked if you want the night mode to work automatically. If you tap on Yes, the toggle button will disappear and you will see it replaced with the Automatic label.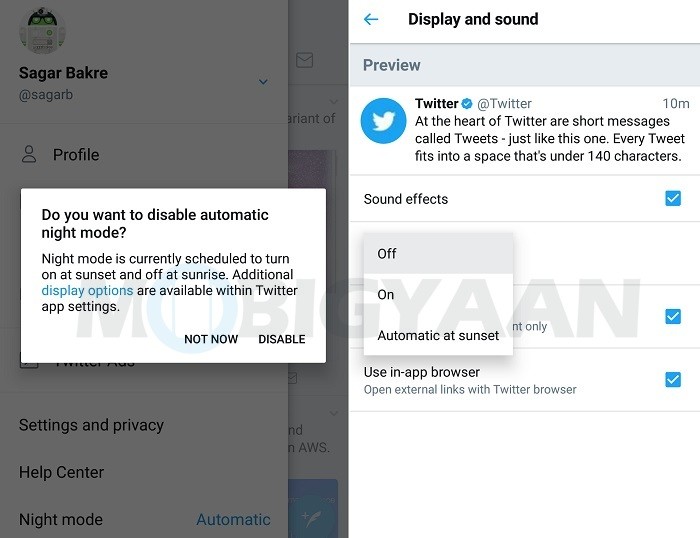 If you tap on that Automatic label, you will be asked if you want to disable the automatic night mode. However, if you miss these prompts, you can enable/disable the automatic night mode in the app at anytime by going to the Settings and Privacy > Display and sound menu.
Speaking of this automatic night mode, once you have enabled it, the night mode will turn on automatically at sunset and turn off at sunrise, turning the interface of the entire app to dark blue. Well, as someone who uses a phone with AMOLED screen, I would have loved to see the interface turning to black color, but hey, this dark blue color scheme works very well and does reduce strain to your eyes while using the Twitter app in low light and during night.
If you haven't received this feature yet, we suggest you update your Twitter for Android app to the latest version.
We would like to see night mode making its way to more and more apps. Would you?
Download Link: Twitter for Android