WhatsApp details business accounts in latest FAQ
We have been hearing about WhatsApp business accounts since August this year. And in September, WhatsApp announced the Business app for small companies while also starting the roll out of verified profiles. Later in October, we also got our first look at WhatsApp Business app for Android. Well now, as the launch of WhatsApp Business app seemingly draws closer, the company has shed some more light on business accounts in its latest FAQ.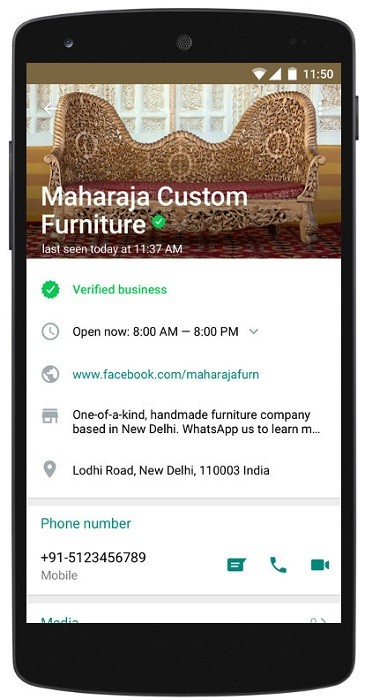 WhatsApp in its latest FAQ titled "Chatting with businesses" has shared some details about WhatsApp business accounts. In this FAQ, WhatsApp has revealed that there will be three different types of accounts in WhatsApp Business app – Verified, Confirmed, and, well, Business account.
Here's what WhatsApp says about these accounts:
Verified – WhatsApp has verified that an authentic brand owns this account. A verified account has a green checkmark badge in its profile.
Confirmed – WhatsApp has confirmed that the phone number of this account matches the phone number for this business. A confirmed account has a gray checkmark badge in its profile.
Business account – This account is using the WhatsApp Business app, but hasn't been confirmed nor verified by WhatsApp. A business account has a gray question mark badge in its profile.
Having said that, WhatsApp has also stated in its FAQ that users always have an option to block any business accounts and report them as spam whenever they want – right from inside the chat.
For those unaware, the WhatsApp Business app is a standalone app separate from the regular version that everyone is currently using. Moreover, the WhatsApp Business app also has an icon with the letter 'B' written inside, as opposed to the phone icon that we see in the regular WhatsApp app.
However, the UI of the WhatsApp Business app is similar to the regular version of WhatsApp, except that the title bar now says WhatsApp Business instead of saying only WhatsApp. You can click here to know more about WhatsApp Business.
The WhatsApp Business app is currently being tested with select businesses. If you are a business and are interested in giving the WhatsApp Business app a try, you can sign up to be a beta tester here. However, you will only be able to use this app if you are accepted as a beta tester.
The WhatsApp Business app is also available on Play Store, but you won't be able to download it right now.
Download Link: WhatsApp Business app for Android