It's a good day for Windows Phone users. WhatsApp is finally back on the Windows Phone Store along with some great new features and the Windows Phone File Manager "Files" is also live on the Store.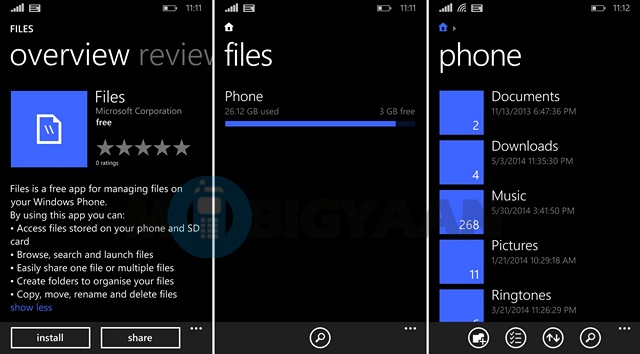 Files lets you do all the basic tasks, as you would expect from a File Manager. You can browse your files from your phone storage and microSD card, if you have one. You can also launch the files directly from it and there's ability to share multiple files as well. Files also lets you create new folders and copy, move, rename and delete multiple files.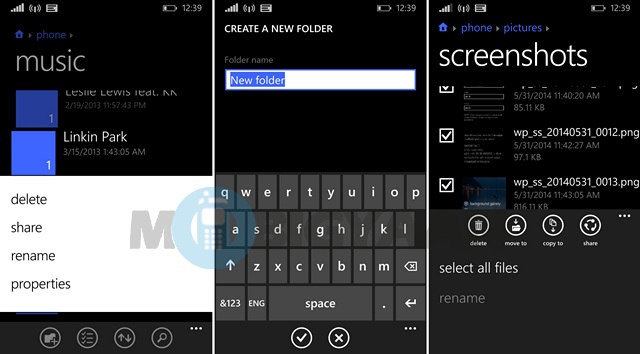 Previously, Microsoft teased a Windows Phone File Manager scheduled to hit the Store in May and recently the company revealed that the app will come in June but the app is live in May itself. The app is basic but functional and it should not disappoint anyone.
Files surely fills a void in the Windows Phone feature list and it makes Windows Phone a more complete experience. With Windows Phone 8.1 all set to be rolled out in the coming weeks, Windows Phone users surely have a great future ahead of them.
Apparently, the app is currently available for devices running Windows Phone 8.1. So, if you are on the Windows Phone 8.1 developer preview, then you can hit the Windows Phone Store link below and download Files for your Windows Phone smartphone. Sadly, others will have to wait for the Windows Phone 8.1 update first.