Chinese smartphone manufacturer Xiaomi has been doing quite well in India lately. Its smartphones in the budget segment like the Redmi Note 3, Redmi Note 4 and Redmi 4A are seeing huge demand in the Indian market. Well, as a result of this, Xiaomi has now become the most preferred smartphone brand in India.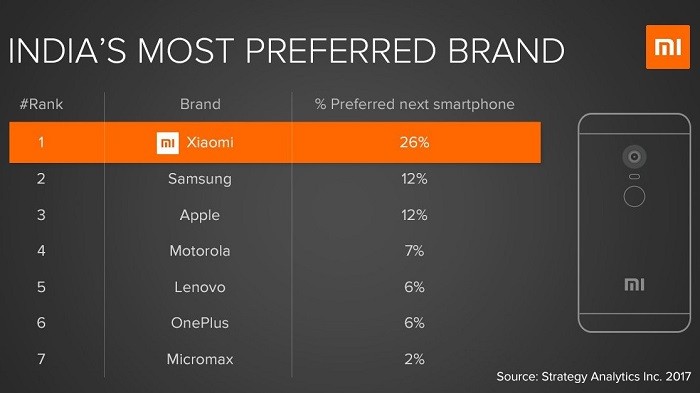 According to a report by Strategy Analytics, Xiaomi has now become the most preferred smartphone brand in India amongst the users who are looking to buy a new smartphone. The report states that Indian users expect better network speed and processor performance from their smartphones when making a purchase decision instead of camera, screen size and screen resolution. Well, that's something Xiaomi delivers while keeping the smartphone as affordable as possible.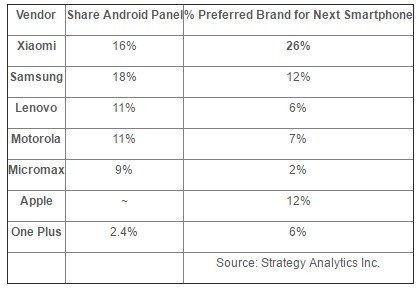 According to this report, 26% percent of potential buyers would prefer Xiaomi while buying a new smartphone. This was followed by 12% buyers who would go for Samsung and 6% who would go for Lenovo. Indian manufacturer Micromax, who was once a top smartphone manufacturer in India, was preferred by a mere 2% potential buyers.
"Indian Android smartphone owners are tech savvy with definite brand preferences and specification requirements.  It is striking how poorly Micromax is rated in terms of purchase consideration relative to its position in the market." said David Kerr, Senior Vice President at Strategy Analytics.
"Xiaomi for the first time since it started operations in the Indian market was ranked among the top three vendors in Q4 2016. The vendor grew a whopping 125% YoY and 17% QoQ and captured 10% of market share in India in the quarter." said Rajeev Nair, Senior Analyst at Strategy Analytics.
The report by Strategy Analytics also stated that according to their Smartphone Model Tracker program, out of the top-200 best selling smartphones in India, Xiaomi had four of their devices in top-20. The report further stated that only 6% of potential Indian buyers purchase smartphones that are priced above ₹35,000 as over half of the Indian buyers purchase smartphones that are priced between ₹10,000 and ₹20,000.
Well, if Xiaomi starts selling their smartphones through offline channels, we are pretty sure that more people will buy their smartphones.
By the way, which manufacturer do you prefer while buying a smartphone? Do you own any Xiaomi smartphone?