MIUI 10 is officially arriving on 31st May 2018 along with Xiaomi Mi 8 smartphone. It is expected that the MIUI 10 will debut with the launch of Mi 8. Xiaomi Mi 8 will be the first device to use the MIUI 10 operating system.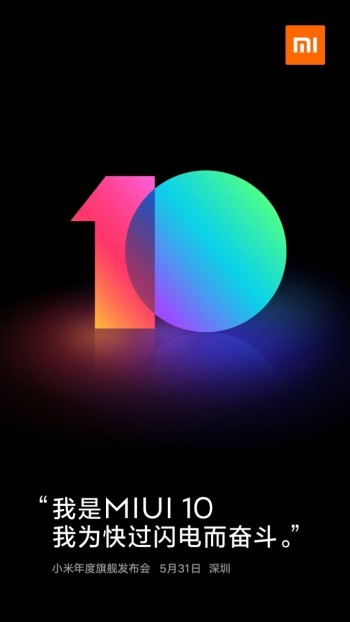 Yesterday, Xiaomi announced that the Mi 8 will go official in China on 31st May. Xiaomi Mi 8 is the flagship product competing with the OnePlus 6 and Honor 10. The jump from Mi 6 to Mi 8 is to celebrate the 8th anniversary of the company on 31st, the 8 indicates the number of years.
By looking at the image, it is clear that the upcoming operating system will be MIUI 10. The Chinese text roughly translates to "I will be faster than lightning" along with some location and date information about the launch.
Currently, the features that Xiaomi is going to include in the new MIUI 10 are unknown. The new update is rumored to add battery saving features and improve user experience using Artifical Intelligence and Machine Learning algorithms.
MIUI 10 is expected to roll out most devices that run on MIUI 9 except Redmi Note 2, Redmi 3, Redmi Note 3 (MediaTek) and Mi Pad 2.