Google has introduced quite a few useful features for Indian YouTube users in the past like YouTube Offline and Smart Offline. These features are introduced by keeping the connectivity issues of India in mind. Google also announced a special YouTube app called YouTube Go for the Indian market last September. Well, Google has now launched the beta version of YouTube Go in India.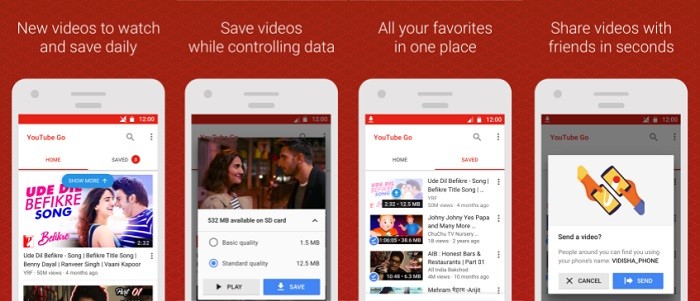 The YouTube Go app is designed by keeping the Indian users in mind and has been developed exclusively for the Indian market. Instead of launching a stripped down version of YouTube without some functionalities and calling it YouTube Lite, Google has developed this app from the scratch to cater to the Indian market.
Poor Internet connectivity is a known issue in India. Even after paying thousands of rupees, there's no guarantee that you will get reliable speeds and constant access to the Internet, be it on broadband or on mobile data. Hence, Google has launched YouTube Go. With YouTube Go, users can watch videos easily on slower networks and they can also download the videos on their device for viewing them later.
Besides, YouTube Go also gives the users an option to control the amount of data that is to be spent on videos. Well, this is very useful if you use mobile data for video consumption. Apart from that, YouTube Go will also show you a preview of the video in the form of thumbnails to help you decide whether to watch/download that video or not.
Google has also added a social aspect to the YouTube Go app by adding an option to share downloaded videos with your friends who also have YouTube Go installed on their Android device. Click here to know how you can share YouTube videos offline using the YouTube Go app.
Also, more importantly, the YouTube Go app is only 8.5 MB in size and also supports devices which are running Android 4.1 JellyBean.
"With the rapid transformation sweeping India's mobile internet landscape, we know there will be an even greater demand for a fast and accessible video app. Thank you for continually inspiring us to build better products for the next generation, and to helping us make YouTube Go the best video app for you." said Jay Akkad, Product Manager, YouTube.
You can check out the YouTube Go by heading on to the download link given below.
Download Link: YouTube Go for Android