Last year in August, Google released Android 8.0 Oreo, and with that, the Internet search giant introduced Picture-in-Picture (PiP) Mode. With PiP Mode, you can continue watching a video in a small window while doing something else. The PiP Mode has been around on YouTube's app for long time now, however, back in March this year, we came across a report which stated that YouTube was testing the PiP Mode on its desktop site as well. But, it was only available for YouTube Red subscribers. For those unaware, the PiP Mode on YouTube's app is also only available for users with YouTube Red subscription. Well, it looks like Google has had a change of mind, as the company has started testing PiP Mode on YouTube's desktop site for non-YouTube Red users as well.
On YouTube's desktop site, the video that you are watching reduces to a small rectangular window when you hit the back button. That small window sticks around on the bottom-right corner of the screen and cannot be moved around. And, when you click on that small window, you are taken back to the regular video player.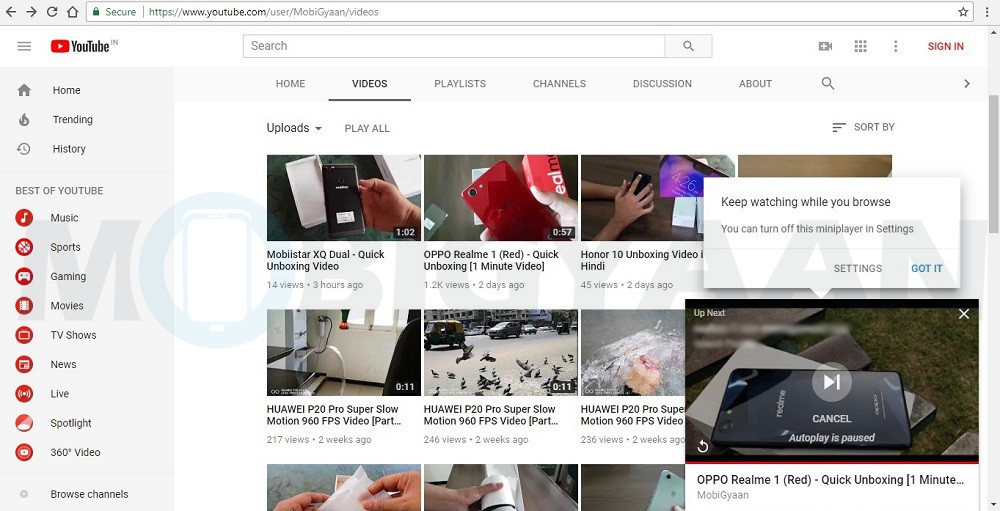 That said, the small window also has options for play, pause, next and replay. Moreover, it also has the 'X' button in its top-right corner that you can click on to close the window. Furthermore, the name of the video you are watching (or have watched) is also displayed underneath the window.
The PiP Mode showed up for us in India in Google Chrome for a very short time. Probably only for a minute or so. However, it's worth noting that the small window had a dialog box above it that said "You can turn off this miniplayer in Settings", along with two buttons that read 'Settings' and 'Got it'. Well, we did click on the Settings option, but as we were not logged in to our account, we couldn't see what the Settings menu exactly looked like for the PiP Mode. And, after we logged in to YouTube with our account – which doesn't have YouTube Red subscription – the PiP Mode was gone.
Well, the Picture-in-Picture Mode showing up on YouTube's desktop site for people without YouTube Red subscription shouldn't be surprising, because non-YouTube Red users have started seeing it inside YouTube's Android app as well.
Also Read: How to use Picture-in-Picture Mode in Android Oreo [Guide]
The Picture-in-Picture Mode showing up on YouTube's desktop site and Android app for people without YouTube Red subscription indicates that we could soon see Google rolling it out to all non-YouTube Red users – both on desktop and mobile (Android and iOS). And once it does, the availability of YouTube Red in your country won't matter as far as the Picture-in-Picture Mode is concerned.