After expanding its 5G services in Indore, Madhya Pradesh, Airtel launched its Airtel 5G Plus services in Hissar and Rohtak. The company has already rolled out its 5G last month in Jammu, Srinagar, Ahmedabad, Gandhinagar, Imphal, Shimla, and more cities and at numerous locations in India after its first 5G announcement.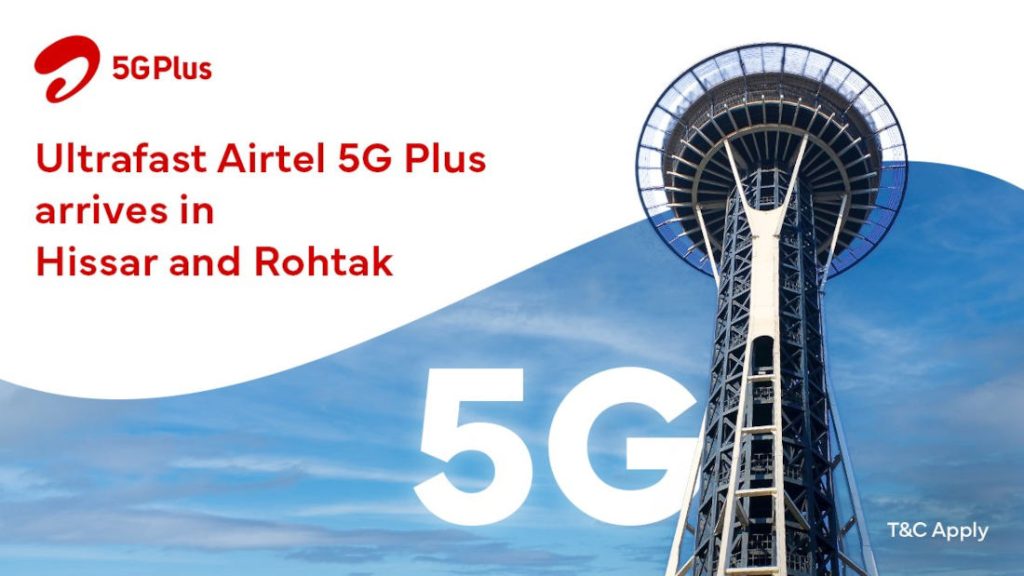 Areas covered in Rohtak
Airtel 5G Plus is currently operational at Baba Mastnath University, Maharshi Dayanand University (MDU), Ashoka Complex, Chotu Ram Chowk, DLF Gandhi Camp, Model Town, Medical More, Residential Area, Prem Nagar, Babra Mohalla, Civil Road, Mini Secretariat, Tilak Nagar, Mata Darwaja Chowk, Power House Chowk, Mansarovar Park, Sonipat Stand, Sanjay Colony, Indira Colony, Bada Bazar, Shiv Nagar, Old Bus Stand, Dev Colony, Delhi Bypass Chowk in Rohtak.
Areas covered in Hissar
Airtel 5G Plus is currently operational at Model Town, Model Town Extension, Shanti Nagar, Mahavir Colony, Shiv Colony, Bank Colony, and Industrial Area in Hissar.
Commenting on the launch, Tarun Virmani, COO – Haryana, Bharti Airtel said, "I am thrilled to announce the launch of Airtel 5G Plus in Hissar and Rohtak. Airtel customers in these two cities can now experience ultrafast network and enjoy speeds upto 20-30 times faster than the current 4G speeds. We are in the process of lightening the entire city which will allow customers to enjoy superfast access to High-definition video streaming, gaming, multiple chatting, instant uploading of photos and more."
Airtel said it will augment its network making its services available across the city in due course of time. Airtel has rolled out its 5G services in multiple cities including Delhi, Mumbai, Bengaluru, Chennai, Hyderabad, Nagpur, Siliguri, Varanasi, Panipat, Gurugram, Guwahati, Patna, and Lucknow, and various Airport locations, Universities, Temples, and a few others in the Q4 2022.
Airtel has already confirmed that it will cover its 5G services in all of urban India in 2023 and then across the country by March 2024. Since the existing Airtel 4G SIM is 5G enabled, no SIM change is required to enjoy 5G services.