We are inching closer to the public release of Android O with each passing day. While the OS is still nameless, we are speculating that it will either be called Oreo or Oatmeal Cookie. Well, while Android O hasn't rolled out yet, the latest version of Android right now is Nougat, and, like every month, Google has updated the Android Distribution Numbers which show us how many devices are actually running this version of Android.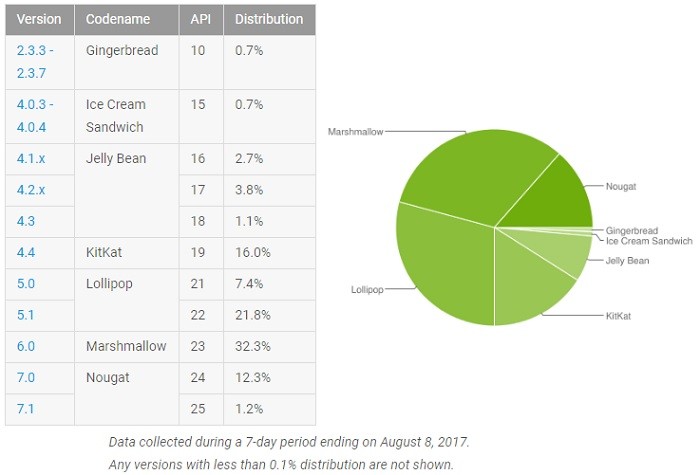 Starting with Android Nougat, it's currently running on 13.5% of Android devices, which is an increase of 2% from last month. Android Nougat was released last year on August 22, and still, after almost a year, this OS is under the 15% mark. At this rate, we assume that Nougat would be on 20% of devices by the end of this year.
Speaking of other versions, Android Marshmallow, which was released in 2015, still tops the charts with 32.3%. Following Marshmallow is Android Lollipop with 29.2%, Android KitKat with 16%, Android Jelly Bean with 7.6%, and lastly, Android Ice Cream Sandwich and Gingerbread with 0.7% each.
So, to sum it up, except Android Marshmallow and Nougat, all other versions of Android have dropped in share by some percentage. We hope that more and more smartphones (especially budget) coming with Android Nougat pre-installed will increase its share in the Android Distribution Numbers at a slightly faster rate.
By the way, which version of Android are you having on your smartphone?