The Android Wear 2.0, which was expected to be unveiled on February 9, along with two LG smartwatches, is now expected to be unveiled a day earlier, i.e., on February 8.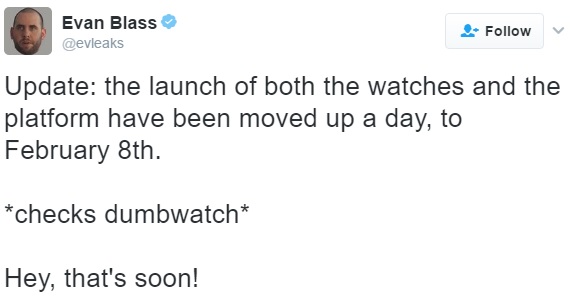 This information comes from, yes you guessed it right, Evan Blass. As always, he shared this information on Twitter by tweeting "Update: the launch of both the watches and the platform have been moved up a day, to February 8th". According to the last information that he had shared, the Android Wear 2.0 powered LG smartwatches – LG Watch Sport and LG Watch Style, were supposed to go on sale from February 10 in the US. Well, we are not sure if the sale date is still the same or if that too has been pre-poned.
These two new LG smartwatches will be unveiled by Google along with Android Wear 2.0 as they have been developed in partnership with LG similar to the Nexus program. The LG Watch Sport is a flagship smartwatch, and hence, has better specs than the LG Watch Style. The Watch Sport is said to be priced at $349, whereas, the Watch Style is said to be priced starting at $249.
Expected specifications of LG built smartwatches:
[table id=77 responsive=flip /]
Well, if the February 8 unveiling date is indeed true, we don't need to wait much to see what Google and LG have for us.