Cupertino-based tech giant Apple has scheduled an event on September 12 at Steve Jobs Theater where it is expected to unveil three new iPhones, an Apple Watch, and, new iPad Pro tablets. We have already got a glimpse of the design of the new iPhones and Apple Watch. Besides, the renders leaked last week gave us a good look at the iPad Pro 12.9 (2018) from multiple angles. That said, there have been many rumors and leaks floating around on the Internet surrounding the upcoming iPhones, and, the latest information that has come out of China says that we might finally get a dual-SIM iPhone this year.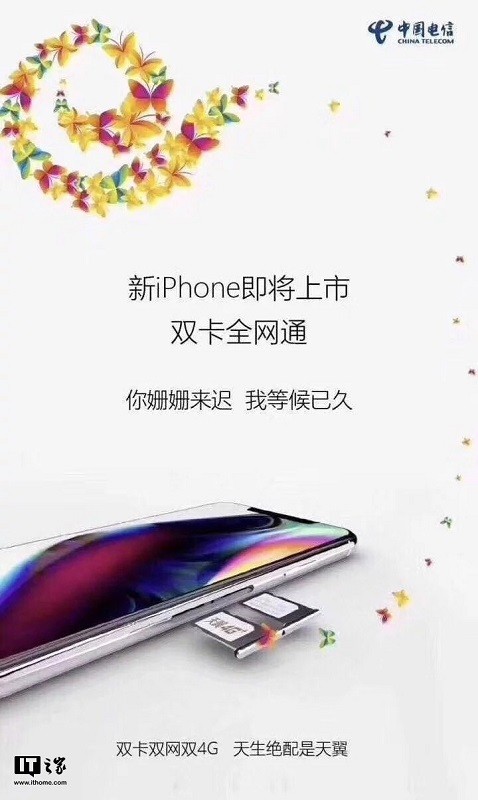 China Telecom has shared an image (pictured above) which teases dual-SIM capabilities on the upcoming iPhone. You can see the right side of the iPhone with dual-SIM slots. The image also teases dual 4G which means you will get 4G network on both the cards inserted in the iPhone.
Like last year, Apple is going to unveil three iPhones this year as well – two of which will come with OLED panel whereas the third one will come with an LCD panel. The LCD model is said to be the cheapest among the three and will sport a display having a size of 6.1-inch. Well, it's this LCD model which is expected to come with dual SIM support, and, it's currently unclear whether the OLED models will have it too or not.
With that being said, even if Apple launches an iPhone with dual SIM slots, it will not be available in all the markets. Apple is said to launch this dual SIM variant in markets like Asia and Europe. Well, irrespective of where Apple launches this variant, it sure is going to attract a lot many people simply because of the fact that they will finally be able to insert two SIM cards in an iPhone and won't have to carry along two phones.
While the LCD model will come with a 6.1-inch display, the OLED models are said to come with 5.8 and 6.5-inch displays. The LCD model is reportedly called iPhone XC, whereas, the 5.8-inch and 6.5-inch OLED models are reportedly called iPhone XS and iPhone XS Plus respectively.
Either way, we don't have to wait much to know more about these new iPhones as we are just two days away from the launch event where Apple will reveal everything there is to know about these new iPhones.