We have been hearing about Facebook and Instagram developing tools that would allow their users to see how much time they have spent (wasted?) on these social networks. Instagram was found testing this tool back in May, whereas, Facebook was spotted testing it back in June. However, the development of these tools has finally completed as Facebook has officially announced these tools for both its own users as well as Instagram's.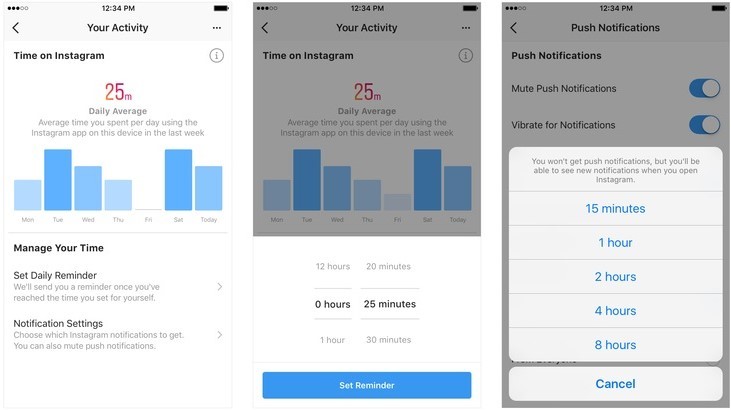 With these new tools, it will be easier for users to see how much time they have been spending after Facebook and Instagram. These tools on both Instagram and Facebook's app work in a similar fashion. On Instagram, you can head over to Settings > Your Activity to access the tool, and, on Facebook, you can tap on Settings > Your Time on Facebook. Once there, you will see a dashboard that will show you your usage for the last week. You will also see a daily average, and, you can also tap on any day to see how much time you spent using Facebook/Instagram on that particular day.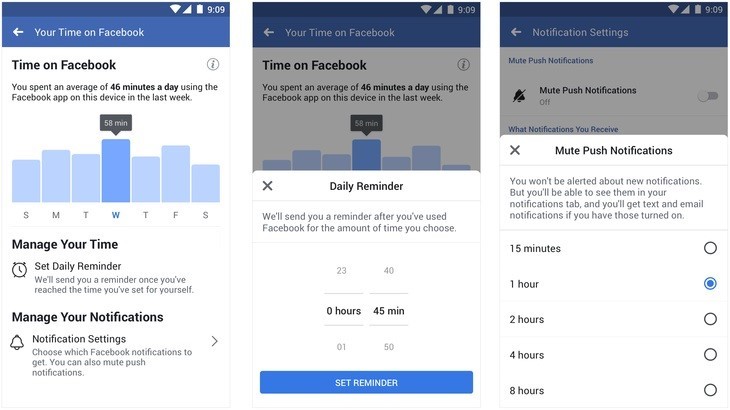 You can also set a daily usage limit for yourself using the 'Daily Reminder' option that will alert you when you have reached the time you have set for yourself. Furthermore, you can also mute push notifications for a specific period as well as choose which notifications you want to receive.
"We want the time people spend on Facebook and Instagram to be intentional, positive and inspiring. Our hope is that these tools give people more control over the time they spend on our platforms and also foster conversations between parents and teens about the online habits that are right for them." said Facebook in a blog post.
"It's not just about the time people spend on Facebook and Instagram but how they spend that time. It's our responsibility to talk openly about how time online impacts people — and we take that responsibility seriously. These new tools are an important first step, and we are committed to continuing our work to foster safe, kind and supportive communities for everyone." Facebook further added.
Facebook has said that these tools will start "rolling out soon" for both Facebook and Instagram users. How soon? Only Facebook knows. But, it now remains to be seen how effective these tools turn out to be in reducing the passive scrolling of users on these social networking apps. Instagram has already rolled out the 'You're All Caught Up' feature to deal with this. Let's hope Facebook too rolls out something similar soon.