The much awaited game – Fortnite Mobile – finally landed on Android last week. It was initially exclusive to Samsung devices, but is now available for non-Samsung devices as well. However, Fortnite Mobile isn't available for download on Android devices through Google Play Store, instead, it's distributed through the website of Epic Games – developer and publisher of Fortnite Mobile. Well, this could lead to users unaware of Fortnite's unavailability on Play Store ending up downloading a clone which could very well be malicious, hence, Google has started warning users about the unavailability of Fortnite Mobile on Play Store.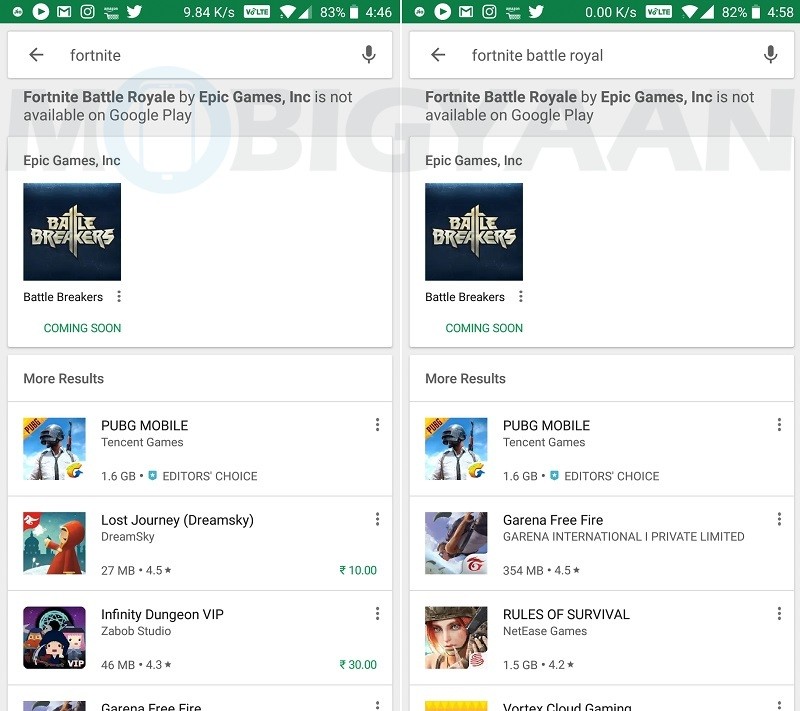 Now whenever you search "fortnite", "fortnite battle royal" or "fortnite battle royale" on Play Store, Google displays a message with search results that reads "Fortnite Battle Royale by Epic Games, Inc is not available on Google Play". Furthermore, Google also shows a game called "Battle Breakers" by Epic Games that will be available soon on the Play Store.
Having said that, this same message isn't displayed by Google on the desktop version of Play Store when we searched the game using the aforementioned keywords. At press time, this message is only displayed on the Play Store app.
Well, this is certainly a good move by Google as it will prevent users unaware of Fortnite Mobile's unavailability on Play Store from downloading fake and malicious apps posing as Fortnite Mobile on their devices. Something that happened a lot with Pokemon Go not too long ago.
That said, for those unaware, Epic Games isn't distributing Fortnite Mobile through Play Store because it doesn't want to pay Google its 30% cut on all in-app purchases. By distributing the game through its official website, Epic Games is saving that 30%. Well, these savings do come at the cost of user security though. In fact, it's not just about user security, but it's also about convenience. Those novice users who aren't aware of side-loading apps and games on Android devices will certainly find it difficult to install Fortnite Mobile on their devices. All this could have been easily prevented if Epic Games had decided to simply distribute the game through Play Store and not be greedy.