The HTC M8 has been in news all over this week. First, we got to know that the HTC M8 will come with on-screen navigation buttons, then we came across an alleged picture showing M8's dual cameras which were supposedly fake, then we got another picture, this time of the front which also looked kind of unreal, we also got some rumors around the HTC M8 and now, we get to see the HTC M8 homescreen, thanks to a screenshot from the ever reliable @evleaks.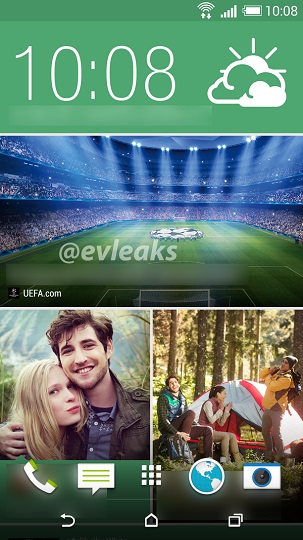 The HTC M8 homescreen screenshot gives us a view of what should be HTC's new Sense 6 along with Android 4.4 KitKat. Although, not much can be made out from this screenshot but it sure confirms the on-screen buttons. We also get to see what should be the improved Blinkfeed.
Slowly, we are getting to know everything about the device. We already know the specs or atleast we think we do and with the eventual launch coming closer, we can expect more leaks and details to come.
HTC M8 is expected to be announced at a New York event in late March so this will be the first time, a Samsung flagship (Galaxy S5) will be unveiled earlier than an HTC flagship. It'll be interesting to see if that does make any difference.