Samsung unveiled the Galaxy Note7 last year in August. The Galaxy Note7 was one of the greatest smartphones Samsung launched, however, some units of the Galaxy Note7 started exploding and the device was recalled not once, but twice. While the Galaxy Note7 had been discontinued, Samsung last week announced that it would be selling refurbished units of Galaxy Note7, and, images of the refurbished Galaxy Note7 have now surfaced online with a smaller battery.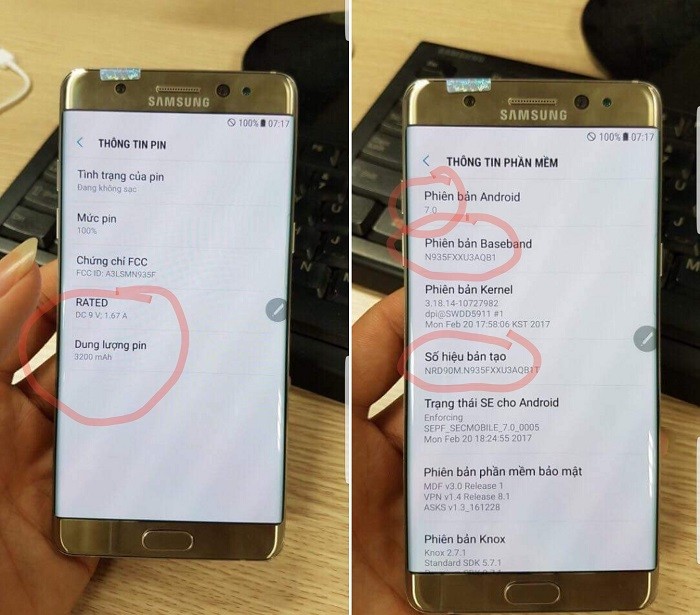 A couple of images of the refurbished Galaxy Note7 have leaked online. While the device obviously looks like the original Note7, it now has a smaller battery under the hood. The original Note7 had 3500 mAh battery, whereas, this one has 3200 mAh battery. Besides, the model number has also been changed to SM-N935 and the device is running Android 7.0 Nougat.
The Galaxy Note7 was recalled from all over the world last year as some units were catching fire and exploding. Upon investigation, Samsung found that there were two different defects in the battery with the other components of the Note7 being totally safe.
Well, Samsung recalled millions of Note7 which cost them billions of dollars, and now, Samsung would also face issues with the disposal of Note7 in a safe way. Hence, selling the refurbished Note7 with a smaller, safer battery seems like a good idea, because, it would not only help Samsung recover from the losses, but, it would also solve the issues related to environment to some extent.
For now, there's no information from Samsung as to when and in which market would they start selling the refurbished Note7, however, chances are they would start from Vietnam first. Back in February, there were reports that Samsung had plans to sell refurbished Galaxy Note7 in India and Vietnam. However, Samsung India had refuted that report immediately making it clear that refurbished Note7 won't be sold in India.
Having said that, we might see many people buying the refurbished Note7, because during the recall, there were many owners who were hesitant in returning their defective units. We expect to hear more from Samsung about their plans to sell refurbished Note7 in the coming days.
Also Read: Here's Why The Samsung Galaxy Note7 Units Caught Fire And Exploded