Facebook-owned Instagram has rolled out quite a few Story-specific features in the past couple of months. Last December, Instagram rolled out the Stories Archive feature which automatically archives disappearing Stories. Then last month, it introduced GIF Stickers for Stories. And more recently, that is last weekend, it rolled out Type Mode which lets users post colorful text-based Stories. Well now, Instagram has added a new option in its Settings menu that lets users add other's posts in their Stories.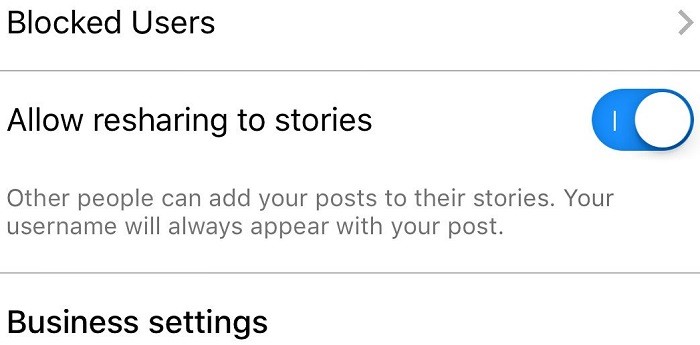 Matt Navarra from The Next Web has spotted a new option in the Settings menu that says "Allow resharing to stories". There's also a toggle button right next to this option. And, when it's enabled, it lets other people "add your posts to their stories". The description below this option also mentions that when someone adds your posts in their Stories, your will username will appear in their post.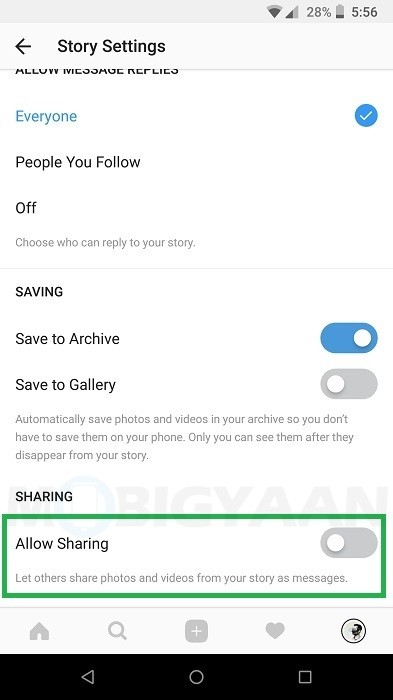 Well, this seems to be a server-side roll-out, and hence, none of us here at MobiGyaan are seeing this new option in our Instagram app yet. Until now, Instagram users could only share photos and videos from other people's Stories as messages, but with the new option, they can add other's posts – be it photo or video – in their Stories as well.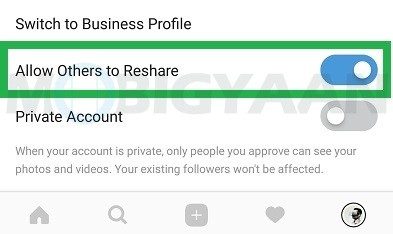 That said, we are also seeing a new option that says 'Allow Others to Reshare' (only for public account) in the Instagram app. We don't remember having seeing this option before, and, we aren't sure what this feature does as there's no description below this option. However, from what we understand, this will allow users to reshare posts of others on their profile.
Last November, we heard about Instagram testing a 'Regram' button that would allow resharing of others posts. However, after enabling the 'Allow Others to Reshare' option, we couldn't see any new button popping up below our posts which would allow resharing.
Also Read: How to check who unfollowed you on Instagram [Android Guide]
Hence, it's safe to assume that Instagram is giving some finishing touch to the aforementioned features, and, we expect them to be rolled out to all the users soon.