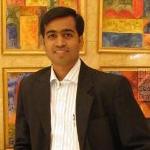 Mr. Sagar Bedmutha is Founder and CEO of Optinno Mobitech Pvt Ltd, a mobile app development company. Two popular applications of Optinno Mobitech which are currently available are Mobiwatchman and smsBlocker. Mobiwatchman blocks unwanted calls and SMSes ans smsBlocker blocks unwanted SMSes. We recently reviewed smsBlocker, you can read the review here.
Mr. Sagar candidly answered our questions about Optinno Mobitech. We hope you will enjoy the interview.
Q : Congratulations for winning AppContest at NASSCOM Emergeout Conclave. What does this achievement mean to you?
Thanks for the appreciation. By the way, after winning the AppFAME contest by NASSCOM, we also won the Top App award from Forum Nokia. So it was Double Delight for us.
These awards mean a lot to us. They have come from the industry leaders. Hence they have added immense credibility to smsBlocker. The uniqueness & utility value of smsBlocker has been aptly recognized by NASSCOM & Forum Nokia. We feel greatly honored & encouraged with these prizes.
Q : Optinno's two apps Mobiwatchman and smsBlocker are currently in the market. What are the future plans of Optinno Mobitech?
Broadly, we will continue to innovate in mobile domain with focus on the mobile apps.
Q : Both Mobiwatchman are available only for Symbian S60 series phones only. Why these apps are not available for other platforms?
Both of our apps need deep level message & call handling OS capabilities. Only Symbian offers such capabilities. As far as other platforms are concerned, we'll have them included whenever possible.
Q : So what is next for Mobiwatchman & smsBlocker?
There will be upgraded versions available with increased accuracy for spam blocking (currently they can catch almost 90% of spam on their own). The UI will be even simpler.
Q : How do you view the new NDNC regulations affecting Mobiwatchman & smsBlocker?
First of all, nobody (including the regulators) know the exact nature and effectiveness of the new regulations. And we are tapping the international market also. So change in regulation in India will not affect.
Q : Has Optinno Mobitech achieved break-even point in terms of revenues?
Not yet. But we are fast approaching that.
Q : Lastly, Share your views about MobiGyaan.com
MobiGyaan is a fantastic platform for Mobile enthusiast. It has helped us a lot in getting the timely information on what's happening in mobile industry and also to reach to avid readers across India.